TWB proudly presents...
We have loved our time in Spain the several times we have been and I love that there are so many other places to explore there. Especially love that map Sophia tracked done - quick stop shop for all the info you need. 
Whether you're backpacking through Western Europe, or you just want to take a short, relaxing vacation in a majestic seaside paradise that's not so far from civilization, the Eastern coast of Spain can provide some of the most majestic and peaceful destinations to help you thoroughly unwind.
You can let yourself drawn in by the tranquil atmosphere of Alicante, explore offshore wonders near Majorca or explore the vast and resplendent riches of Barcelona, being free to shape your vacation into a truly magical adventure or just get away for a relaxing time at the beach.
Beautiful Barcelona
Barcelona is a truly large and amazing city with numerous intriguing locations to explore. Probably the best way to see as much of it as possible is through the Barcelona city bus tour – which will take you through 45 of the city's most prominent and interesting areas.
If you go exploring on your own, consider the Barcelona Card for unlimited public transport, and make sure to visit places such as the Placa Catalunya, and try Can Paixano – one of the most revered local dishes.
Majorca
If you're looking for amazing Oceanside sceneries, quiet beaches, delicious vegetarian meals and a place where everything you might need or want is just a short bus trip away, you'll simply love Majorca.
A long way out into the Mediterranean Sea, Majorca is definitely worth the effort of the journey. You can take a trip on the legendary Soller railway to see all the major scenic views on the island, relax on one of its numerous tranquil beaches, or enjoy one of the delicious local delicatessens.
Strolling through Alicante
Alicante is one of those unique places that have just about anything you can imagine. From the waterfalls of El Palmeral, to the huge selection of shops, bars and sailboats you can find on San Juan beach, there is truly a plethora of beautiful locations to visit.
You can even explore the old town of El Barrio, or take a charter to see the natural landscapes of Tabarca, a beautiful little island just 8 miles off the shoreline.
A Visit to Malaga
Another remarkable coastal city you can visit is the hometown of the renowned Picasso – Malaga. This city is also packed with places to visit, allowing you to explore the famous Picasso museum, enjoy a stroll through the Puerto Banus marina, or take the metro to get around to some of the city's fine restaurants for some of the best steak and vodka on the entire Spanish coastline.
The Most Majestic European Destinations
There are, of course, many other remarkable places you can explore throughout Spain, as well as the surrounding European locations and islands. A few other places worth taking a look at include Ibiza, Nice and Naples, and you can also consider taking a trip up north to see the beauty of the French countryside or engage in a hiking trip through the Swiss Alps.
The Monarch's tips map is the best guide to help you find your way through many of the most luxurious and sometimes difficult to navigate Mediterranean destination you could enjoy, as well as through some of the lesser known European places that you've probably never even heard of.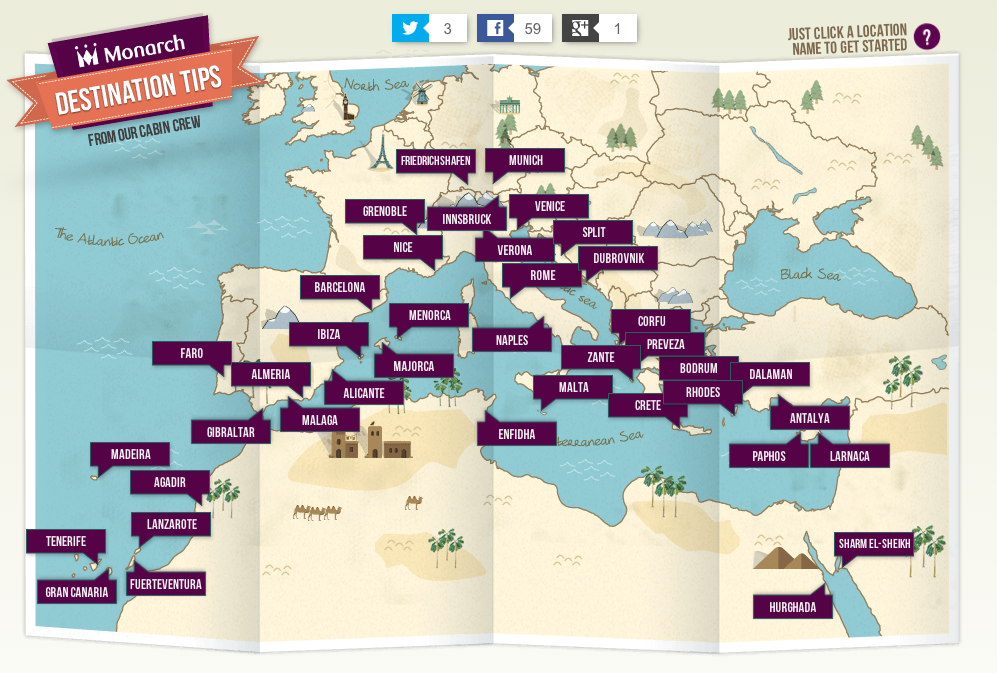 Sophia Zora loves Spain. It was her mother's home and after only one year she is happy to call it home too. Sophia also loves to travel and spends most of her vacation days in as many European countries she can get her hands on.