Ah, lovely Destin, Florida. 
Home of stunning views, picturesque scenery, and enough activities for even the most avid of travelers.
Nestled in the heart of Florida's Emerald Coast, Destin provides tons of year-round fun and entertainment for families, tourists, and locals alike - but one of the BEST spots requires a little bit of work to get to. 
Of course, we're talking about Crab Island - but what makes Crab Island such a special place to visit? We dug into this local hotspot to get the details!
What is Crab Island?
Crab Island is one of the hottest destination spots for visitors and locals in Destin, Florida - and for good reason! 
Located just north of the East Pass jetty in Destin, Crab Island has become a hotbed for fun in the sun - but it's history is just as captivating as the island itself (by the way, it's really not an island - more on that shortly!). 
Crab Island was originally made up of two islands, the remnants of sand that had been dredged up from the East Pass. Over time though, sands drifting in from the Gulf of Mexico caused much of the heavy sand of the islands to erode. 
The result that we see today is a significant sandbar "island" - one that's surrounded by crystal clear, shallow water, making it an ideal spot for boats to anchor and soak up the rays in the beautiful Florida sunlight!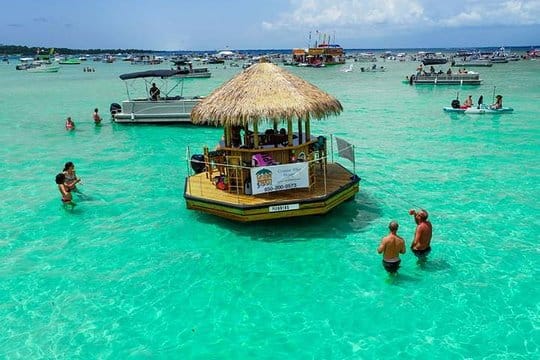 Why is Crab Island so Popular? What are Things to do at Crab Island?
Crab Island is far from a secret, even for people just visiting Destin - it's tough to keep so many activities hidden for long! In fact, it's not unusual to see hundreds, even thousands of boats anchored there on any given weekend. 
Crab Island's location is pretty unique - because it's on the other end of the East Pass, it's protected from the surf and waves visitors would otherwise have to deal with, but still allows for constant inflow of the sapphire blue water the Emerald Coast is known for.
These waters provide the perfect backdrop for a wide range of fun, both on and off the boat! 
Fancy yourself a water sport enthusiast? Hop on a kayak or paddle board and navigate through the one-of-a-kind waterfront scenery! Interested in scoping out the local wildlife? The clear blue waters are the perfect frontier! 
For those among us looking for a little bit more of a thrill, jet skis, water skiing, and tubing are a staple in the waters of Crab Island. After all, who doesn't love an adrenaline rush now and then?
Inflatable water parks are aplenty on Crab Island - they're a favorite of kids but we won't tell if parents decide to sneak aboard! 
Of course, there's nothing wrong with simply relaxing on the boat and treating yourself to some vitamin D while basking in the radiant sunlight. Chances are you'll get hungry, and the multiple floating vendors and restaurants have just what you need to keep your experience going. 
All of this while taking in the movie-esque landscapes that Crab Island has to offer.
How do you Get to Crab Island?
Crab Island is ONLY accessible through the water, so you'll need to rent or own transportation to get out there. 
Though it may seem close to the mainland, it's probably not wise to try to swim your way over, unless you consider yourself comparable to U.S. Olympian Michael Phelps. 
Businesses in Destin and nearby Fort Walton Beach offer plenty of options to get you to the island - our recommendation for a boat rental would be Destiny Water Adventures, as they've got the highest rating on TripAdvisor. They offer new and comfortable, sun-shaded models with their pontoon boat rental service in Fort Walton Beach and Destin, FL.
Jet skis may allow you a bit more freedom to cruise around the island and the surrounding area as you please, just make sure to remember you won't be able to anchor, and they don't work well for a family or group! 
This is why pontoon boats are extremely popular among people going out to Crab Island - because they usually seat upwards of 12 people, are spacious, and offer plenty of room for travelers to bring their own supplies such as coolers and speakers. If you really want to travel to Crab Island in style, their pontoon boat rental is your best bet! Those who have made the trip know a comfortable boat is the way to go.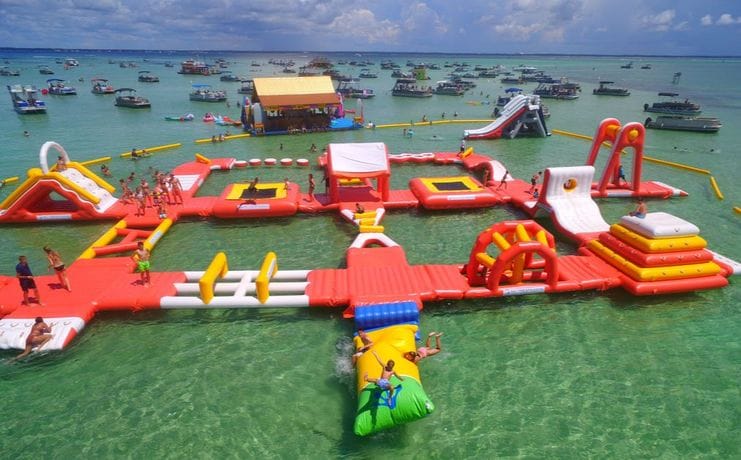 Traveling With the Family? Consider a
Better Kept
Secret
Alternative to Crab Island!
Looking for family things to do in Destin or in Fort Walton Beach, FL? Check this out...
Crab Island is an excellent local hangout, but the party atmosphere is a little overwhelming for the average family looking to enjoy themselves on the water. Speeding boats and college parties aren't exactly the ideal situation for small children, and trying to pay for all the activities Crab Island has individually will put a squeeze on savings in a hurry. 
Destiny Water Adventures has long-since provided transportation to and from Crab Island, but also experienced customers asking about alternative family-friendly things to do in Destin or in Fort Walton Beach, FL.
Destiny sought out to give visitors to the area an experience that includes everything Crab Island has to offer and more, while keeping it affordable for any family. 
Enter Day of Play - the ultimate alternative for families looking to enjoy all that the Emerald Coast has to offer!
The unique Day of Play experience is one of a kind, giving families a taste of EVERYTHING they could want, and packing it all into one memorable excursion that's loaded with value. 
Families won't have to worry about battling the hoards of college students and fellow tourists when they embark on their Day of Play - the friendly Destiny crew delivers you and yours to and from your own semi-private island without hassle, making this the premier alternative for family things to do in Destin or in Fort Walton Beach, FL. 
What's Included?
One price gets you and your family access to all of these incredible experiences that are sure to leave you with enough memories to last a lifetime:
Water Park Access - Includes water slide, trampoline and jungle gym. A favorite among children, but even adults can play!
Kayaks - Paddle out for the most scenic views of the entire Emerald Coast. Make sure to bring your camera - you may just spot some local wildlife! 
Paddle Boards - A great view of the scenery while working up a healthy sweat, what could be better?
Beach Chairs & Umbrella - There's no need to drag personal supplies out to enjoy your Day of Play, Destiny takes care of the heavy lifting. 
Private Captain and Crew - Destiny's private crew is exclusive to you - you'll have the undivided attention of a crew that focuses on your excursion! 
Lunch & Drinks - Sit back, relax, and let Destiny handle your food and beverage. The crew serves fresh sandwiches, fruit, snacks, soda and water - feel free to bring your own supplies to add to the party! 
Jet Ski Access - Cruise around your private experience on sleek Yamaha Waverunners, perfect for solo trips or family voyages! 
Tubing - Hop on the back of Destiny's fleet of boats, captained by an expert crew member, and experience the Emerald Coast like never before. 
Water Skiing - A thrill ride for all ages, Destiny's water skiing experience is perfect for even the most novice of visitors.
Knee Boarding - Knee boarding can either get your adrenaline pumping or pull you along for a leisurely trip across the waves. Don't worry if you've never done it before, the Destiny team can support even the most inexperienced rider. 
If value and a private, exclusive experience is the name of the game, Day of Play is the only option when it comes to family things to do in Destin or Fort Walton Beach, FL. Get busy creating memories with your family today. Visit Destiny Water Adventures for all your Crab Island excursion or pontoon rental needs.