As I hesitantly stepped down the ladder, my eyes on the Red Sea, but my body entering the pool I realized with a start it wasn't unpleasant. There was none of that cool shock; it was cool, but pleasantly cool. As I looked up at our colossal Hilton hotel I could see the digital temperature and time display. 11:40am 44C. Oh, that is why it was actually delightful to step into the outdoor pool.
Our drive to Eilat through the Negev desert was sleep inducing. Nothing, but miles of sand and hot temperatures that our hire car barely kept up with on its maximum air conditioner setting. Finally, like a mirage in the desert, Eilat dawned on the horizon, resembling the Las Vegas of Israel. And we all know how much we loved Vegas.
Eilat is the southernmost city of Israel, located on the northern tip of the Red Sea. From it's shoreline you can see 4 coutnries - Israel, Egypt, Jordan and Saudi Arabia. It is one of the most popular tourist destinations for domestic and international travellers. 
We reached our hostel, had a brief respite in the sparse bare room before heading to a new shopping centre, Ice Mall, for dinner. To our surprise we found oriental food, Haviana thongs (some as much as $60!) and a free ice-skating show on the ice-rink in the middle of the mall... in the middle of the desert.
The rest of our evening was spent in the Emergency Room of the Yoseftal Medical Center after my son fractured his wrist. More on the Israeli medical care and my read that post!
When we arrived back from Petra, we were tired, dirty and our son had his whole right arm in a cast. We needed a hot shower, we needed a soft bed and we needed a little bit of pampering after our last regretful hostel experience. The day before when we had been walking the promenade in Eilat we had noticed this immense hotel sitting on the Red Sea. After a few enquiries we realised it was the Hilton Eilat, Queen of Sheba and we knew that was where we wanted to do our rest and relaxation.
So it was with much anticipation we headed to the Hilton Eilat. At first sight the hotel seems archeologically unidentified, however it draws its inspiration from the first temple. It houses 14 floors and the entrance is a magnificent centrepiece with high ceilings, glass and gold-cage elevators and just that jaw-dropping wow factor. The hotel lobby is shaped as a temple dome with natural lighting from the windows above. The whole building drips in royalty, wealth and beauty, just the like legend of the Queen of Sheba.
We checked in to our Family Superior Room fairly easily and head up to the 8th floor. I almost cried I was so impressed and relieved to have found a place to replenish my strength after the last few tiring days. Check out our pictures of the living room with converted sofa lounge and large screen TV below. The kids spotted their presents before I did. Fresh flowers & a bowl of fruit for the adults while the kids were over the moon with their new pirate bandana, drink bottle, beach balls & tattoos.
And then our bedroom with the biggest hotel bed I've ever seen, robes, slippers and out the window the most breathtaking view of the hotel pool, broadwalk and the Red Sea.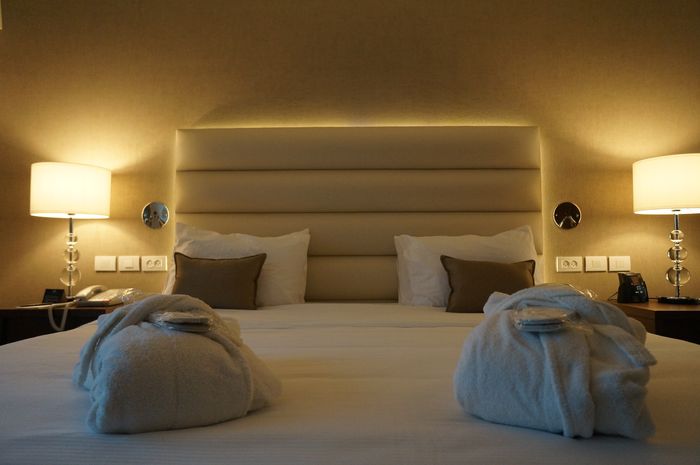 Our room included half board and we headed to the Makeda Restaurant on the lobby floor for an immense buffet dinner. Everything was delicious with a mixture of traditional Western food as well as some Israeli favourites. It's our first good Western meal in awhile and we dug in.
After such a long day we headed to bed and I sunk into the softest pillow and started watching Indiana Jones (the one where he visits Petra, talk about timing!) and don't remember anything after that.
Breakfast the next morning was in the same restaurant as dinner, but had transformed to pastries, eggs, yoghurt, fruits and much more. Including the Israeli favourite breakfast food – salad. I skipped over the salad and helped myself to some yummy egg quiche.
After breakfast we meet some of the friendliest staff, including the Restaurant Manager who provided us with a giant roll of cling wrap so we could endeavor to take Caius for a swim. It was a success and we managed to have a quick dip before the 44C has us perspiring even in the pool and we retreated back to our air-conditioned room.
The kids club on the basement floor has some age-appropriate books and toys for the kids to play with. There were two staff members on duty, however they were unable to actually babysit the kids. For our kids age I needed to stay with them and, while I was happy to sit there and watch them play, I could have been happier if I had been able to leave them for an hour and had a moment to myself in the luxurious shower in my room and it's unique Dead Sea products.
We did get around to using the shower and watched some movies in our fluffy gowns and comfy slippers before finally realizing we need to make a move if we were going to get to Jerusalem before dinner time.
I didn't want to go and I delayed for as long as possible before finally handing over our keys and heading to the free parking lot under the hotel. I took one final glimpse of the Hilton Eilat and the Red Sea as it faded back into the horizon while we drove north through the desert, and prayed to God we return to this beautiful jewel on the Red Sea. I knew this would not be farewell forever.