3000 years of history is impossible to ignore in Athens, from your first glimpse of the iconic Acropolis, to ancient remnants scattered throughout the city centre.
Classical Greece played a huge role in shaping the modern world and it seems like every empire in history had a try at controlling the city. The Roman, Byzantine and Ottoman Empires all left their mark on Athens with countless architectural ruins and cultural traditions.
But there's more to Athens than its history.
Today, Athens is a modern megalopolis home to over 3 million people. Streets burst with activity from designer fashion stores, open air cinemas, and wine bars galore. There's the buoyant Mediterranean food culture centred around traditional Greek cuisine and sandy beaches lined with beach clubs a short drive away.
There's no shortage of things to see in a do in modern Athens, but most tourists still visit for the history. While Athens' archaeological sites and museums are not to be missed, the modern city is well worth exploring too. For those wanting a blend of old and new, many agencies offer tours to Greece that encompass the rich history and the dynamic presence of its iconic capital.
I found 5 ways to experience Athens as it is today and uncover the remarkable journey that brought it here.
1. See Athens through the eyes of a local
The best way to get a feel for any city is by seeing it through the eyes of its locals, but that's usually only possible when you have a local friend to show you around. The city of Athens has captured that "walking around with a friend" feeling with its unique This is My Athens program.
This is My Athens connects tourists with local volunteers for a free 2-3 hour walking tour around the volunteer's favourite parts of Athens. Tours can be booked online by entering your details, preferred tour date and time, and a few of your interests. Tours don't follow a structured itinerary but are tailored to the interests of the tourist and the local volunteer, so your tour may be completely different from mine.
We were shown around Athens by Nicole who took us for a walk through some of Athens most popular neighbourhoods to see fresh-picked fruit and vegetables at a local farmers market, her favourite lookout points at Strefi Hill and behind the Panathenaic Stadium, and some impressive pieces of street art around Exarcheia.
We stopped for a coffee at one of Nicole's favourite cafés, retro-themed Superfly Café, which is decorated with uber-cool 80's pop culture memorabilia.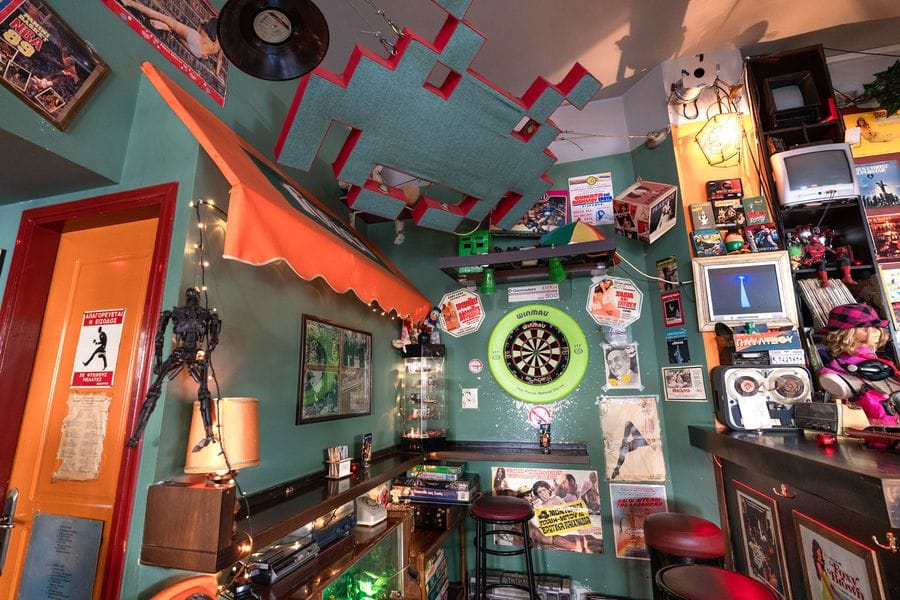 This is My Athens walking tours will take you away from over-touristed parts of Athens and show you where the locals eat, hangout, or simply watch the sunset. You'll get to see parts of Athens you'd never find without your local volunteer. And it's completely free!
2. Learn how trendy neighbourhood, Plaka, has influenced Greek and international artists
Plaka is one of the oldest yet trendiest neighbourhoods in central Athens full of narrow alleys, shopping boutiques, restaurants, and colourful townhouses. To learn more about the vibrant neighbourhood and the famous people who've left their mark on it, I booked Fantasy Travel's Following the Footsteps of Artists Around the Acropolis tour. This tour is perfect for history, culture, or literature buffs who already know a thing or two about Athens and want to dig deeper with stories about the events, people and places that shaped the city into what it is today.
Guide, Nancy, and tour developer, Athena, showed us around Plaka stopping to point out significant sites like Tripodon Street and the Lycicrates monument. Nancy explained the Lycicrates Monument is the only remaining monument of its kind and unlike most valuable statues and monuments in Athens, it was never plundered but instead inspired sculptors and architects around the world to construct copies. You may have seen similar structures in Edinburgh, New York, Philadelphia, or Sydney.   
We walked up, and up, and up the narrow steps of hilltop sub-neighbourhood Anafiotika, which has a completely different feel to the rest of Plaka, and even the rest of Athens. Nancy explained Anafiotika's roots go back to the 1920's when the fledging Greek government hired stonemasons from the Greek island Anafi to help rebuild Athens. Unhappy with their mainland accommodations, the workers built themselves Cycladic-style houses on the edge of the Acropolis so they could feel the breeze. If you've ever been to the Greek islands, you'll immediately recognise the ascending white houses with colourful doors and window shutters.
Just above Anafiotika is a little-known lookout point. We reached the vista just in time for sunset and I've got to say, now it's one of my favourite lookout points.
Walking back through Plaka, we stopped at neoclassical houses (one belonging to the family of late poet, George Seferis) and a classic taverna, Damigos Bakaliarakia, which has been around since 1864 and featured in several 1960's Greek movies.
Our last stop was Taverne Platanos where Tom Hanks was once spotted dining. If it's good enough for Tom, it's good enough for me, so we enjoyed a traditional dinner here, the highlight of which was the tavern's specialty and one of my favourite Greek dishes, spanakopita.
3. Hear the stories behind Athens' neoclassical buildings
A brief walk around central Athens will reveal dozens of elaborate, exquisite buildings that anyone seriously interested in architecture would recognise as neoclassical buildings, from the mid 18th to 19th centuries. Eager to learn more about these magnificent buildings and the stories behind them, I booked Fantasy Travel's Beautiful Neoclassical Athens tour.
Our guide, Katerina, filled us in on a little background information before showing us some of the city's most impressive neoclassical buildings. The tour started at the Greek Parliament building and former royal palace which was constructed in 1842, the first neoclassical building that set the benchmark for other state buildings and private residences in Athens.
The highlight of the tour was what Katerina called "the holy trinity of neoclassical architecture", the Academy of Athens, University of Athens, and National Library of Greece. These neighbouring buildings were constructed between 1864 and 1890 by Danish architects and brothers Christian and Theophil Hansen.
The Academy is by far the most impressive, designed to replicate the ancient Parthenon which has been largely destroyed and is now a shadow of its former glory. Visiting the Academy is the best way to visualise what the Parthenon must have looked like in its prime. Inside the building are intricate wall murals depicting the mythological story of Prometheus. Unsurprisingly, the Academy of Athens is said to be the most beautiful neoclassical building in the world.
After stopping for a quick snack of cheese pie, we continued on to visit more neoclassical buildings including the Numismatic Museum and former residence of archaeologist Heinrich Schliemann, the first Catholic Cathedral in Athens, and the Gallery of Books. As we were walking, Katerina shared many interesting stories about the buildings, architects, sculptures and characters depicted.
Our last stop was the National Historical Museum, which served as the Greek Parliament building until 1932. After admiring the building from the outside, we ventured inside the museum and saw exhibits of weapons, uniforms and personal belongings from the War of Independence, WWI and WWII.
Although the tour focuses on neoclassical architecture style, I found it extremely interesting and educational. The neoclassical buildings and stories behind shed light on events over the last 200 years that shaped Athens into the city it is today.
4. Taste world-class Greek wines
It's easy to see why Greek cuisine gained international fame. Traditional Greek dishes are made from simple yet fresh ingredients bursting with layers of scrumptious flavour. What is surprising however is that Greek wine isn't equally as famous on the international stage.
Most Greek wines are made from local grape varieties, not the ones you may be used to at home, meaning unsuspecting tourists like me have no idea which wines to order in Athens! I booked a wine tasting experience through Athens Walking Tours to sample some of Greece's unique grape varieties. The tasting, held at Materia Prima Cava & Wine Bar, included 5 types of Greek wines and a platter of local cheese, olives, cranberries, and pistachios.
We tried two white wines, a 2018 blend of Malagouzia, Assyrtiko, and Muscat, and an Assyrtiko from Drama. The first wine was light, fruity and way too easy to drink, while the second was medium bodied with hints of citrus.
Moving on, we tried a delicate rosé from central Greece which would be a perfect summer wine to enjoy while looking out over the sparkling Aegean Sea. Ahhh, I can imagine it already.
We also tried two red wines, a rare Avgoustiatis from Zakynthos, and a desert wine, Rapsani Grande Reserve from near Mount Olympus.
The wine bar's staff were full bottles on everything Greek wine. They made the wine tasting educational, fun, and most importantly, extremely delicious.
5. Dine at international restaurants
There's no shortage of authentic Greek dining opportunities in Athens from traditional tavernas to street souvlaki stands. Like any other modern city, Athens is also full of international restaurants specialising in cuisines like Mexican, Thai, Chinese, Indian, and Modern American.
For my American fix I dined at the Hard Rock Café in Plaka, which serves all the classics on the Hard Rock menu plus a couple locally-inspired twists. I couldn't go past the Zeus burger, a fairly typical hamburger but embellished with extra Greek ingredients like olive oil and feta cheese. Yum!
As you'd expect the Hard Rock Café is decked out with musical memorabilia like framed records, guitars, and costumes of famous rock stars. There are two dining areas, a smaller indoor area for non-smokers and a larger alfresco style area for both smokers and non-smokers.
Where to stay in central Athens
The perfect base to explore modern Athens is New Hotel, a trendy boutique hotel within walking distance to popular tourist sites like Plaka, the Acropolis, the Temple of Olympian Zeus, Syntagma Square, and the National Gardens.
As the name suggests, New Hotel is extremely modern and edgy, with gold accents and centrepieces made of recycled lamps, chairs, dressing tables. The upcycled décor and off-beat artwork demands attention. On my last day at the hotel, I noticed an LED sign in the main restaurant flashing curiously bizarre lines, like "Big Brother is Watching You". I asked a staff member what it was all about and they informed me it was an art piece by Jenny Holzer, but it sounded more like 1984-esque dystopian quotes to me. Breakfast would never be the same after that.
Not to be missed is the hotel's 7th floor rooftop restaurant with amazing views of the Acropolis and Lycabettus Hill. The restaurant serves the same menu as the ground floor restaurant, which is where the amazing buffet breakfast is served. Breakfast items include local cheeses and salad ingredients, pastries and pies, several varieties of Greek yoghurt and home-made granola, as well as cooked-to-order eggs.
I stayed in a spacious Superior Plus room with a generous working space and balcony. Rooms are decorated similarly to the shared spaces with uniquely upholstered furniture, interesting books, and lots of Midas-inspired glistening gold accents. Even the bathroom basin and toilet roll holders were gold!
Want more Greece adventures? Check out the latest ferry prices from Athens to Santorini and Mykonos.
The Bottom Line
Athens is, and always will be, most famous for its Classical period, when its citizens birthed the foundations of modern politics, philosophy, science, theatre, architecture, and literature. But there's more to Athens than ancient history.
When you next visit Athens, don't just stick to the ancient historic sites. Take the time to explore modern Athens by learning its more recent history, wander through its food and drink scene, and hang out with its friendly locals. You'll uncover a city that teeters between chaos and charm, brimming with a dynamic energy that will draw you in, weather you like it or not.