It required a bit of courage, a touch of daredevil and a dash of insanity.  But finally we had driven through Positano and traversed the narrow road towards to the top of Praiano and reached our destination – Hotel Margherita.
Getting out of the car, we could quickly see why the Amalfi Coast is regarded as one of the most spellbinding locations on this amazing planet. The view took our breath away. Well, it was either that or the altitude.
Hotel Margherita is a family-owned boutique hotel nestled on the side of a mountain overlooking the town of Praiano and the spectacular coastline. It's easy to see why visitors from all over the world flock to this area and we were fortunate enough to snap up a triple classic room with a terrace on the lemon garden. It was the perfect place to sit back and relax with a cool drink, and soak up the wafting lemon scent.
The staff had setup a cot for Caius, and even though it's been a while since he's slept in one I thought it would be a good idea to give Mia some extra space in her own bed so they'd both sleep more soundly. And he didn't seem to mind at all. The room was well-equipped with an authentically styled bathroom.
Opposite our room was located the gym which looked over the spectacular coastline so you could take a morning walk and admire the view at the same time. Nice.
Each morning breakfast was hosted downstairs in the restaurant, which served delightful classic Italian fare including cornetti, expertly made cappuccino, fresh fruit, eggs, toast and juice.
A friendly staff member brewed up a hot chocolate for Mia with a cute smiley face on top. That put a big grin on Mia's face and was her daily order.
Since we first checked in, the pool had been beckoning us. And we finally responded to it's call on our second day. By the time we had been out all day, we returned to the hotel in the early evening so the weather had cooled down a little. Kids being kids loved the pool regardless of the temperature, but I only lasted in there for about 15 minutes before retreating to a warm fluffy towel. Even the pool area had a gorgeous view of the coast. You really can't go wrong anywhere in this hotel.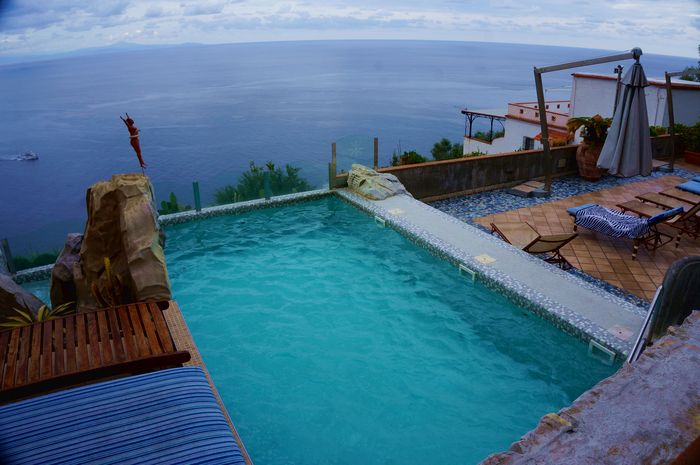 After being on a cruise for a week we had built up quite a large batch of laundry. Fortunately a Laundromat was located less than 50 metres away from the hotel so we took our growing bag of clothes for cleaning. €13 for DIY or just €15 to have it done for us and delivered back to the hotel. We opted for the 2nd choice and continued on our merry way.
Driving around town for someone unaccustomed to the narrow roads and slightly crazy driving style, may be near suicidal. But fret not. Hotel Margherita provided a convenient shuttle service to the centre of town. It was largely on-demand, so we just let the front desk know when we were ready and the van would zip out the front of the hotel in no time at all. And to get back we just asked a local to call the hotel for us and they'd meet us in the centre of Praiano which was easy walking distance (with kids) from almost any point of town. On top of that it was one of the few hotels in the area that actually had a parking garage to tuck away our car for our time in the area.
The highlight of our stay in Praiano was the dinner on the roof-top restaurant at Hotel Margherita, m'ama. We watched the golden sun setting from one of the comfy lounges and then followed with one of the best meals we had in Italy. We shared this wonderful meal with Erin's parents who were travelling with us on the road trip.
Erin ordered a perfectly seared juicy steak and I chose the pasta. As the sun set the temperature started to drop, but the staff were very kind and provided blankets to the ladies at the table so they could stay toasty warm. Very thoughtful!
Dessert was also delicious. Such a perfect way to finish off our stay in one of the most perfect places on Earth.
It felt like we crammed a lot of things into just a few days in Praiano, but every minute was as enjoyable as the photos depict. It was hard to actually pull away from these mesmerizing views, but we had to move onto the next leg of our road trip. Arrivederci Praiano!
If you enjoyed this article, you might also like...
Want more like this?
Get our latest blog posts delivered to your inbox each week jam-packed with expert travel advice: