The next tantalising secret to unveil from our heavily guarded vault is something that everyone needs wherever you travel to - accommodation. I will cover the best websites to book your accommodation through and expert strategies to ensure you're choosing the right lodging for a legendary holiday and saving money at the same time.
After our first year of travel we wrote a reflection blog post covering all our accommodation choices for that year, and we have written a similar post after we reach our 2nd year of travel in May this year (UPDATE: we now have another list of accommodation for 2015).
But for this post I would like to share with you my timeless tips, starting with several different sources for finding and booking your heavenly hotel or amazing holiday apartment.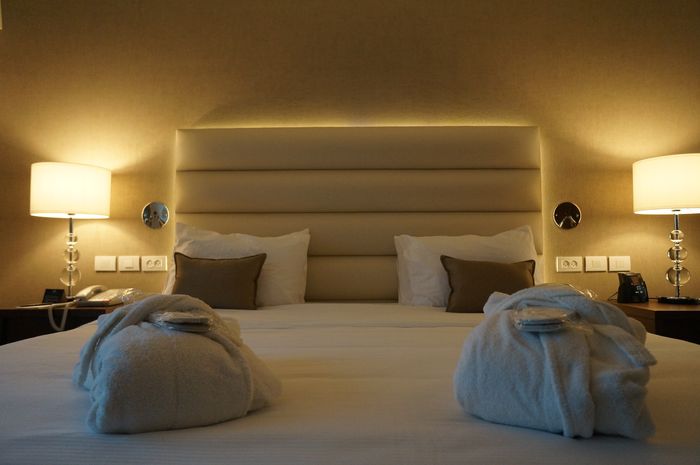 Short Stays (1 – 7 nights)
When visiting a city or country for a short trip we tend to stay in hotels. The check-in and check-out is quick and easy, and there's no cleaning to think about. While they (usually) don't have all the facilities of a fully stocked apartment, most of the actual trip would typically be spent out and about, so it doesn't really matter. What is often gained in convenience is sacrificed in cost, but that doesn't always have to be the case when you know where to go.
Booking.com – Now one of the biggest players and still offers very good coverage all over the world. Their user interface is well thought-out and I like the "30 day price overview" on each hotel page, which shows prices on alternative days.
Expedia – Great in the US and Australia but also covers most of the globe. They offer cheap rooms and provide loyalty points which can be later redeemed for discounts. This is one of my favourite mobile apps for hotel bookings as the checkout process is very snappy and fuss-free and well-suited for repeat use.
HotelTravel – covering over 180 countries chances are you will find a discount rate on a hotel in the city you're looking for. Nice integration with TripAdvisor to save you valuable time.
AsiaRooms – We loved this one throughout South East Asia it gave us the best value. Their range of locations is pretty good around Asia and they've also expanded into Europe and the Middle East.
Agoda – Another big hotel portal with good coverage for South East Asia. However it is a bit frustrating that there is no option for searching by the number of people staying in the hotel room. My other gripe is the room photos are quite small and the site design style is a little old fashioned.
Hotels.com – The name says it all. This one was a great tool for us throughout Europe but they have a very broad coverage on other continents. Their reward program is generous and worth signing up for if you're planning a lot of travel or a long holiday.
For even more hotel links, check out our Resources page.
Medium Stays (1 – 3 weeks)
When we are staying longer than a week we prefer a furnished apartment. We can stretch our legs a bit more and enjoy the space along with an equipped kitchen for cooking meals.
Often you can find providers that specialise in certain countries and regions. Also be aware of the difference between property websites, which are purely booking agents, and others that provide property management services to the owner of holiday apartments/houses, as the experience you have is slightly different.
Sykes Cottages - In Ireland we used Sykes for well-priced country cottages which were available in most parts of the country and throughout the United Kingdom. You can find some holiday homes with real character here.
GoWithOh – Specialists in European vacation rentals. These guys have funky apartments in cities like Paris, Milan, Madrid, Prague and many more, and were an absolute pleasure to deal with. As their number of properties continues to grow you'll find even more quality options here.
Dunsborough Holiday Homes - In Perth we used DHH or Stayz – both offer holiday homes in the local tourist destinations "Down South".
Timeshares – the timeshare resale rental market is often overlooked because it isn't very well known. There are a number of timeshare owners all over the world who need to rent out their timeshare week/s when they're unable to use them. Sometimes these owners are in a bind and just want to get something for their week, so you can find prices at up to 90% off what you'd pay when booking directly through the resort. Most timeshares come equipped with a kitchen and are family-friendly.
Long Stays (3 – 4 weeks)
Often we really want to get immersed in the culture and history of the area we are visiting and end up staying for a month or more. We've enjoyed staying in bigger homes or apartments and found the following to be helpful for locating a temporary home.
Airbnb – Homeowners place their house or apartment for short-term rental on this website from all over the world, from as little as 1 night up to several months. You simply enter the location, dates of your visit, and how many people, and it returns all the available options for you. The interface is clean and intuitive and the commenting system adds some transparency which is great. Airbnb take a fairly substantial percentage of the rent (from both owner and renter) so we do prefer to try other avenues if possible, but we've always enjoyed our stays in Airbnb properties. We've also used Airbnb for shorter term stays as little as 2 nights. And did you know you can even stay in some pretty incredible tree house hotels? Side note: if you want to earn a bit of spare cash you can rent out a room or your whole house and it's easy to get started.
Holiday Lettings – Similar to Airbnb, owners place their homes up for rent, however there are no fees associated with this site. We found our amazing Penang apartment on here for less then US$1100 per month including cable, wifi, pool and cleaner. The search/filter tool is well designed each holiday home includes reviews from TripAdvisor members.
Flipkey – A similar concept with a large number of properties all over the world and, best of all, no fees. The rates for each property are very transparent in being able to see particular seasons and how much the nightly, weekly and monthly prices vary. It's little things like this which can help you save some decent dollars if you're able to time your travel to take advantage of low season savings.
Organic Google search – Often a simple search for the city and words like "holiday home", or "vacation apartment" will bring up Owner-direct websites or a Craigslist listing, which may be cheaper than advertising on a property portal. The downside is there are no objective reviews from other guests and less transparency and accountability, so it can be a bit more risky.
Recommendation – Nothing beats the recommendation of someone you know and trust. Be it a travel blog (hey, this one is pretty good J), a travelling friend or family member, or a local in the area. If you don't know where to start, try the petrol station ("gas station" for US readers) and ask the attendant behind the cashier or perhaps a waiter at a local café. We found some gems this way.
Last Minute
When you need something and need it fast, there are a few websites that specialist in last-minute accommodation. In return you can find steep discounts because hotel managers would much rather have a room filled and paid, even if it's less than their regular rates.
Wotif – The original Australian last-minute website that kicked off this industry, and now allows bookings up to a few weeks in advance all over the world.
Lastminute.com – Similar to Wotif, but have now expanded into other verticals like gifts and restaurants. Good coverage around Australia and the United Kingdom.
Walk-in – In all our road trip travels we have often just walked into a hotel and asked for a price. The ultimate in spontaneity. Keep in mind that some hotels may have a higher walk-in rate than if you purchase online or even via an agent like Expedia. In one particular situation, we walked in after looking up a rate on Expedia. The front desk clerk didn't want to match the Expedia price so we placed the booking on our phone via the Expedia app and saved a few dollars.
Housesitting
If you are looking for a vacation on a budget or something a bit different, then you can't go past free accommodation! You'll be surprised how long you can find homeowners are looking for house sitters - from just a few days up to several months. Most of the reputable housesitting websites require a registration fee, but if you use them several times per year then they will pay for themselves many times over. Make sure you spend a bit of time creating a complete and compelling profile and respond quickly to any messages from owners. If you can include references, that will go a long way to landing your first housesitting gig.
Trusted Housesitters – $49 for 3 months or $79 for 12 months this is probably the most popular established housesitting agency.
Mind My House – Only $20 for housesitters and hundreds of active house-sitting assignments.
HouseSit Match – Registration starts at £27 per year and around half a dozen countries to choose from. 
17 Expert Accommodation Tips:
Depending on where you go, accommodation can be the most expensive component of your holiday. Here are my top tips to help you make the best accommodation choice and save money – sometimes up to 75%!
1) TripAdvisor levels the playing field when it comes to reviews. You can easily find the hotel or apartment complex and discover what other guests thought about their experience. This can be helpful to get the real picture, even when the photos of a hotel look glossy. In saying that, we're usually not put off by 1 or 2 negative reviews on TripAdvisor, especially when guests complain about minor things. However, when reviews are consistently negative, it's a good indication to stay away and keep on searching.
2) Location (from attractions) is a crucial factor to check (and double check). How close is it to restaurants or the beach? Will you be happy to hire a car if it is not? If you plan on hiring a car then it won't be so much an issue, but if you plan on relying on public transport or walking, you definitely want to check this. Find the property on Google Maps and see how far it is from the attractions around it. We found this out the hard way a couple times such as in Antigua, Guatemala. Luckily the tuktuks were so cheap and the owner of the house lent us his scooter.
3) Location (from undesirables). One of the places we rented in Belize was next door to a bar that played reggae music 5 nights a week, the same songs each night. We ended up moving to another apartment after 2 nights, since our kids were unable to get to sleep.
4) Airport. If you are only staying a night on a layover, check the distance between the hotel and the airport and make sure it's the right airport. For example, if you are flying into the low cost terminal in Kuala Lumpur, Malaysia and flying out of KL International, perhaps it would be worth your time to stay near the international rather then the low cost terminal. The distance taken getting to the hotel during the night means more valuable sleeping time the next morning.
5) Upgrade. When checking into a hotel it can't hurt to ask for an upgrade to a better room. The worse that the frontdesk staff can say is no. Or if you'd like a room with a view, it may be the same price that you already booked, however with a much better location within the hotel complex. If you're on holidays for a special occasion like a birthday or anniversary, let the hotel staff know – you may be pleasantly surprised with a gift or room upgrade.
6) When choosing an owner-managed holiday apartment or Airbnb-style arrangement, ask about the availability of the Owner. What times they want to check-in and check-out? Are they flexible with this based on your own schedule? Many times they will have a day job, and can only meet you at the property outside regular work hours, so try to be flexible and understanding.
7) Search in different country-specific versions of the same website and also try an incognito browser window. For instance many times we have found Expedia then the portal may have their own cancellation policy separate from the actual hotel. So read the fine print ahead of time so there are no surprises in case the unfortunate arises.
17) Pull the trigger. There are times when enough research has been done and you just have to make a booking. Putting it off and doing more and more research can lead to analysis paralysis. Once you have found a great hotel or holiday apartment and are happy with the price, then sleep on it (if you have time), and click that final button to lock it in! Procrastination is dangerous and will hold you back from experiencing the holiday you are dreaming about.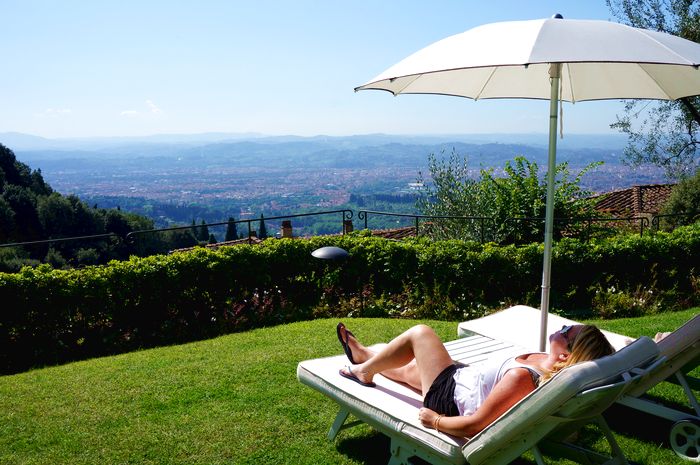 Phew! That's A Wrap
During our first year of travel in 2012/13 we stayed in over 48 different accommodation locations. In our second year of travel from 2013/14 it was even more, and in our third year of travel things didn't slow down, so I like to think I have learned a thing or two during that time. I genuinely hope that by sharing these tips and our experience, we can help you plan your perfect family holiday that you'll remember for many years to come.