The boats engine cuts down low and we cast our gaze over the water.

A sinking feeling starts in my stomach, as I see nothing but a vast blue ocean with tiny swells. I think "what have I wasted my time and money on?"

I take a deep sigh.

Then someone yells, a perpendicular finger points from the side of the boat and I snap back to attention. There it is. First the tip of a fin, then the whole fin, then a head and a back.

It's a miracle! I have finally seen a whale. 
I'll never forget that first dolphin-watching river cruise I took back in Mandurah, Western Australia many years ago. We saw nothing and it was a major disappointment and not something the tour company could do anything about.
When we were invited on a Viator tour to do a Whale-Watching Tour from Vancouver I must admit some dubiousness after my prior experience.
But how I longed to see the Orcas (Killer Whales) in their natural habitat. After a little research I discovered that the tour company has a 9-out-of-10 chance of seeing whales. In the unfortunate situation that no whales are found, guests receive a complimentary ticket to come back another time. That's a pretty good guarantee.
With a tight travel schedule in Vancouver, I didn't have any time to return later. So it was with high hopes and fingers crossed that we dressed up warmly for our day on the sea searching for killer whales. 
What To Wear
September gets quite cool in Vancouver and we were recommended to wear extra warm clothing for the tour. I wore jeans, t-shirt and a jacket. My kids in fleece leggings under their jeans, t-shirts and a jacket. The tour guides also loaned us complimentary heavy-duty bright yellow jackets. So we were more than prepared. These came in handy for the windy boat crossing, but afterwards when the boat was still we were warm enough to take the jackets off. 
How It Begins
We were requested to arrive 30 minutes before the tour departure time to check in. The tour office is located in Steveston, about 40 minutes south of downtown Vancouver via car. It's situated beside a cute little café in case you didn't have time for breakfast before heading out.
We decided to head to a nearby hotel for breakfast to meet a fellow blogger who we had known online for some time.
Free parking is offered so leave yourself enough time to stop by the office to collect a laminated pass and then drive your car to a nearby parking lot. Then you'll need to walk back, pick up your yellow jacket and head to the harbour.
Two yellow and blue boats bobbed at the end of the jetty, prepped and ready to go. Boarding the boat was relatively easy, choosing a seat was not so easy. The front of the boat promised great views, but with a very bouncy price tag. The open-aired rear of the boat offered fewer views but a smoother ride with a windy trade-off. We opted for a balanced choice in the middle.
Long windows lined the sides of the boat, which could be opened for superior views or closed during the bouncy, windy transit. 
How Long Does It Take To Get To The Whales?
Thankfully the tour company is aware of "local" resident Orcas that, while having the whole sea at their disposal, tend to frequent familiar territory. So while you may strike it lucky and only need a 30-minute boat ride, the day we ventured out took one and a half hours to track them down to the San Juan Islands.
As we were leaving the harbour our guide pointed out a large black and white bald headed eagle perched atop a sailboat's mast, looking just as much part of the local scenery as the scruffy leathery-skinned local fishermen. It was our first wildlife sighting and we hadn't even left the harbour. I was hopeful this was a sign of good things to come. 
During the long ride we spotted other wildlife such as seals, which helped pass the time. There were plenty of small, rugged islands with tall evergreen trees and rocky beaches to admire.  
The Moment You See The Whale
As we carved up the Salish Sea and passed through Haro Straight, northwest of the San Juan Islands, we witnessed lazy sun-baking seals and colossal, loud-barking sea lions. 
We also stopped at one stage with a sighting of porpoises, but as shy as they are, they disappeared faster than I could spy them.
Finally in the distance we noticed a cluster of boats at the south end of San Juan Island. It could only mean one thing. We opened our windows and got ready to observe the famous black and white Orcas. The anticipation was electric. You could have heard a pin drop.
The first thing we spotted was a giant, black dorsal fin splitting the water before a shiny head and sleek back followed it - the water sliding off their skin like glass beads on silk bed sheets. We didn't witness any jumping or frolicking, but the occasional water spurt had our kids in fits of giggles and gasps of admiration. 
According to US government regulations boats have to remain 200 feet away from the whales, so our telephoto zoom camera lens came out of the bag.
We had about an hour to watch and photograph the Orcas, which passed by much faster than I expected. Especially when a mother and her two calves made an appearance. The boat was continually moving with the whales so we were always witnessing and experiencing. 
What About The Boat?
The durable pew-style padded seats didn't indicate we were travelling on luxury yacht, but it didn't stop either of my children from falling asleep with the swaying of the boat being a gentle lullaby. 
The boat was equipped with a bathroom in case all that water gets to your bladder or if you have little ones like mine who look for the nearest toilet every hour.
On the way home the guide handed out a complimentary bottle of water and a granola bar. This was a highlight for our kids and kept their hands busy during the return ride.
The knowledgeable guide educating guests on geography and wildlife. Throughout the journey she also updated a map at the back of the boat so we could see where we had travelled and where the great orcas had been spotted. 
6 Tips To Make Your Vancouver Whale Watching Experience Better
Overall, the tour was very well organized and the boat was well maintained and very safe. But most importantly the tour operator demonstrated care and respect for our black and white friends as they generously shared a slice of their home with us.
But how can you make sure you get the ultimate whale watching experience?
1. Go in season.
Chances are if you are not on a boat between April 1 and October 31 then you are not going to see a whale.
2. Wear warm clothes.
It get's chilly out on the water, even on a sunny day. Don't spoil your tour by shivering like a late autumn leaf, or hiding in the bathroom.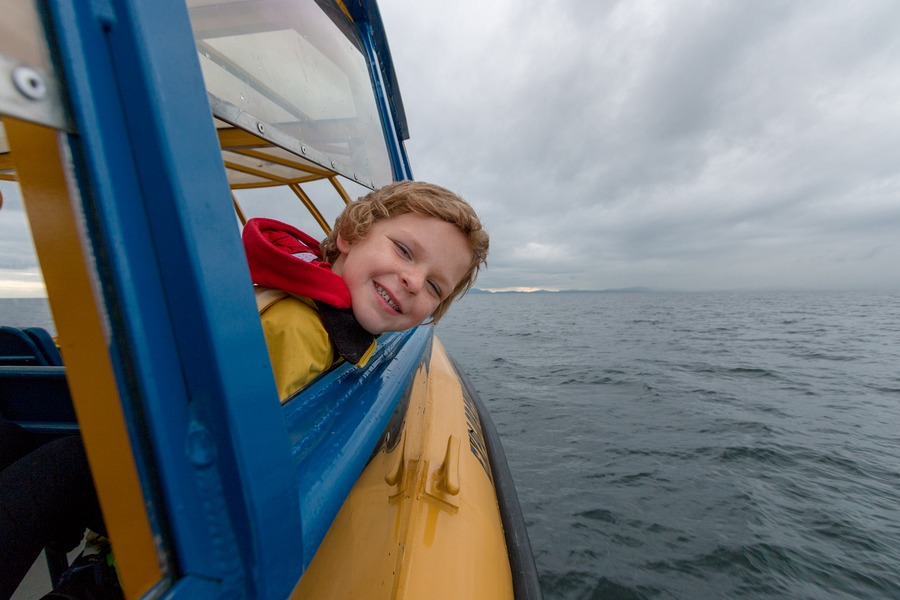 3. Arrive on time.
The parking lot the company directed us to was at least a 10-minute walk away, so don't arrive at the time the boat is due to leave. Adhere to instructions and arrive half an hour early.
4. Grab a window spot.
In line with the above tip, arriving early also means getting the best seat in the house. Take a window seat on the left side of the boat. While both sides get views, this side was the money side.  Avoid the front – there are no open windows so you'll have streaks in your photos. If you can stand the wind, then take the back seat. 
5. Leave enough time.
Don't plan anything for immediately afterwards. Our tour went for close to 5 hours out of the predicted 3–5 hour range, so best not to plan something after unless you want to be late. Orcas don't tend to work their schedules around humans.
6. Bring your camera.
You'll be kicking yourself later if you don't have a tangible memento after the tour. Preferably your camera should have a decent zoom, or borrow a friend's camera. 
The Vancouver whale watching experience reminded me of a quote by William Shakespeare:
"One touch of nature makes the whole world kin."
Nothing is truer. Now get out there and spot a whale!