The cost to fly internationally has gone down consistently for over 3 decades. However, airlines are making more money than ever.
Why?
Because people are dumb.
Sorry, it's true. But it's not your fault. You just haven't been educated in the ways of booking super cheap one-way flights.
The first thing to know is there is no silver bullet and there's a lot of myths which need to be ignored. Airlines use very advanced algorithms to establish prices and run promotions based on the time of the year, passenger demand, weather conditions, major events, time of day, competitor fares, and much more. Why? To make more money – put more bums on seats, at the highest possible price per bum. Simple.
So, I'm here to help you. Follow my rules (and know when to break the rules) and you'll be laughing all the way to Fiji, or wherever you want to go. Remember, the more money you save on flights, the more spending money at your destination!
Please fasten your seatbelt and bring your seat into an upright position. Let's go!
Flying tip: If you are looking to spend your money abroad consider Wise (formerly TransferWise). It's a great tool for sending and receiving money internationally with low fees — much cheaper than using your local bank. You can also get your own debit card with the Wise Borderless account.
1. Choose the right tool
Every flight starts with a search. And every flight search engine has a different strength (and weakness), so it's important to understand what each tool is useful for. There is no single site that is consistently cheaper 100% of the time. The best solution is using a combination of tools: 
Bookmark all of these tools for easy access. Some low-cost airlines won't show up on large sites like Kayak because they don't pay a commission. Others search engines don't show airlines with non-English websites.
See my step-by-step process at the end of the article for the exact process I use to book cheap one-way flights.
I'm a fan of FlightList's no-nonsense, uncluttered user interface devoid of distracting ads. Hans Desjarlais launched FlightList in February 2018 as a tool to easily unearth cheap one way flights for digital nomads and flexible flyers. Suffice to say, he's got one mega supporter in me.
2. Search solo
Saving: up to 10%
Even if you're flying as a couple, family or group, only search for 1 passenger. This is because an airline must offer prices for all passengers in a single booking at the same rate (unless they are children/seniors). So, if you search for 2 passengers, and there's only 1 seat available for $100 and another seat for $120, the search result will show you $120 for both. On some occasions when I had to book for multiple people, I would complete separate bookings to score the cheapest price. The downside is that you run the risk of being seated in different parts of the plane, but most times the ground staff will be happy to help re-allocate seats during check-in at the airport.
Example: I like on AirAsia's booking process, they show the number of available seats at the current fare, as in the screenshot below.
---

---
3. Keep your searches secret – go incognito
Saving: up to 3%
This is a controversial topic. Larger search engines and airlines use cookies to track your searches. No, you're not imagining if the price suddenly jumps to scare you into booking. The easiest way to get around this is open a new incognito/private browser window (here's how) and do a new flight search. If the price goes down, then you've saved some dosh (an average swing 2-3%).
Note: If you're logged in to your account (on Expedia for example), the search engine can still track your flight search history.
4. Fly at the cheapest time of the year
Saving: up to 38% or more
Choosing the right time of year to fly is the second most important factor in finding a cheap one-way flight.
Seasonality, holidays, school breaks, festivals and events make a significant impact on airfare prices. If everyone else wants to travel on the same date, there's more demand and airlines will cash in. In cases of high demand, it pays to book further ahead or be flexible enough to travel off-season.
Here's the cheapest and most expensive months to fly by region:
Europe – Cheapest: March, Expensive: July
Asia – Cheapest: November, Expensive: June
Canada - Cheapest: October, Expensive: July
Central America – Cheapest: September, Expensive: December
Caribbean – Cheapest: January, Expensive: December
South America – Cheapest: February, Expensive: December
Middle East – Cheapest: February, Expensive: July
South Pacific – Cheapest: May, Expensive: December
Seasons in the destination also play a big factor. Here's the sweet spot for the best time before departure to buy cheap one-way flights:
Winter – 62 days
Spring - 90 days
Summer – 47 days
Fall/Autumn – 69 days
5. Find the cheapest destination
Saving: up to 50%
This is the single biggest factor for scoring a cheap flight. Combine this by being flexible when you fly, and you're on a winning formula. The good news is there is always a bargain flight to some destination.
If you don't know where to go, use FlightList or Google Flights to get inspiration for cheap destinations. 
Example: I like on FlightList I can choose and entire country or even a region (like Southeast Asia) as a departure point and destination. In the screenshot below, I easily found the cheapest flight between Asia and Europe (Singapore to Athens) was only US$210 per person. Bargain!
As seats fill up on a flight, the airline's algorithm will instantly adjust prices for the rest of the available seats. So, this factor can also be a cause of sudden price changes – not just your search history. On your new private search, if the increased price stays the same, then the algorithm is the cause. Since the specific cause is invisible to the end user, you can understand why there's a lot of confusion about this type of flight hack.
---
---
---
6. Find the cheapest departure point
Saving: up to 29% or more
If you have more than 1 airport within close proximity, compare the flight routes. Driving an extra hour out of the way may save you a bundle. Go a little further and you could save even more. It's a clever way to extend your vacation, by adding bargain locations along the journey and saving money at the same time.
Example: I recently flew between Koh Samui, Thailand and Denpasar, Indonesia, and found on FlightList I could have saved 65% (US$120 per person) if I simply caught an 8-hour ferry from Koh Samui to Hat Yai first for US$14.70 per person.
7. Find the cheapest date to depart
Saving: up to 50% or more
Being flexible and travelling off-peak helps, but even within the same month flight prices can fluctuate by 50% or more, depending on the route. Typically weekend departures are more expensive because more people have time off work.
If you're flying to a particular festival, the airline will know and jack up the prices. So, it can pay off to arrive a few days earlier on a cheaper flight and extend your trip.
Use Skyscanner or Google Flights to easily see different prices for a particular route over an entire month. 
Example: Comparing prices from Singapore to Athens, Greece on Google Flights shows fluctuations by US$444 from one day to the next, a difference of 71.7%! 
---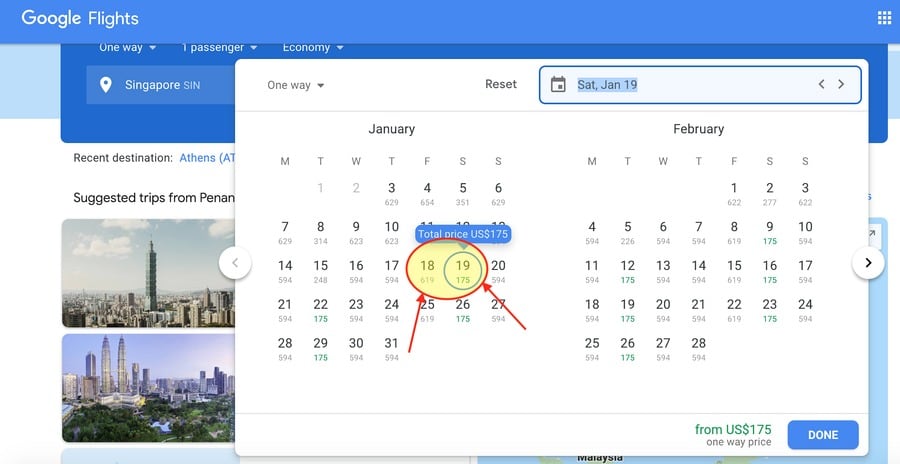 ---
Money tip: Hmmm… how about more cocktails on the beach, more shopping sprees, or you could just make it rain! If you need help covering these travel expenses for your trip, visit this website and learn how you may be able to take care of that.
---
8. Book your own connecting flights
Saving: up to 25% or more
Booking each leg separately may be cheaper than doing it in 1 transaction, as you can choose the cheapest airline rather than sticking with the same airline or their partners.
However, make sure you leave enough time for transfers - at least 2 hours if using the same airline, 3 hours for different airlines. Some airports are bigger than others and take more time to navigate or you may even need to switch airports. Most likely you'll need to pick up your luggage, check it back in and go through security and immigration again. Be warned, if there's a delay with your incoming flight, the airline likely won't provide any compensation or help with re-booking. So, ensure you have travel insurance.
Example: The lowest price for a flight from Hanoi, Vietnam to Koh Samui, Thailand on Google Flights is US$262, which connects via Bangkok, Thailand. Booking our own separate legs for US$76 and US$170 equals $246, a saving of $16 per person. In case you're picky and notice the incoming and outgoing flights from Bangkok are at different airports, there is a free 1-hour bus that operates between them.
---

---

---
---
10. Book sooner than later
Saving: up to 42%
Flights rarely get cheaper closer to the departure date. On average, tickets purchased within 30 days before departure go up in price like a hockey stick – the last 2 weeks are brutal.
The sweet spot for domestic fares is between 29 and 104 days in advance (unless there's a big flash sale) – 70 days is on average the best day (from a study based on 917 million individual airfares) – but it does fluctuate by route and airline.
During the "prime window" prices will typically only fluctuate around $10, so don't sweat it.
Booking early is more useful when heading to a smaller airport or destination with less competing airlines.
Most people don't listen to this advice – only 34% will book in the prime window, 5% will do it earlier, and a whopping 61% will leave it until the last 28 days (half of those within the last 2 weeks – eeek!).
---
---
On average each flight's price will change 62 times before departure - averaging once every 5-6 days.
The best fares for international routes tend to sell out sooner, and the sweet spot varies by region and country. Here's a rough guide:
Europe – 160 days
Asia – 120 days
United States – 70 days
Canada – 66 days
Central America – 70 days
Caribbean – 207 days
South America – 110 days
Middle East – 199 days
South Pacific – 197 days
Africa – 199 days
Cheapair offers a free tool to find how far in advance is the cheapest time to book a flight for a specific route (it doesn't cover every destination, but can be a handy reference).
Skyscanner has a similar tool but only for departures from the UK.
11. Book at the right time
Saving: up to 6%
Statistically, 5am (US EST) is the cheapest time to book a flight (save up to 5-6%) and 7-10pm is the most expensive time. Why? I'm not entirely sure.
Booking on Tuesday to Friday is most expensive, and Sunday is the cheapest (up to 0.6% saving for US domestic, 2.5% for international). This small swing has led some sceptics to say there's no difference what day of the week you book, and at a granular level that can appear to be true. But these longer-term statistics say otherwise.
12. Depart and return on the right day of the week
Saving: up to 19%
And like the previous points, the sweetest day depends on differing regions, cities and airlines. But on average, it's cheaper fly out on a Tuesday or Wednesday (by up to 19%). Returning on the weekend is unsurprisingly the most expensive time.
13. Don't book too soon
Saving: up to 15% or more
Standard practice in the airline industry makes fares available 331 days out from departure. Rarely do they apply a discount very early in that period. Fares start to dip around 225 days out, with a gradual decline until 180 days out before holding for several weeks. Then at around 120 days out, fares start to decline again, before reaching the prime window for booking a little less than 15 weeks before departure. Booking early might give you peace of mind, but there's a good chance you'll be paying too much.
If you're hoping to catch a last-minute bargain, don't hold your breath. If an airline realises a plane is half-empty days before departure, they may run a flash sale but this is much rarer these days. Holding out for this situation is not a good strategy. It's better to use that for last-minute unplanned vacations.
Example: I picked up a bargain flight on a flash sale 5 years ago - a 1 peso domestic flight in Philippines which equates to US$0.02 plus airport taxes.
14. Fly with a low-cost airline
Saving: up to 75%
Long international flights used to be the domain of traditional full-service airlines. But now low-cost airlines handle many long-haul routes.
Here's a list of the largest low-cost carriers on Wikipedia. Some of the smaller carriers might not appear in flight search engines, so it can pay to go direct to their websites.
Once you've picked your destination, visit the airport website for a list of all airlines that fly into that airport to discover smaller low-cost airlines that could provide lower airfares.
Example: compare these flights from Perth, Australia to Dubai, UAE between Emirates (full service) and IndiGo (low-cost) - $533 vs $280 – a 47% difference.
---
---
---
15. Check the destination airport
Saving: up to 9%
That cheap flight might not be so cheap after all when you realise it's flying to a different airport that is much further away that you counted on. This is particularly common for low-cost airlines who try to use the cheapest terminals in order to keep their prices as low as possible. Ryanair is notorious for this.
Example: Years ago, I caught a bargain flight to Manilla, Philippines. I didn't check the airport closely enough, but later found out that the flight wasn't going to Ninoy Aquino International Airport which is less than half an hour south of the centre of the city. Instead I was going to Clark International Airport which is 100km north of the city. With peak hour traffic, the taxi ride took 4 hours!
16. Watch for extra fees & read the fine print
Saving: up to 45%
A cheap one way flight might suddenly become a lot less cheap if you don't read the fine print. You may need to check-in yourself and print your own board pass (Ryanair is infamous for this, charging a €55/£55 fee). Also avoid paying for extras you don't need – like selecting your own seat or boarding first. If you book for 2 (or more) passengers, then there's a very good chance most airlines will seat everyone together. Unless you're as tall as me (6'9" / 205cm), you don't need extra legroom seats. If the airline charges for credit card payments, look for alternative payment options such as direct debit. Just keep in mind if you were hoping to use your credit card's travel insurance features they usually require the travel costs to be billed to your credit card.
Example: Even though I'm very tall I've never paid for extra legroom seats. At the check-in counter I politely ask the ground staff if they have spare exit row seats. Many times, they'll happily oblige at no charge as they don't want their long-legged customers to suffer. However, if I get turned down, I don't have a whinge and just put up with cramped conditions.
17. Set up price alerts
Saving: up to 5%
As soon as you decide to travel and have picked your destination, set up a price alert on Skyscanner to keep track of any potential ticket price drops. This doesn't necessarily mean booking a ticket straight away, just keeping an eye on pricing. Once the price has bottomed out for at least 4 days, it usually means its time to pull the trigger.
18. Choose the cheaper currency
Saving: 2-3%
Most airlines charge for tickets based on the departure country's currency. However, if they are not based in that country, their home currency may be slightly cheaper. This is because they don't want to take the exchange fluctuation risk. This only works if you have a credit card with zero foreign transaction fees. This doesn't work every time, but it's still worth a try.
Example: If I fly with AirAsia, I choose MYR (Malaysian Ringgit) as the currency to save a few dollars. If the flight is with AirAsia Indonesia, then I choose IDR (Indonesian Rupiah).
19. Move to another county (virtually)
Saving: up to 40%
Airlines and Online Travel Agents (OTAs) track your computer's location and can vary the flight pricing. So, you're in Los Angeles? They think you can afford a more expensive flight. Hanging out in Delhi, India? Maybe you haven't got as much dough to splash. Now the flights are a little cheaper. I'm not talking about catching a flight to a foreign land in order to save money on flights - that's a very bad idea. Instead, use a VPN (virtual private network) which masks your real location and gives sites you browse the impression you're in another country – one of your choosing. Combine this strategy with the above tip about browsing in a private window (#2) to ensure websites can't track your search behaviour by cookies. The same flight on Kayak cost $849 in the United States, and only $777 in India (9.2% saving). Choosing a country where the majority of the population are low income earners, can pay off big time.
Tip: I recommend using ExpressVPN which is easy to setup and very reliable. It also works on pretty much every device you can imagine.
20. Ask for a refund
Saving: up to 10%
I suggest checking your flight price 23 hours after booking to see if the price has gone down. Some airlines will offer a refund of the difference but don't publicise this fact. If they don't you still may be able to get a full refund, and then just re-book the ticket at the lower rate. Take a closer look at their fine print, and when in doubt, just call their customer support phone number.
21. Sign up for newsletters
Saving: 5-70%
Some airlines like AirAsia and Ryanair offer big sales for short periods of time. Be the first to know about these. Also follow the airlines on Facebook and Twitter. Sometimes the cheapest seats only last for a few minutes, so you have to be ready to strike when the sale starts.
Set up a separate email address if you don't want your inbox clogged with newsletters.
Here's a few of the best flight newsletters for big savings:
22. Find mistake fares (airlines do stuff up sometimes!)
Saving: up to 90%
These may only last several days (or even hours), so book it as soon as you see it. Wait until you have received the confirmed tickets before booking accommodation and car rental (or use a site with fee-free cancellations). Airlines will generally honour their prices, even if they're temporarily incorrect.
The sites in the previous section expose mistake fares, but join these too:
23. Evaluate your luggage
Saving: up to 60% or more
Particularly with low-cost airlines, luggage rates can be astronomical. I've had to pay for an additional small suitcase on 1 flight which cost more than the actual seat itself. When I asked the airline clerk, if I could just buy another ticket and strap in my small suitcase on the seat next to me, she was completely unimpressed. I guess that was a "no".
I'm a fan of travelling light. If you are going somewhere warm for less than 3 weeks, there's a very good chance you can go with carry-on only. If the only large liquid container you carry is a shampoo bottle, then just leave it at home and buy one at your destination.
Tip: Avoid any nasty surprises and buy a small luggage scale so you know exactly how heavy your suitcase is.
24. BYO food
Saving: up to 15%
A cheap flight from a low-cost airline can become more expensive if you buy their overpriced in-flight meals (they usually taste terrible too). If you absolutely have to, it's better to pre-book them ahead of time. Otherwise, bring your own snacks (if it's a short flight), or light meal if it's a long flight (such as sandwiches). A cheap $100 flight suddenly becomes more expensive when you waste $15 on an unsatisfying meal.
25. Get travel insurance
Saving: priceless
The quickest way to make a cheap one way flight more expensive is to miss your flight. The small price of travel insurance will give you peace of mind for if something goes wrong – you get sick, injured, lose luggage or miss a flight. Options worth considering: World Nomads (US), Travel Insurance Direct (Australia).
26. Hidden City tickets
Saving: up to 35%
"Hidden city tickets" (also called "throw-away ticketing") works is by discarding a portion of a flight that you don't need in order to score a lower price. For example, if you want to get from New York to Chicago, but find out it's cheaper to fly to San Francisco with a connecting flight in Chicago, you simply don't get onto the connecting flight on purpose. Why don't airlines just make more sensible pricing? It's a long and complicated story.
While "hidden city tickets" are not "illegal", they do technically violate the airline's contract of carriage. The best website to find these types of deals is Skiplagged. United Airlines has threatened customers in the past who have used this loophole. So, be aware it carries some risk, and I haven't used it myself. Only works with 1-way tickets and carry-on luggage (otherwise the checked luggage ends up in the final destination). United Airlines were so enraged by hidden city tickets, they sued the creator of Skiplagged (and lost), and sent at least one threatening letter to a passenger.
27. Use credit card points
There's nothing cheaper than free. You can use credit card reward points to travel for free or nearly free. Point hacking is a whole science it itself and there are entire websites dedicated to this topic. So, I won't go very far down this rabbit hole.
If you don't know where to start, I recommend this card (for US residents): Chase Sapphire Preferred. You simply need to spend a minimum amount within 3 months of account opening to receive $625 worth of travel credit. That will get you on a one way flight to almost anywhere in the world.
28. Use air miles
Most airlines around the world are part of one of three major alliances: Star Alliance, Oneworld, and Sky Team. 
Sign up for at least 3 airline point programs – one in each alliance (eg. American Airlines, United Airlines, Delta Airlines) so you can earn miles on most flights which can later be redeemed for discounted or even free flights (you still have to pay for airport taxes and possibly baggage).
You can calculate the required points for each potential flight on the Milez website.
Redeeming airline miles can be a cause of frustration as airlines release limited seats for redemption. ExpertFlyer will notify you when flights or upgrade rewards become available.
Keep in mind a number of low-cost carriers are not part of any alliance, and maintain their own internal rewards program. An example of this is AirAsia's BIG program. If they are free to join I recommend signing up, you've got nothing to lose. Keep track of all your membership numbers in a spreadsheet or use Points.com.
29. Don't forget visas
Saving: up to 20% or more
If your destination choice is flexible, don't forget to calculate the cost of a visa on arrival (or if one is required in advance). This can apply to layovers if you've used different airlines. The visa fee may just make an unforeseen dent in your travel budget. I use VisaHQ as the starting point for checking visa requirements.
Example: Flying from within Europe to Istanbul is relatively cheap, but Turkey now has an e-Visa program which costs per person: US$60 (Australia), US$20 (USA), US$20 (UK).
If you're flying through Istanbul on different airlines and need to collect your luggage and check-in again, then a visa will still be needed. Annoying!
30. Cheapest is not always best
Saving: your sanity (priceless)
Sometimes it's not worth saving just $5 to get the red-eye flight when it means you'll arrive at your destination groggy and grumpy. Most times I'll gladly choose a slightly higher fare if the timing helps getting over jet-lag or better suited around meal times (I try to avoid eating on planes wherever possible). Also watch out for long layovers on multi-leg flights.
31. One way isn't always best
Saving: up to 20%
As a general rule of thumb, if a low-cost airline flies to your intended destination, one-way flights will be cheaper on all airlines. But in smaller destinations where low-cost airlines don't fly, one-way tickets can be more expensive. It's worthwhile comparing both options to stay informed.  Sometimes it's cheaper to fly to a nearby larger airport hub and drive (or train) the rest of the way.
32. Consider the cost of your time
There's no point searching for flights for 10 hours to save $5. You wouldn't flip burgers and McDonald's for $5/hr so why would you spend your time searching for more flights (unless you actually enjoy it). I recommend spending a maximum of 1 hour finding and booking the right flight. Since I'm well-practiced I can usually do the whole process in 10-20 minutes. Anything longer than that either means I have a slow internet connection or really have no idea where I'm going.
Follow my process
If I am able to plan far ahead (which is less common these days), I try to jump on a mega sale as soon as it's launched. One of my favourites is AirAsia. Many years ago, I picked up a $0 flight from Singapore to Kuala Lumpur on a knee-jerk sale (still had to pay for taxes and luggage). It helps to know where you want to go in advance so when the right sale comes up, you can pull the trigger without hesitation.
However, my more typical process follows these 14 steps:
1. Search
Use FlightList to find a range of possible routes, starting by searching for an entire region (eg. Southeast Asia) as the destination, and the entire country for departure (eg. Malaysia).
2. Compare routes
Make a list of alternative routes that had not considered before and calculate any required additional transport if needed (eg. train, bus, ferry, car hire).
3. Compare window
You should have a pretty good overview of the price variations between dates from FlightList, but to ensure you're getting the best price, compare the window (up to 1 month) on Skyscanner. At this point you should have nailed down the departure and arrival locations.
4. Check nasty times
Compare the flight departure and arrival times – if the cheapest price is a red-eye (or equally appalling time), check for the next best time. If it's way more expensive, go back to step 2 to consider alternative routes or dates.
5. Evaluate luggage
Calculate the airline's extra costs for luggage (depending on how much is being carried). Also look at the luggage costs of the 2nd and 3rd cheapest flight (if they're with different airlines) to see if they work out cheaper when luggage is taken into consideration.
6. Go direct?
At this point we have a specific destination, date and flight lined up. Now compare the same price on the airline's website to see if it's cheaper. To be extra thorough, check the flight on Cheapflightsfinder which compares 5 major search engines.
7. Alert
If short on time, and currently in the prime window (or even after it, gasp!), book the flight straight away (either on an OTA or airline's website). But if you're planning ahead (by a few months), set up a price alert on Skyscanner.
8. Book it
When the prices stop going down and level out for at least 4 days, check if you're close (or in) the prime window, and pull the trigger without hesitation. Just book that sucker!
9. Record
Note down the flight details in your smartphone calendar (booking number, flight number, departure date/time, departure and arrival terminals).
10. Sanity check
Turn off the price alert so you don't torture yourself. And while you're at it, give yourself a high-five!
11. Refund, if necessary
Check the flight price one more time 23 hours after you've booked it to see if it's gone down. If it has, you may be able to request a refund from the airline, and then re-book the lower rate (or they could refund you the difference). Policies vary between airlines.
12. Check-in online
3 days before the flight check-in online so you can score the best seat possible (if the airline doesn't charge for seat selection). Print your boarding pass if relevant, or at least an itinerary.
13. Pack light
The day before the flight, pack your suitcase and weigh it using a handheld luggage scale. Ensure you have at least 0.5kgs buffer as airport scales can be skewed against you. Check the flight status on Google (search "flight status X" where X is the flight number), to ensure it's still on schedule.
14. Check flight status
On the day of the flight check the flight status again. No point going all the way to the airport (with the expense of petrol or a taxi) if the flight is cancelled. If it's all green lights, then get ready for a wonderful adventure!
The Bottom Line
Whew! That's a big one. I wish I could say scoring the cheapest one way flight was easier, but if you really want to know the process most travel pros go through, this is it.
Don't worry if it seems daunting at first. Just play around and practice the steps one at a time on an imaginary trip. That way when you're ready to fly for real, you'll be proficient at scoring unbelievably low airfare prices.
Now the tough decision… what to do with all that extra vacation spending money? Hmmm… how about more cocktails on the beach, more shopping sprees, or you could just make it rain!