Having visited over 65+ countries in the last 3 years I've seen my fair share of landscapes. But nothing has quite compared to Alaska.
A land teeming with magic, carved by the invisible hand of nature like a patient master craftsman. An immaculate wilderness, whose vastness is only surpassed by its diversity.
A land which, to be fully appreciated, needs to be experienced by food, road, sea and sky.
A land which needs to be seen to be believed.
And to that extent, here are my favourite photos from our once-in-a-lifetime helicopter tour from Skagway to Meade Glacier… and beyond.
Taking off from Skagway Bay.
Getting cosy in the helicopter
Bird's eye view of the Holland America Noordam. The ship which carried us from Vancouver on a 7-night Alaska cruise.
Lynn Canal from behind the helicopter pilot.
Seeing the forest from the trees. This road is the last sign of civilisation as we leave Skagway behind.
Floating between mountains, soaring over snowy peaks.
First sight of the glacier field. The direction of the ice flow can be seen in the cracks and crevices. The Meade Glacier is around 800-900 feet thick.
As the glacier carves the surrounding mountains at the speed of 1-2 inches per day, pulverised rock is mixed into the ice flow which forms the brown stripes.
Glacial superhighway. The 1,500-square mile Juneau Icefield feeds the Meade Glacier amongst others.
Landed on Meade Glacier. Our first time walking on a glacier!
Strike a pose! It takes 100 feet of snowfall to create 1 foot of glacial ice that Erin is standing on.
During peak season up to 7 helicopters are flying between Meade Glacier and Skagway. As we arrived in the last week of the cruise season, we were one of the last groups of the year to see this natural wonder.
This neon blue snowmelt is incredibly pure – only 5 parts per million of impurities. Compare that to 250-300 parts found in the rest of the United States.
Meade Glacier panorama.
Mountain peaks miles away look so close. Crunchy white ice as far as the eye can see.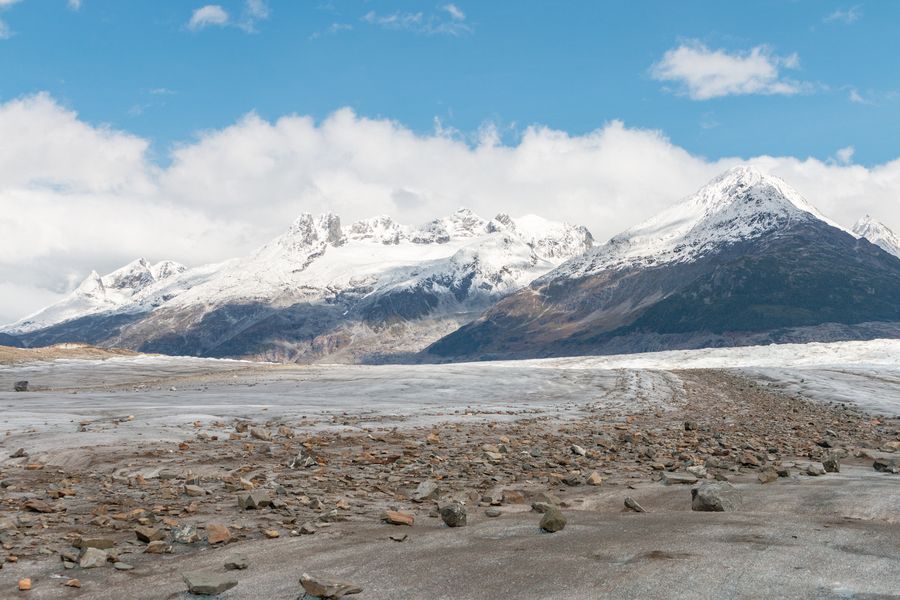 Scale and perspective gets skewed on the glacier. These boulders looked like pebbles from the helicopter above.
A second tour group with a background showing how tributary glaciers feed into the Meade Glacier.
Sun reflects of the ice and snow, creating a brilliant light in all directions. Fortunately our visit was met with perfect weather conditions – sunny and 6°C (42°F).
Notice the ice on the right side of each boulder? These are the shadows that melt slower than the surrounding ice.
This small puddle is actually a crevice (called a "moulin") which can be anywhere from a few inches to 900 feet deep.
This massive moulin is around 200 feet deep. We performed a very scientific test by tossing a rock down and waited until it hit the bottom. Snowmelt carves the ice and seeks out cracks to the bottom of the glacier. As always, Erin gets as close to the edge as possible.
Livin' life on the edge. You have to watch your step because these might seem like small voids that can be easily jumped over. But falling down one of these is a one-way trip.
"Whisky ice" is 8 times harder than regular ice and takes longer to melt. When this glacial ice meets the relatively warm river at it's terminus, the results can be explosive… literally.
Drinking glacial water straight out off this puddle – the best tasting water in the world.
Helicopter controls.
Headsets used to communicate with other passengers and the pilot during the flight.
Flying over a mountaintop on the return to Skagway.
Katzehin River, flowing from the base of the Meade Glacier to Lynn Canal. The glacier is currently retreating around 200 feet per year.
Katzehin River alluvial plain.
The only way to see this isolated mountaintop lake is from above.
Sun piercing through the clouds over Lynn Canal.
Wrap it up
What made this visit to Meade Glacier even more special was realising how little time was left to experience it. Glaciers like this one in Southeast Alaska (which are up to 2000 years old) are quickly disappearing, losing over 1 foot in depth each week – 2 feet in the summer. The ice will be completely gone in 15 years. 
To put it in perspective, if I were standing on the same spot 5 weeks prior, ice would have covered my head.
If you feel compelled by these photos to visit Skagway and Meade Glacier, then consider doing it as soon as possible.
Once they're gone, there won't be a second chance.
All that will be left are these photos.