I don't know what your idea of heaven is. But mine involves gentle tropical breezes, infinity pools, colourful cocktails and giant inflatable rainbow unicorns. 
Unicorns are essential. 
Either I've been spending too much time on Instagram or I've been to Banyan Tree Ungasan, Bali.
There's no shortage of villas in Bali. And there's no shortage of luxury accommodation either. So when the Bali Tourism Awards recognised this particular property as Bali's leading luxury villa in 2016, it cemented the stellar reputation of Banyan Tree Ungasan, Bali. 
With 71 luxury villas spread around a secluded 10-hectare location in the south of Bali, the resort emanates a rustic village charm balanced by a worldly sophistication and distinct Balinese style. 
Perched on top of a 70-metre high cliff, the resort provides panoramic scenic views of the Indian Ocean. It feels close to nature and far, far away from the hubbub of Kuta. Sometimes nature comes a little too close, such as the morning when a wild monkey snuck into my villa and made off with a granola bar from the mini bar. I found the incident hilarious! Especially when the beady-eyed monkey victoriously perched himself on top of the high perimeter wall munching away on his celebratory feast, occasionally glancing over his shoulder at me, almost to taunt me as the loser. Fortunately, there are security staff on hand to gently shoo away mischievous wildlife if you don't see the humour in it. 
I thoroughly enjoyed spending 2 nights in one of Bali's most prestigious villas. Here's the reasons why.
The Villa
The experience at resort like this is all about the villa. I stayed in a Pool Villa Sea View which was absolutely gorgeous. As the name suggests, it has a view of the sea. But what it doesn't say is how HUGE the villa is. It covers 239 square metres! To put the size into perspective, that's as large as a typical 4-bedroom house in Australia. 
The interior was decorated with a distinguished contemporary Balinese style and quality furniture pieces. I adored the hand-crafted coffee table carved from a single piece of timber. There was plenty of space and the all-important Wi-Fi speed was excellent. The marble-clad bathroom was especially spacious, with both indoor and outdoor showers. Red rose petals adorned the king-sized bed and filled the bathtub for a really romantic vibe. 
All of those touches were impressive. But the hero of the show was the private 10-metre infinity pool with adjoining jet pool. I could simply walk out of the bedroom and straight into the pool. Bliss!
Note to self: keep the sliding bedroom doors closed so cheeky monkeys can't steal snacks from the minibar.
Adjacent to the pool is a Balinese inspired bale with comfy daybed and 2 sun lounges. I happily spent several hours floating around the pool. Yes, this was in heaven. But there was more to come. 
Floating Breakfast
On one of the mornings I tried the floating breakfast. A staff member brought a fully-loaded tray to my villa. And after lovingly preparing it, carefully placed it in the villa pool, ready for enjoyment. The spread included eggs, sausages, grilled tomatoes, hash brown, breads, pastries, sliced fruit, fresh fruit juice, tea and coffee. Oh, and a few rose petals for the finishing touch. Uh-mazing!
Infinity Pool & Pool Bar
If you are looking for a bit of variety from the luxurious private villa pool, or perhaps a more social scene, the shared infinity pool is centrally located in the Banyan Tree Ungasan, Bali resort. This is where my Instagram dream came true. I simply asked one of the poolside staff members for an inflatable pool toy and he promptly brought out my rainbow coloured steed. Now, I'm pretty sure this is heaven.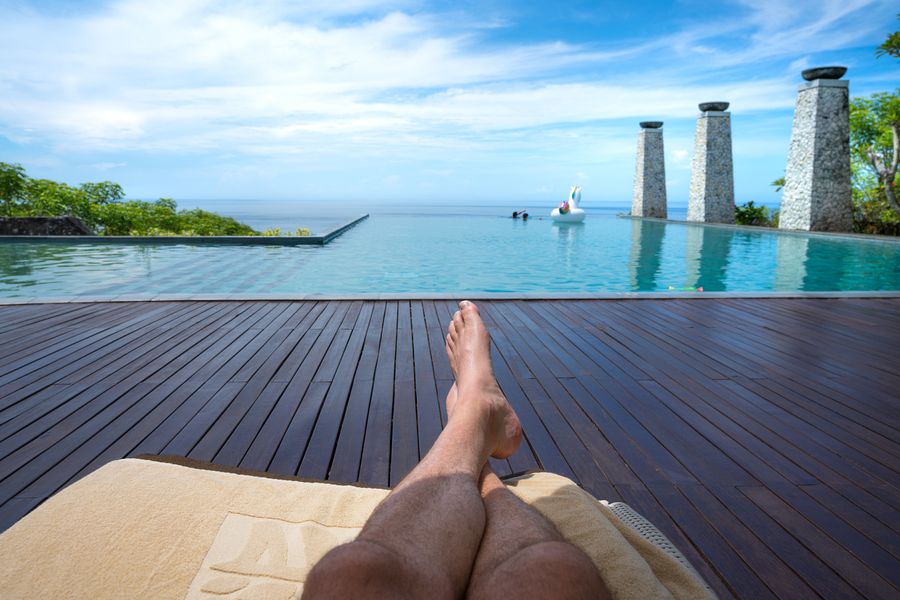 Ju-Ma-Na Restaurant
Serving high-end French cuisine with a Japanese twist and delectable cocktails, Ju-Ma-Na is the ultimate clifftop location for watching the sunset with a tequila sunrise (please excuse that cocktail fax pa), or a romantic dinner for two. My mouth-watering 3-course dinner included:
Bambu Restaurant
I enjoyed a buffet breakfast and a la carte lunch at this restaurant, featuring pan-Asian and international cuisine. Overlooking the infinity pool and lush garden, the style of this restaurant is more casual, but don't let that fool you. The food is still just as divine. And any breakfast buffet that includes champagne is a winner in my book!
Beach
A beautiful public beach is located near Banyan Tree Ungasan, Bali. I attempted walking the steep path and winding staircase down to the beach, but I was also very grateful that the resort offers complimentary buggy transport not only around the resort grounds but to the beach and back. A resort concierge representative was available at the base of the stairs when I was ready to call the buggy back. 
Even though I didn't have enough time up my sleeve, I could have easily spent a few hours lazing on the beach and swimming in the clear, shallow waters. The beachfront is protected by an outer reef, making it ideal for all ages. I came down late one afternoon to watch the stunning sunset and walk amongst the tide pools.
Guided Nature Walk
More guest activities are available for a small extra cost. I tried the guided nature walk one morning (only RP150,000 or AUD$15 per person). My experienced guide led me through the jungle and fields surrounding the resort, sharing insights along the way. We stopped at a local Balinese household to learn more about this beautiful culture and meet one of the residents of the town of Ungasan. A little exercise felt invigorating after the lounging and swimming. And if you're even more energetic, the resort has a fully equipped gym. I totally thought at least twice about using the gym. And then I just ordered another cocktail. 
White Dove Chapel
While I didn't come here to attend a wedding (or hold my own), this chapel, adorned with 300 doves, was so beautiful I just had to mention it in the article. Banyan Tree is able to arrange and host weddings, from small intimate gatherings to up to 300 guests. 
The Bottom Line
Banyan Tree Ungasan, Bali has not only been awarded for its villas but also as one of the top 10 hotels in Indonesia and one of the best hotels for relaxation. After spending a few days in this patch of paradise, I can attest that these accolades are well deserved. 
Floating on the back of my unicorn, letting my mind and body unwind and drift with the wind, I occasionally had to place my fingers on my wrist to check for a pulse… because I could have easily been fooled that I had died and gone to heaven.