If a death-defying bus ride from hell sounds interesting, keep reading. 
It all started when we picked up our Citroen car lease in Rome and made our way down to the Amalfi coast. The Amalfi Coast is a stretch of coastline on the southern portion of the Sorrentine Peninsula in the Province of Salerno in Italy. The only land route to the Amalfi Coast is the narrow, windy 40 kilometre (25 mi) road along the coast. 
Positano
Our first taste of Positano was not the best. We had planned to meet my parents in the centre of town and had picked a spot randomly on a map. As we transversed the windy, tightly squeezed roads for 45 minutes up and down, down and up, we decided there was no we were going to find them and got out of there quickly heading to our hotel in Praiano.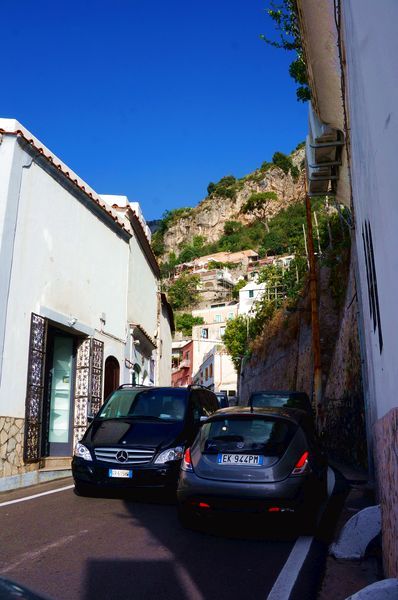 Our next taste of Positano, although started with a sick queasy feeling for the nauseating death race of the local bus system, was much better. The bus driver had conquered the coast many times and while he drove much faster then I ever would attempt, it seemed he was much more capable.
The bus to Positano from Praiano was €1.30 per person (over 1 meter tall) and lasted about 40 minutes. It dropped us off in the center of town, at the top of a pedestrian walkway that wound it's way down to the harbor at the bottom.
Famous author Steinbeck wrote about Positano "it is a dream place that isn't quite real when you are there and becomes beckoningly real after you have gone." And he sums it up perfectly. The picturesque views taken from quick, breathless side stops on the road where your car could be pummeled by a coach or where the wind feels like it could sweep you down the cliffs. Or the walk down the pedestrian mall feels quite surreal.
The walkway was lined with shops either side with many of them filling the air with that gorgeous citrus blend of the famous Limoncello. Limoncello is an Italian lemon liqueur mainly produced in Southern Italy, due to the giant head-size lemons that grow there.
We stopped halfway down in a small café for some coffee and Sicilian cannoli. The little café smelled like freshly brewed coffee mixed with sweet tempting pastries. The seats were in a garden with indescribable views looking up the mountain, and the bill had a price tag to match. The cannoli was not as great as the Sicilian cannoli we had experienced in Messina, but it was a welcome pit stop.
Once we reach the bottom we decided to find a ride to Capri. Capri was one of my favourite stops in 2001, a little island off of the coast and I was excited to return. We found a few boat rides that were a bit hesitant about taking us out the next day, since the weather was not looking to be very cooperative. We did book one cruise, however it was cancelled the next morning and I never made it back to Capri. I guess it will need to remain in my rose-coloured memories for another time.
We decided to eat lunch in the harbor overlooking the beautiful Mediterranean Sea and happened upon a delicious little place called Chez Black. While at this restaurant I witnessed a spectacular scene of a pre-teen refusing his pizza, as it wasn't up to his expectations. His parents folded like a deck of cards and ordered him a plate of chips, describing their disappointment because they would have to pay for the other item. He proceeded to pout his way through the meal, then refusing the chips that were placed in front of him. Oh boy! Am I ever blessed with non-fussy eaters and a stone-will that only has mumma preparing one meal for everyone, I'm not a chef and my kitchen ain't a restaurant. Anyway this has nothing to do with anything haha.
After lunch we walked back to the top of the pedestrian mall to await the bus ride back to Praiano. This was probably the worst experience we had in Positano. While the bus ride into town was harrowing, the bus ride out of Positano was manic. There was a gaggle of people waiting to board the elusive and very late bus. When I say gaggle I mean a flock of people in no particular order or system, just waiting. People moving to the front, people shoving from the back. Taxis coming in and out, a busy road and running children weaving to and fro through the crowd.
I decided if we were going to get on this bus I would need to plant myself at the front of the swelling mob of people and not be moved. Even with that technique of the fierce and determined lioness mother I had several people shove in front of me, which was then a cause of shuffling backwards once the bus arrived. The crush to get on the bus was only saved by my unwavering determination to have my kids on that bus. My parents slowly were edged to the back of the line. I feared they would never get on, but watched them squeeze in as the last people on board. I didn't talk to them the entire trip as a horde of people separated us and their stop was before ours. We shouted our goodbyes as they stepped off, promising to be in touch on the morrow. I have never been more thankful for a seat on a bus than that over-crowded, smelly-armpit-in-your-face journey over the cliffs of Positano directly in front of our doorstep at Hotel Margherita.
Praiano
Praiano is a town in situated on the Amalfi Coast, between the towns of Amalfi and Positano with a population of 2,069 inhabitants.
We stayed in Praiano and found it actually provided the best views to photograph Positano, which is a divine town to observe as it sits nestled on the sheer cliffs.
Praiano is a pretty tiny town. There were not a lot of restaurants, but there was an amazing golden Church of San Luca Evangelista, dating back to 1123. It's bells rang out beautifully and we enjoyed dinner in a nearby restaurant one night listening to the chorus of bells and watching the sun fade into the blue Mediterranean Sea.
These are two beautiful places on the Amalfi Coast that are just waiting to wear out your camera. But this was not the end of our enjoyment on the coast. On our last day in the Amalfi Coast we headed to its namesake. Come read about Amalfi.