This time it wasn't about me. This time my barely 120cm 4 year old child was doing it. She was crying she didn't want to do it. But I'm a cruel and merciless mother and, as any mother would, presumed to know her better then she knew herself. I placed her in the inflatable rubber tube while the worried attendant said, "I don't think she wants to go."

"She'll be fine," I muttered.

And the man pressed the button releasing our tube into a dark, steep, twisting tunnel. The crying stopped. It was just silence as we rushed through the darkness. I attempt a scream, but Mia was still so quiet that I stopped to listen to her.

Suddenly with an almighty splash we were heaved out of the black tunnel into a translucent, somewhat more horizontal tunnel, bobbing in the water. Around us were swimming sharks and stingrays, Nemos and Dorys. The tube slowed down to a crawl and we could actually see Daddy Josh and Caius waving at us through the glass on the other side.

With one last downward push we splashed into the exit pool and hopped off our inflatable tube. I was wet and laughing, Mia has a small smile.

"What did you think?" I asked.

There were no tears anymore. Her eyes shone large and her mouth opened into a silly grin, "Let's do it again!"

We ventured back to the waterslide with the sharks 5 more times that day.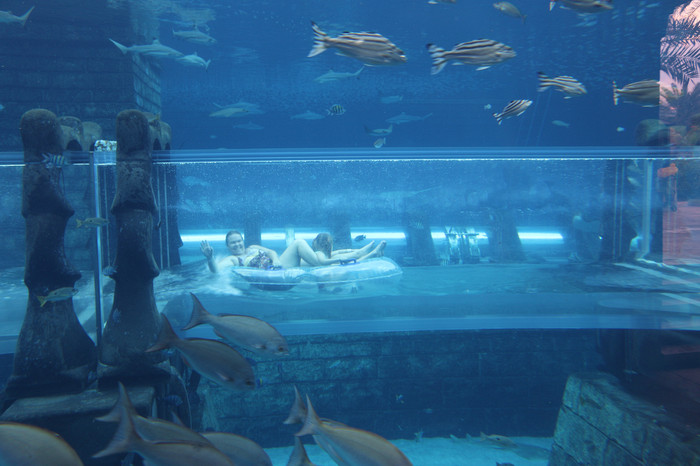 Based on our experience at the original Atlantis resort in the Bahamas we asked if there was a way to top that. And Dubai did it. Situated in Atlantis, The Palm, the Aquaventure Waterpark is the number 1 water park in the Middle East and Europe, located on an artificial island in Dubai. I'm sure you've heard of it – from space (or Google maps) it's shaped like a Palm Tree. There are several resorts on the island, but none quite like Atlantis, The Palm.
This place is luxury accommodation, as is the waterpark. If you stay at the hotel you have free access to the 42-acre water park or the 65,000 fish and sea creatures living in the Aquarium. We had already made plans for our accommodation in Dubai so were interested in taking the kids to the waterpark. Our last waterpark was Guatemala in April so we were chomping at the bit for some slide action.
You can buy tickets online and save:
Under 1.2 metres AED 180 (Gate AED205)
Over 1.2 metres  AED 225 (Gate AED250)
If you want to see the aquarium as well, you can get a combo ticket:
Under 1.2 metres AED 215 (Gate AED 240)
Over 1.2 metres  AED 275 (Gate AED 300)
Total for our family of 4 combine tickets AED 1040 (AUD $311)
It's not a cheap day out so build it into your holiday budget, because it's a once in a lifetime family travel experience. It's not so much the abundance of slides as the park does not have as many as others, nor is it the 2.3 kilometer rapid river. Quite possibly it could be the beautiful paradise surrounds or the Mesopotamian-styled Ziggurat temple reaching over 30 metres into the sky. The brand new Tower of Poseidon is packed with never-seen-before, heart pumping waterslides plus the Middle East's longest zip line circuit and has certainly added to the appeal, but the real once-in-a-lifetime experience comes from The Leap of Faith & Shark Attack.
The Leap of Faith will have you fall over 9 stories in a mere second before flying through a clear acrylic tube surrounded by sharks and rays. Similarly the Shark Attack spins you down into blackness before emerging through the shark-filled lagoon. I know it's not every day I get to float through a shark tank. 
When entering the park please be aware you cannot bring food and there is nowhere, but a bin to hold it. We were not aware of this and had several food items make their way to the trash just purchased the previous day for our day out. This would be my biggest gripe as the food inside is also overpriced and a bag of chips or a couple of apples would have been a relief for a full day inside. In saying that when we did sit down to lunch in the Barracudas Food Court to eat our pizza and Middle Eastern shawarma they were delicious and very big servings. 3 meals with drinks set us back AUD$50. 
My kid's favourite part of the whole waterpark was Splasher's. An elaborate water playground featuring water games, jet sprays, giant buckets, ten slides and climbing structures. We planted our bag and towels beside this section the entire day, relaxing on the sun-shaded deck chairs with little trips to other slides throughout the day. Caius was too young to really go on any of the large slides, despite his begging, but hardly noticed one parent was gone while he stayed in this children's nirvana.
We never made it to the zipline or for a swim with the dolphins. We had a quick play along the stretch of beach and also took a few rides in the free chauffeured golf carts offering guests convenient transportation from one end of the park to the other. 
The park closes at 5:30pm and we were the last ones to party, staying until the water was turned off. And then even longer chatting to the staff. I have to say the service in the park is also worth the price tag. Each member was so friendly and accommodating. Those helping in the children's playground were very watchful and interactive with the kids, playing with them, encouraging them. I had a great chat to a lovely bloke from Kenya for quiet sometime standing in that wet water paradise.
After a long, tiring day we exited the park. We still had tickets to the aquarium and thought that would be a nice way to wind down. Caius fell asleep before we even walked across the lobby, however the Lost Chambers Aquarium entranced Mia.  
The Aquarium is sumptuously themed on the Lost World of Atlantis. And you feel you are exploring underwater mazes and tunnels of a lost civilisation. My favourite part was the cushions situated in front of the large viewing area of the main water tanks. I placed my sleeping son down and stayed to watch, the aquatic life, better than any TV show.
It's very different to the Dubai Mall Aquarium and Underwater Zoo. While Dubai Mall is aimed at education with school visits and educational signage, the Lost Chambers is a walk through a mysterious world lost in time.  You won't find facts or figures, but you will find beauty in an ostentatious surrounding. 
Finally it was time to leave the extravagant Atlantis and head off of The Palm. They have a monorail that can take you back to the city, however at AED 15 per person the only way this is economical is if you are a single person. A taxi was less then AED 25 back to our hotel room and we were all relieved to just sit down and step out to our hotel.
A day out is tiring; a day in the water is exhausting. But when you are listening to the constant giggles of your daughter as she faces her fears or watching your son take the same slide 20 times in a repetitive pattern you can keep smiling. You can also enjoy a very quiet night as everyone falls into comatose.