What a city! Dubai is bursting with entertainment; it's big, busy and just… wow! There is so much to do within this relatively new family travel hotspot, so give yourself enough time. Don't just use it for a transit. We spent 3 days in the shopping mall alone!
What exactly can you do with your kids in Dubai? Well, the list is endless, but here are ten at the very least to start with. These are in no particular order since we loved them all.
Move over Disneyland, Kidzania is our kids' favourite place to go. After Kuala Lumpur we were so excited to try the Dubai installation. Kids enter this magical, pint-size city full of opportunities to try at any career you can imagine – pilots, doctors, chefs, painters, fire-fighters, beauticians and loads more. 
Cost: Adult – AED 95, Child – AED 140 (4 – 16), Toddler – AED 95 (2 & 3), Under 2 – Free.
Location: The Dubai Mall.
Transport tip: Getting around Dubai is easier with a car. Rent a car at Renty.ae for a wide range of vehicles at very reasonable prices. Their range includes economy cars right through to luxury models.
You haven't been to an Aquarium like this one since it houses the world's largest acrylic sheet showing off sharks, fish and sting rays. Stroll through the pedestrian tube to get up close to all the sea life. Above the aquarium is located the Underwater Zoo where you can find trained painting otters, interesting insects and playful penguins.
Cost: Combo ticket – Adult – AED 70, Child– AED 55 (3 – 12), Under 2 - free.
Location: Dubai Mall.
In Australia they are called Time zone, in the US it's much like Chuckee Cheese, just without the pizza. Two floors of theme park rides and endless rows of arcade games. They even have a giant indoor playground that is fully supervised so the adults can drop off the kids and compete in a round of head-to-head car simulator racing. 
Cost: Power Pass – all day - AED 175, Family Pass – 4x all day – AED 600.
You can also get individual tickets for rides and purchase game cards for shorter playtime.
Location: The Dubai Mall.
Within the hot desert location of Dubai you can find a small oasis. This Olympic-sized ice skating rink is the perfect way to cool off. With the expert help of trainers, and even little Penguin Pals to help your little ones balance, everyone will be zipping around the ice in no time.
Cost: 2 hour session – AED 55/Spectating – AED 15, Child – AED 25 (under 100cm), Penguin Pals – AED 30 per hour.
Location: The Dubai Mall.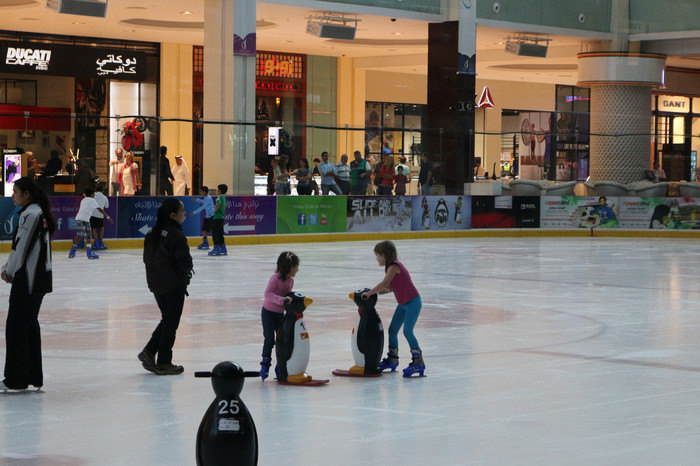 Over a sizeable crystal clear man-made lake with the world's tallest building as the spectacular backdrop, is the mesmerising Dubai Fountain Show. They run every half hour for about ten minutes in the evening and there are two shows during the day. 
Cost: Free.
Location: The Dubai Mall.
Movies are usually a rainy day activity with the kids, but in Dubai it becomes one of those things you love to do on a 50°C day. The cinemas are ultra modern and play most films in English. 
Cost: About AED35 per ticket, no discounted children's prices.
Location: Malls across Dubai- there's a lot to choose from.

What's a holiday without a waterpark? Especially in hot Dubai. This waterpark is located on the tip of a colossal man-made island, The Palm. It features a number of heart-pumping slides, including The Leap of Faith, which is a 9-storey drop and Shark Attack which has you water sliding through a shark lagoon. Finish off this day with the mysterious Lost World of Atlantis, a deluxe aquarium. 
Cost(Online): Under 1.2 metres - AED 180, Over 1.2 metres - AED 225.
If you want to see the aquarium as well, you can get a combo ticket: Under 1.2 metres - AED 215, Over 1.2 metres - AED 275
Location: Atlantis Resort, The Palm.
Big kids, little kids, or no kids - this is a brilliant night for young and old alike. Take an unforgettable 4-wheel drive safari through the Arabian Desert before stopping in the middle of nowhere for a traditional dinner and a spectacular show. 
Cost: Varies through several different tour companies, over the phone US$62 per adult and US$52 per child.
Location: Collect from your hotel and drop off included. 
Whether you head to the man-made beaches of The Palm or The World or you stick to Dubai's natural coastline you will enjoy your day in the sun. There are many paid beaches with features including swim up bars, sun lounges and water sports. However there are also plenty of free beaches too, close to The Walk, which features an array of juice bars, burger joints and gelato counters.
Cost: Free or paid, your choice.
Location: Dubai coastline.
With it's elaborate gold domed stations and driverless trains, the metro is sure to be a hit for kids. It is an elevated line, which provides a unique view of Dubai and can take you from malls to beaches to man-made islands. 
Cost: The train was a little more then AUD$1 per ride with both kids free. You can buy a train pass to put money on for easy use. It cost AED6 (AUD $2). Just be careful because unlike the London Oyster card you can't return the card and unless the value is over AED5 you can't get a refund for the amount on there either. The trick is to top up more than enough credit so you can get it all back. It doesn't make sense to me.
Location: Throughout Dubai.
These 10 activities just scratch the surface of what's available within the sprawling metropolis of Dubai. If you're not to keen on hot weather, no problems, just head there during winter and you'll find it's a much more comfortable temperature. But any time of the year is fine with me. The incredible accomplishment of building a modern, vibrant city out of nothing within such a short period of time will leave you spellbound. It really is quite a magical place. A hot, magical place.