Scotland has long lingered on my travel bucket list. Its grassy carpet-like fields, uncounted cascading waterfalls, stirring mountains, and craggy coastlines are pure fantasy for the landscape lover. Or really for anyone who yearns for long scenic drives, surrounded by raw nature at its finest.
Scotland's most worthwhile spectacles tend to be concealed down winding, narrow roads, unruffled by the trivial hustle and bustle of civilisation.
The best way to experience the unforgiving land known by ancient Romans as Caledonia is by jumping behind the wheel for a wee road trip.
My circular 9-day Scotland road trip itinerary involves hiring a car in the capital, Edinburgh, and driving north to Inverness, then delving deep into rugged highlands before climaxing with the fanciful Isle of Skye. Of course, we'll stop along the way to glimpse cute highland coos and sip authentic Scotch whisky.  
Throw a few bagpipe anthems to your road trip playlist, grab yer kilt, crank up Scotland The Brave, and let's hit the road!
If you're Scottish, I apologise in advance if I offend with my sense of humour. I really do love your country!
Phew! That got them gingers off my tail.
Essential Scotland Road Trip Tips
1. Pack for cold weather and never believe the weather forecast
Scotland's lush green landscapes have one little catch – rain. Lots of rain. The driest and warmest time to visit is during the summer months of July and August. But even then, don't take the weather forecast too seriously as it seems to change by the hour!
My Scotland road trip was in early September, which seemed to be the sweet spot. Popular stops weren't too crowded and we only had one day of heavy, non-stop rain towards the end of our trip.
Weather in the highlands ranged from 10°C to 17°C (50°F to 63°F) in September, so remember to pack a warm jacket, scarf, beanie, and umbrella.
2. Stay in local B&Bs and book in advance
I stayed in small B&Bs in the highlands for the cosy, home-away-from-home feeling. All of my hosts were extremely welcoming and treated me to delicious traditional Scottish breakfasts each morning.
Most B&Bs tend to fill up fast, so I suggest booking a few weeks in advance - a couple of months would be better. Alternatively, look for staycation hotels for short trips, as you can find bargains when travelling in shoulder season.
3. Use caution with Google Maps
This app is a life-saver, an essential tool on any road trip. However, some minor "roads" in Scotland that Google Maps sends you down really aren't roads. They'd barely rate as footpaths in other countries, and you may not always be able to drive on them. Other times they could be a private farm road. So, take directions with a large grain of salt and study your route ahead of time. And remember to download your offline maps while on Wi-Fi.
---
Day 1 – Edinburgh
Edinburgh is jam-packed full of Scottish history and culture, from the 12th century Edinburgh Castle, to elegant streets lined with colourful Georgian townhouses, to bagpipes playing traditional melodies in the background.
Although this road trip is all about Scotland's natural beauty, the first day is dedicated to Edinburgh getting a feel for the all things Scottish. My favourite things to do in Edinburgh include:
---
Soak up Scottish history at Edinburgh Castle
The history of Edinburgh Castle dates back to the 12th century when it was a royal residence. From the 14th century, it became heavily involved in the Wars of Scottish Independence, earning its reputation as the most besieged place in Great Britain and one of the most attacked structures in the world.
The castle now offers spectacular views over Edinburgh for visitors from all over the world. Be sure to check out St Margaret's Chapel, the oldest surviving building in Edinburgh; the Royal Palace, where Mary Queen of Scots gave birth to King James VI and where the Crown Jewels and Stone of Scone now reside; the National War Museum; and, of course, the whiskey shop.
I recommend buying skip-the-line tickets online and visiting early in the morning to avoid crowds. Free guided tours run every 15 minutes (starting under a red clock near Mill's Mount Battery), so I suggest starting with a tour then returning to your favourite spots. Our guide summarised the castle's turbulent history and shared handy tips, from the least slippery parts of the medieval pavement to the best place to watch the one o'clock gun fire at, you guessed it, one o'clock.
Hours: 9:30am – 6pm, daily (summer hours)
Visit length: 1.5 - 2 hours.
---
Marvel at the beauty of St Giles' Cathedral
St Giles' Cathedral started its life as a catholic cathedral in the 12th century. After being involved in the Scottish Reformation and independence from Catholicism, it came to be known as the Mother Church of World Presbyterianism. St Giles is both fascinating and gorgeous, with grand stained-glass windows and several military and religious monuments.
Entry is free but photography permits are £2 and must be purchased before taking photos inside the cathedral, even on your smartphone.
Hours: 9am – 7pm Monday to Friday, 9am – 5pm Saturday, 1pm – 5pm Sunday (summer hours)
Visit length: 30 minutes
---
Introduce yourself to Scotch whisky at Whiski Rooms
Whiski Rooms is my favourite place to taste single malt whisky in Edinburgh. While you can pre-book an official Whiskey tasting at a set time, you can also simply walk up to the bar at any time and order a whisky flight to taste.
Each flight comes with 4 small glasses of whiskey selected from a menu, from staff favourites to aged classics. I played it safe with the Introduction to Whisky flight and sampled 4 varieties from different regions around Scotland. Hold on to your whiskey menus as they include instructions on how to taste whisky like a pro.
Hours: 10am to 1am, daily
Visit length: 1 hour
---
Walk in the footsteps of Mary Queen of Scots at Holyrood Palace
The Palace of Holyroodhouse, or Holyrood Palace, is located at the opposite end of The Royal Mile to Edinburgh Castle. Tickets include an interactive audio guide which leads you on a journey through the palace, exploring its history from construction in 1528 to modern use by Queen Elizabeth II and the royal family.
Highlights include Mary Queen of Scots' bedchamber and stories from her life in the palace; the ruins of Holyrood Abbey; and a walk through the palace gardens where the Queen hosts a garden party every July.
Hours: 9:30am – 6pm (summer hours)
Visit length: 1.5 hours
---
Watch the sunset from Arthur's Seat
If you're feeling fit, climb the dormant volcano, Arthur's Seat, to watch the sun set over the city. Climbing to the top takes about an hour, although there are lower, easier-to-reach lookout points too. Wear suitable shoes as some parts of the climb are quite slippery and bring lots of water.
Visit length: 2 - 2.5 hours
---
Have a picnic at Calton Hill
For a less exerting lookout point, visit Calton Hill which just has 2-3 minutes' worth of stairs to climb.  Calton Hill is home to several significant Neoclassical monuments, including the National Monument of Scotland and the Nelson Monument. There's also a large grassed area, which is the perfect place to relax with a book or have a little picnic and admire the views.
Visit length: 1 hour
---
Where to Stay in Edinburgh
I spent 2 nights in sophisticated style at the Radisson Collection Hotel, Royal Mile Edinburgh, conveniently located within walking distance of all attractions listed above.  
I stayed in a spacious Designer Suite with an elegant watercolour theme continued throughout the room from the furniture to the wallpaper. Each Designer Suite is decorated with unique artwork, so you'll feel like a celebrity with the tailor-made interior.
Celebrity treatment continues at breakfast, with a generous buffet of pastries, cereals, and fruit as well as a cooked-to-order hot breakfast. I ordered the vegetarian breakfast which came with vegan haggis (yum!), sausages and grilled vegetables.
If you've already collected your rental car, parking is available at sister hotel, Radisson Blu Edinburgh (5 minutes walk) for £12.50 per night. Otherwise, find a rental car on Rentalcars.com.
---
Day 2 – Edinburgh to Inverness
Driving time: 3.5 hours
The first actual road trip day involves driving from Edinburgh to Inverness. Inverness is the last major city on the trip so stock up on road trip snacks and anything else you might need, like car chargers and aux cables, as they'll become increasingly harder to find.
I left Edinburgh at 10am, had lunch in Dunkeld at 12:30pm, and arrived in Inverness at 5:30pm.
---
See the UNESCO heritage listed Forth Bridge at Queensferry
Navigate to the Binks Carpark at South Queensferry Harbour, a 30-minute drive west from Edinburgh. Most carparks in Queensferry tend to be pretty busy, especially on weekends, so you may need to drive around for a few minutes or wait for someone to leave.
After parking, we walked along the foreshore to the pier, admired the red Forth Bridge, and stopped for coffee at a waterfront café.
Visit length: 1 hour
---
Grab lunch by the river in Dunkeld
Next, set navigate to the Tay Terrace Carpark in Dunkeld, a 1-hour drive from Queensferry. Parking is free on Sundays, but otherwise paid so make sure you have a few coins.
We had lunch in the riverfront garden of the Atholl Arms, a tavern serving traditional pub food with a few vegetarian and vegan options.
After lunch, we walked along Atholl Street to explore the town, stopping at the Ell Shop to buy locally made souvenirs. Items for sale include mugs, ceramics, books, cashmere scarfs, and even pet accessories. We then visited the restored, 14th century Dunkeld Cathedral, located on the riverbank, surrounded by beautiful parklands. Inside the small church is an even smaller museum with ruins of standing stones and informative posters on the history of the cathedral and town.
Visit length: 2 hours
---
See your first Scottish waterfall at the Falls of Bruar
The last stop is a 30-minute drive northwest from Dunkeld. Navigate to the House of Bruar which has a large carpark and a complex of shops selling clothing, homewares, and local produce like nuts, chocolate, jams, biscuits, cheeses, olives, and of course, whisky. There's also a café and buffet restaurant. Have a wander around the somewhat overpriced shops, but the real treat is the nearby waterfall.
Around the back of the buildings is a quaint walking trail that leads to the Falls of Bruar and a small stone bridge. The waterfall viewing platforms are a 15-minute stroll north from the shops and carpark.
Visit length: 1 hour
---
Check into your B&B in Inverness
The last leg of the day is a 90-minute drive north to Inverness to check into your B&B for the next 2 nights. I stayed in Riverview Guesthouse which I highly recommend for the modern yet cosy rooms, delicious breakfasts, and super friendly staff.
Bubbly owner, Eilidh, recommended the best restaurants in town for our dinner and kindly offered to make reservations for us. Tip: Zizzi have a few delicious Italian-themed vegan options.
---
Day 3 – Loch Ness
Driving time: 2 hours
Day 3 is spent exploring the region around Loch Ness, the largest water body in the UK by volume. Loch Ness is famous for its fabled elusive sea monster, but it's also one of the most beautiful and serene places in Scotland.
I left Inverness at 9am, had lunch in Fort Augustus at 2pm, and arrived back at Inverness at 5.30pm.
---
Learn the legend behind the Loch Ness Monster at Loch Ness Centre & Exhibition
Drive 25-minutes southwest from Inverness to Loch Ness Centre & Exhibition to walk through a series of interactive videos about the history of Loch Ness and the search for the famous Loch Ness Monster, Nessie. Tickets are available at the door for £8.45 per adult.
According to the videos, there's been over 1,000 sightings of a 'monster' in Loch Ness since 1868, sparking scientific studies into lifeforms inside the loch. The videos present the studies' findings, including possible explanations for each 'monster' sighting, but ultimately leave it up to you to decide whether or not Nessie is hiding in the deep, dark waters.
The exhibition ends in a gift shop selling Nessie toys and souvenirs, books, and clothing. I couldn't help but buy a somewhat-traditional Scottish hat.
Semi-true story: Apparently 40% of people in Scotland have a recessive gene for ginger hair. Mine spontaneously activated.
Visit length: 80 minutes
---
Explore the ruins of Urquhart Castle
The next stop, Urquhart Castle, is a 7-minute drive southeast from Loch Ness Centre and Exhibition. Tickets can be purchased at the door for £12 per adult. The visit starts with an 8-minute introductory video on the castle's history, covering its construction, involvement in clan disputes and the Wars of Scottish Independence, and its abandonment and destruction in 1692.
After the video, wander through the castle ruins for some of the best views over Loch Ness and to see the interesting rock wall remnants of buildings like the guard house and stables.
Visit length: 1 hour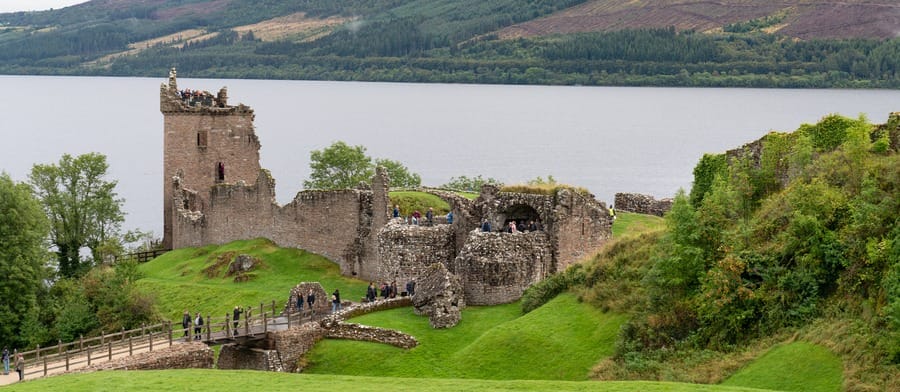 ---
Cruise along Loch Ness from Fort Augustus
Navigate to the Fort Augustus Pay & Display Carpark, a 30-minute drive southwest from Urquhart Castle towards the southern tip of Loch Ness. Once you've paid for parking, walk 5 minutes to Cruise Loch Ness for a 45-minute boat ride on the loch. I recommend catching the 1pm boat and arriving 15 minutes early to be one of the first in line for the best seats on the top deck. Tickets can be booked online in advance. During the cruise, humorous staff explain the habitats alongside Loch Ness and point out deer, goats, and waterfalls on the water's edge. The lower deck bar sells snacks, beer, and whisky (of course!) to enjoy while taking in the views.
After the boat ride, grab some lunch at a nearby pub like the Richmond House Hotel then enjoy a quiet walk along the Fort Augustus Locks or pick up a souvenir at the Clansman Centre or the Millshop.
Visit length: 3 hours
---
Wander alongside the Falls of Foyers
Drive 26 minutes northeast to the free Falls of Foyers carpark, located across the road from the waterfalls. There are 2 viewing points, one for the upper falls and one for the lower falls. I suggest only going to the upper falls which is a 10-minute walk along a fairly easy, but narrow, path to see the dramatic, roaring waterfall. The path to the lower falls is much longer and steeper and leads to a shallow cascading waterfall.
Visit length: 1 hour
---
Return to Inverness for dinner and drinks
Drive 35 minutes northeast back to Inverness for your last night at Riverview Guesthouse. I suggest wandering around the city or enjoying a cocktail at Contrast before dinner. We were lucky enough to have Eilidh make dinner reservations for us again. Tip: try The Alleycat for the only dedicated vegan restaurant in town.
---
Day 4 – Inverness to Ullapool 
Driving time: 3 hours
Day 4 is one of the most scenic driving days of this road trip. Expect a few spur-of-the-moment stops on the side of the road to admire scenery or grazing livestock that will undoubtedly catch your attention.
I left Inverness at 9:30am, had lunch in Achiltibuie at 1pm, and arrived in Ullapool at 5pm.
---
Walk along the pebbly Ardmair Beach
Navigate to Ardmair Beach, a 1-hour 20-minute drive northwest from Inverness. There's no official car park here so just pull over on the side of the road and walk down to the serene, pebbly beach for a gentle walk or to practice stone skipping.
Visit length: 30 minutes
---
Admire the soaring Stac Pollaidh
Next, drive 20-minutes north to the Stac Pollaidh, a soaring rocky mountain with sandstone pinnacles. I suggest navigating to the main carpark which is a short walk from the mountain's base and primarily used by mountain climbing enthusiasts. This region is where you'll find yourself pulling over every few minutes to take photos of lakes, spectacular views of the mountain, or herds of cute fluffy sheep.
I didn't venture too far from the carpark but spent a few minutes admiring the serene Stac Pollaidh, and took a quick drone flight, before continuing on.
Visit length: 30 minutes
---
Have lunch at the only restaurant in Achiltibuie
Next, drive 20 minutes west to the Achiltibuie Piping School Café, a small, basic restaurant overlooking green fields stretching towards the sea. The restaurant's veggie burger is delicious and they have free Wi-Fi… not bad for such a remote location!
Visit length: 1 hour
---
Stretch your legs at Achmelvich Beach
The next leg is one of the most beautiful and also one of the most nerve-wracking with narrow roads winding around sharp corners and up steep hills. You'll find yourself pulling over to let people pass as you drive under lush canopies and beside trickling creeks that seem to have leapt out of the pages of a whimsical fairy tale.
Navigate to Achmelvich Beach Car Park, a 1-hour drive north from Achiltibuie, and walk 2 minutes down to the white, sandy beach flanked by rocky outcrops. It was fairly cold and windy on the day of our visit, but we still enjoyed a short walk along the paradisiac shore.
Visit length: 30 minutes
---
Walk out to the ruins of Advreck Castle
Next, navigate to the Advreck Castle Parking lot to visit the ruins of this 16th century castle, a 22-minute drive east from Achmelvich Beach. The 'parking lot' is more of a shoulder on the side of the road, but don't worry if it's full as there are a few other wide shoulders nearby. The castle ruins are located at the end of a sandbar and across a large field with no real footpath. The ruins are exquisite to see up close but make sure you bring waterproof shoes as the field can be quite muddy. Or just do it "Josh style" and dance across the water-logged grass on your tippy toes like a sugar plum fairy. On the opposite side of the road is another waterfall.
Visit length: 30 minutes
---
Check into your B&B in Ullapool
Drive 35 minutes south to check into your B&B in Ullapool. I recommend staying at Riverside because of its central location within walking distance of several restaurants, friendly staff, and traditional Scottish breakfasts, including a vegetarian option.
I suggest either Ceilidh Place or the Arch Inn for dinner. Ceilidh Place requires an advanced booking while the Arch Inn asks guests to enjoy a drink in the bar until a table is free.
---
Day 5 – Ullapool to Isle of Skye
Driving time: 5 hours, 45 minutes
Day 5 requires navigating to a few stops along the famous North Coast 500 route to keep Google Maps on the scenic road. If you navigate straight to the Isle of Skye, Google Maps will take you on the most direct route, which involves less driving, but misses the jaw-dropping gorges, rivers, and waterfalls along Scotland's exquisite north-west coastline.
I left Ullapool at 9am, had lunch in Torridon at 1.30pm, dinner on the Isle of Skye at 6pm, and arrived at my B&B on the Isle of Skye at 7:30pm.
---
Marvel at lush gardens thriving on a seaside clifftop at Inverewe Garden
Before leaving Ullapool, make a quick stop at Tesco to refill your road trip snack supply. Then navigate to Inverewe Garden, a 1-hour 15-minute drive southwest from Ullapool.  
Inverewe Garden is a lush botanical garden remarkably thriving on a harsh windy, rocky coastline. The garden includes plants from various climates and regions, including a vegetable garden, bamboo forest, South American garden, and succulent garden. The lookout point offers panoramic views over the sea and an old hunting lodge has been transformed into a small museum. Tickets are available at the door for £12.50 per adult. Tip: Keep a lookout for the teeny Venus flytrap!
Visit length:1 hour
---
Wander through church ruins before lunch in Torridon
Next, navigate to the Torridon Stores & Cafe, a 1-hour drive from Inverewe Garden, and park in the small carpark across the road. Walk about 5 minutes down a gravel path to the Am Ploc Open Air Church Ruins, dramatically located on the water's edge.
After a peaceful stroll through the ruins, have some lunch either at Torridon Stores & Café or the Torridon Inn, a 6-minute drive away.
Visit length: 1 hour
---
Try to spot highland coos on the road to Applecross
Navigate to the Applecross Inn, a 1-hour drive southeast from Torridon via Fernmore. You may see some highland coos grazing alongside the road to Applecross if you're lucky.
Stop at the Applecross Inn for a coffee break before continuing to possibly one of the most stunning scenic mountain passes in the world… "Bealach na Ba". Sorry, you can't buy a vowel. It means "pass of the cattle" in Scottish. I'll let the pictures do the talking.
Visit length: 1 hour
---
Check into your B&B on the Isle of Skye
Next, navigate to the vegan-friendly Café Sia on Isle of Skye where I stopped for dinner at about 6pm. Café Sia is a winding 1-hour 25-minute drive from Bealach na Ba Viewpoint. The route will take you across the Skye Bridge for your first view of the Isle of Skye's cloud-tipped cliffs and verdant fields. It could only be described as a love child of Middle Earth and Hawaii.
After dinner drive another 50 minutes northwest to Portree to check into your B&B for the next 3 nights. I stayed at Kiloran Bed and Breakfast, a 10-minute drive northwest of Portree and the perfect location for a little peace and quiet with waterfront views. Our host, Neil, made continental breakfast each morning with fruit, cereals, toast, and porridge, and kindly shared expert local tips on each location we planned to visit with the aid of his wall-sized map of the island.
---
Day 6 – Isle of Skye
Driving time: 2.5 hours
The first day on the Isle of Skye is spent exploring the Trotternish peninsular, home to some of the isle's most beautiful landscapes.
I left my B&B at 10am, had lunch in Staffin at 1pm, dinner in Portree at 6:30pm, and returned to the B&B at 7.30pm.
---
Drive along Loch Fada to the Old Man of Storr
Navigate to the Old Man of Storr parking lot to see the rocky mountain face resembling a pointed finger. In fact, from a certain angle it looks like a middle finger. This is Scotland, after all. The carpark tends to be quite busy so you may have to wait for someone to leave or park in a shoulder further up the road. The 30-minute drive from Kiloran Bed and Breakfast will take you along the serene Loch Fada, which I couldn't resist pulling over to photograph.
If you enjoy hiking, follow the dirt track uphill to see the Old Man of Storr up close, which will take a little under 2 hours. Otherwise, follow the path for 15-20 minutes for slightly better views, then return to the carpark. I chose the second option to fit more into the day.
Visit length: 1 hour
---
Look out over Brothers Point
Next, drive 12 minutes north to park at Brothers point (Rubha nam Brathairean) and wander over to the 2 lookout points. One lookout point has views of a waterfall while the other has views of dramatic cliffs soaring up from the sea. If you're not afraid of heights, follow the dirt path to the edge of the cliffs for a closer look, just don't get too close!
Visit length: 30 minutes
---
Quickly admire Kilt Rock
Next, drive 6 minutes north to the Kilt Rock & Mealt Falls Viewpoint for the best views of a large rock that remarkably resembles a Scottish kilt. You'll also see a man-made waterfall teeming down the side of a cliff into the sea and informative plaques on dinosaur footprints found in the area.
Visit length: 30 minutes
---
Lunch in Staffin
When you're ready for lunch, drive 5-minutes north to the small town of Staffin. I chose to eat at Columba 1400 Café which has several vegetarian and vegan options.
Visit length: 1 hour
---
Walk among dinosaur footprints at An Corran Beach 
After lunch, drive 5 minutes north to the rocky An Corran Beach to see fossilized dinosaur footprints. There's a plaque highlighting where on the rocky shore the footprints are located, but I personally couldn't spot them. Can you see them in the picture below? Squint harder!
Dinosaur footprints or not, the beach makes for a relaxing stroll to admire gently lapping waves and small rock pools.
Visit length: 30 minutes
---
Marvel at the Quiraing
Navigate 10 minutes west up a steep, winding road to the Quiraing. There are 2 carparks at the top of the mountain, but if you're anything like me, you'll want to pull over along the way for photos.
I recommend spending at least 30 minutes wandering around the iconic landscapes of the Quiraing to appreciate the views. Be careful to avoid muddy patches or wear waterproof shoes.
Visit length: 30 minutes
---
Stop for a coffee break
We felt like a hot drink after walking around in the beautiful yet chilly landscapes of the Quiraing and drove 17 minutes north to the Single Track Art Gallery & Espresso Bar - one of Neil's recommendations. I was pleasantly surprised to discover this tiny coffee shop sold vegan hot chocolate (with oat milk) and even had a few vegan cakes.
Visit length: 30 minutes
---
Saunter among the ruins of Duntlum Castle
Next, drive 5 minutes west to see the ruins of Duntlum Castle, located on the northern tip of the Isle of Skye. Park along the side of the road and walk about 5 minutes north along a somewhat muddy dirt track through a field of grazing sheep to view the crumbly cliffside castle.
Visit length: 30 minutes
---
Wander through the Fairy Glen
Navigate 25 minutes south to The Fairy Glen and park in a shoulder on the side of the road. The Fairy Glen has some of the most otherworldly landscapes on Skye, bearing an eerily close resemblance to The Shire of Middle Earth. I half-expected to spot hobbits. I suggest spending at least an hour to wander up and down the small hills, admiring the scenery from every possible angle.
Visit length: 1 hour
---
Dinner in Portree
Drive 30 minutes southeast back to Portree for dinner and park in the short-term carpark, which is free after 6pm. I had dinner at Caroy House, which doesn't take bookings but asks guests to enjoy a drink in the bar until a table is free. We only had to wait about 20 minutes. I recommend the millionaires log with vegan ice-cream for desert.
Visit length: 1 hour
---
Day 7 – Isle of Skye
Driving time: 2 hours 45 minutes
I started day 7 by venturing to the lesser-known Waternish peninsula then visiting more popular sites at Dunvegan and Neist Point on the Duirinish peninsula.
I left my B&B at 10:30am, had lunch in Dunvegan at 1:30pm, dinner in Portree at 6pm, and returned to my B&B at 7:30pm.
---
See the ruins of Trumpan Church involved in clan disputes
Navigate to Trumpan Church, a 35-minute drive northwest from Kiloran Bed and Breakfast past several farming fields, a few art galleries, and exquisite views over the sea. There's a small carpark opposite the ruins with informative plaques on bird watching in the area and the history of the church, which was involved in hideously bloody disputes between the MacDonald and MacLeod clans.
This part of the Isle of Skye is less popular with tourists and the perfect place to enjoy beautiful scenery away from the crowds.
Visit length: 30 minutes
---
Visit a seal colony from Dunvegan Castle
Drive 26 minutes south from Trumpan Church to Dunvegan Castle and Gardens and park in the carpark across the road. Tickets to visit the castle and surrounding gardens can be bought at the door for £14 per adult.
Before visiting Dunvegan Castle, the traditional home of the MacLeod clan, I recommend walking straight to the jetty to book a boat visit to a nearby seal colony. Boats run every 20 minutes on a first-come-first-served basis and tickets cost £9.50 per adult. Our boat captain shared a few Scottish folk tales and interesting facts about seals, like the markings on their skin being as unique as our fingerprints, as he guided us around small islands to see a colony of common seals. Bring a waterproof jacket as its difficult to avoid getting splashed by the chilly seawater.
After the boat tour, we wandered around the beautiful landscaped gardens and then visited inside the castle, following the set route to see exquisite antique furniture, portraits of former MacLeod clan chiefs, and prized possessions like the Fairy Flag which is said to have brought good luck to the MacLeod clan.
Visit length: 90 minutes
---
Lunch at The Dunvegan
Drive 2 minutes south to The Dunvegan Deli Cafe for lunch. I recommend the vegan charcuterie board. Yum!
After lunch, walk 2 minutes north along the road to see some locally made jewellery, clothing, art, and notepads at the Makers Market.
Visit length: 90 minutes
---
Visit the westernmost point of the Isle of Skye at Neist Point
Navigate 32 minutes west to the Neist Point carpark for climactic cliff oceanfront landscapes and the charming Neist Point Lighthouse. It takes about 30 minutes to climb down the steep stairs and follow the dirt path to the lighthouse. Bring a bottle of water as the climb back up to the car park is quite breathtaking – in the un-fit kind of way.
Before heading back to the car, I walked over to the top of the cliffs north from the carpark for the most iconic views over Neist Point and the lighthouse.
Visit length: 90 minutes
---
Dinner in Portree
Drive 1 hour from Neist Point to the familiar-looking Portree short-term carpark for dinner. I recommend the Taste of India for delicious curries and a cocktail bar.
Visit length: 1 hour
---
Day 8 – Isle of Skye to Kyle of Lochalsh
Driving Time: 2.5 hours
Day 8 involves visiting the southeast of the Isle of Skye on the way to Kyle of Lochalsh, where I spent the night to reduce driving time back to Edinburgh the following day.
I checked out of Kiloran Bed and Breakfast at 9:30am, had lunch in Silgachen at 1pm, and checked into my B&B at Kyle of Lochalsh at 5pm.
---
Walk alongside cascading waterfalls at the Fairy Pools
Drive 1 hour south from Kiloran Bed and Breakfast to the to the Fairy Pools Carpark and walk about 30 minutes down a long rocky path to reach the Fairy Pools. Spend at least 30 minutes walking alongside the cascading waterfalls and admiring the turquoise pools from every angle. Wear suitable shoes as some of the path involves navigating stepping stones across a creek as well as a muddy patch or two.
Visit length: 90 minutes
---
See more waterfalls at Silgachan
Navigate 25 minutes east to the Silgachan Waterfalls and park in a shoulder on the side of the road. You'll only need to walk about 5 minutes to reach these waterfalls, which are just as impressive as the Fairy Pools in my opinion.
Visit length: 30 minutes 
---
Lunch at the Silgachan Hotel
Drive 2 minutes to Seumas' Bar at the Silgachan Hotel for lunch. I recommend the Mexican 5 bean chilli and a glass of water fresh from the hotel's natural spring. If the weather is cooperating, you could also wander across the road to quickly visit the Silgachan Old Bridge.
Visit length: 1 hour
---
Tour the Talisker Whisky Distillery
After lunch, drive 15 minutes west from Silgachan to Talisker Whisky Distillery to join the 2pm tour. Tours tend to fill up fast so I suggest booking online or by phone at least 48 hours in advance to avoid disappointment. Tickets cost £10 per adult.
Our cheerful guide, Gordon, explained the history of Talisker, which dates back to 1830, as well as the history of crafting single malt whisky. He walked us through the modern process of making whisky, showing us the raw ingredient, barley, and the distillery's mashing, fermentation, and distilling machines. The best part of the tour was saved for last when we got to taste their most popular whisky, Talisker Storm.
After the tour, you can wander around the gift shop and perhaps pick up a bottle or two of whisky to take home.
Visit length: 1 hour
---
Find cute highland coos
Navigate 20 minutes east to this super-secret Coo view point to hopefully spot highland coos up close. I drove past to see where the coos were then turned around to pull into the nearest shoulder. It was pouring with sideways rain on the day of my visit, but the coos didn't seem to mind!
Visit length: 15 minutes
---
Visit one last waterfall before leaving the Isle of Skye
Drive 3 minutes south to Blackhill Waterfall and pull over into a shoulder on the side of the road. The waterfall is visible from the road, but you can walk over for a closer look if you prefer.
Visit length: 15 minutes
---
Check into your last B&B
Drive 27 minutes east to check into your last B&B in the Scottish Highlands. I stayed at Seawinds, a simple, yet comfortable accommodation with everything you need for 1 night.
I recommend having dinner at Hector's Bothy, an 8-minute walk or a 3-minute drive from Seawinds.
---
Day 9 – Kyle of Lochalsh to Edinburgh
Driving time: 6 hours 15 minutes
Day 9 is the longest driving day with a handful of scenic stops to stretch your legs.
I left Kyle of Lochalsh at 9:30am, had lunch in Fort William at 12pm, and arrived in Edinburgh at 6pm.
---
Explore Eilean Donan Castle
Drive 13 minutes east from Seawinds to Eilean Donan Castle, a restored 13th century castle located on a small island at the meeting point of 3 lochs. Tickets can be bought at the door for £10 per adult and includes an audio guide, which leads you on a route through the castle, explaining its 700-year-long history. Highlights include spectacular views over the sea and mountains, a grand hall, and a replica 13th century kitchen.
Visit length: 1 hour
---
Lunch in Fort William
Navigate to the Viewforth Carpark in Fort William, a 90-minute drive southeast from Eilean Donan. Ignore map directions that lead you along the north side of Loch Lochy which is impassable – I found out the hard way.
Once you've paid for parking walk along Fort William's pedestrian street to find a spot for lunch. I recommend the town's only vegan restaurant, The Wildcat. Tip: try the chocolate cake.
After lunch, drive 10 minutes northeast to Inverlochy Castle to walk through the ruins of a 13th-century castle for free. A 10-minute stop should be plenty.
Visit length: 1 hour
---
Stop at the Glencoe Visitors Centre
Drive 32 minutes south to the Glencoe Visitor Centre which has a well-stocked gift shop, several walking trails, and an amazing view of soaring mountain peaks. Parking costs £4 but is worth it for the decent rest stop.
Visit length: 30 minutes
---
Visit the roaring Falls of Falloch
Stop for a few minutes just east of the visitor centre at the Loch Achtriochtan viewpoint on the side of the road.
Navigate 50 minutes south, leaving the mountainous terrain behind, for the Falls of Falloch and make use of the free carpark.
Follow the footpath all the way to the end for the best views of the waterfall. Don't abandon the footpath to follow the sound of rushing water via dirt tracks as this will lead you up the garden path. Literally. Trust me, I tried it, stick to the footpath.
Visit length: 15 minutes
---
Drive to Edinburgh
Drive 2 hours 6 minutes back to Edinburgh to return the hire car. I recommend spending another night at the Radisson Collection to recover from the long drive before returning home the following day.
---
More time?
If you had another day or two up your sleeve you could spend the time in Glasgow, exploring the city, before returning to Edinburgh. I did a fascinating tour of The Clydesdale Distillery (for more free whisky samples!) and devoured a mouth-watering Durty Vegan Burger – the ultimate way to end an epic road trip.
---
The Bottom Line
Wow! What a whirlwind adventure around the Scottish Highlands! I don't think I could call this a "wee road trip" anymore. There were just too many memorable moments. We crammed in bagpipes, castles, haggis (the vegan version in my case), seals, coos, sheep, fairies, churches, museums, waterfalls, whisky, and even a mountain that gave me the finger.
My 9-day Scotland road trip itinerary required over 23 hours of driving, but every minute was divine. While each tantalising location begged for more exploration, I gained a tangible taste for their unique personalities. And with this itinerary, so will you.
There's really only 1 thing that could make this trip even better, laddie… and that's wearing an orange wig and sporting a harsh Scoooootish accent the entire time.
Oh wait, nah, I've already done that.
True story.