Travel was back in a big way in 2022!
My year started in Thailand, heading back to a few favourite places and discovering new ones too. Then after several months of preparation, I embarked on a whirlwind tour around Europe, covering 16 countries and 31 cities in 4 months. The journey inspired one of my best guides yet, about how to plan a trip to Europe.
There were more highlights than I could count and, of course, a couple of challenges along the way. But that's the nature of travel and stepping out of one's comfort zone.
I've already published handy first-time guides for Rome and London, with more content on the way in the coming months.
After 2 years dominated by travel restrictions and lockdowns, 2022 was the breath of fresh air that we all needed. I learned a deeper appreciation for the freedoms I once took for granted. And am more present in the moment than ever before.
I hope you find this collection of my photos inspiring and uplifting, as we let our minds wander about what 2023 will look like. 
Wishing you happy travels. 
- Josh Bender
---
#48 – Stonehenge, UK
The day I visited (19 July 2022) was the hottest day on record in the UK ever – 40.3°C (104.5°F). Trains shut down, there was mass panic, and this Aussie just went for a stroll around some ancient rocks. This is my recommended Stonehenge tour.
#47 – Cappadocia, Turkey
Looking up into the hot air balloon envelope. And look what was staring back down at me!
#46 – The Fairy Door, Bangkok, Thailand
One of the alpha males in this cat café who acted like he owned the place. But his eyes were mesmerising. Unfortunately, this place is now permanently closed.
#45 – Grand Palace, Bangkok, Thailand
Two monks were relaxing in the shade of one of the temples – one with an elaborate arm tattoo and the other mute with a hearing aid.
#44 – Spanish Steps, Rome, Italy
These steps need no introduction. Arriving just after sunrise afforded the best views with almost no tourists around. The Turbopass Rome City Pass is the easiest way to save money in Rome.
#43 – Grand Palace, Bangkok, Thailand
A golden Kinnari (half bird, half human) statue in front of Wat Phra Kaew (Temple of the Emerald Buddha), which houses the most sacred Buddhist relic in Thailand.
#42 – Monument of Remembrance, Luxembourg
Often called by its nickname, Gëlle Fra (Golden Lady), this monument is dedicated to the thousands of Luxembourgers who served in the armed forces during WWI, WWII, and the Korean War.
#41 – Hungarian Parliament Building, Budapest, Hungary
I happened to visit during the St Stephen's Day fireworks (which had been delayed by 2 weeks this year). Large projectors beamed animations onto the iconic parliament building to portray the history of Hungary.
#40 – Buckingham Palace, London, UK
The famous Changing of the Guard ceremony has taken place for hundreds of years. This is my recommended London tour.
#39 – St Peter's Basilica, Vatican City
The tallest dome in the world, Michelangelo's final masterpiece, stands out amongst the Rome skyline. This is my recommended Vatican tour.
#38 – Galata Tower, Istanbul, Turkey
This is one of the most iconic locations in Istanbul, and visitors to the observation deck at the top have 360-degree vistas over the city.
#37 – Plathiena Beach, Milos, Greece
Sun lounges with the best sunset views in Milos. View boutique hotels in Milos.
#36 – The Shard, London, UK
Taken from The View from The Shard towards the Tower Bridge spanning the Thames River. Entry is included in the Turbopass London City Pass.
#35 – Sainte-Chapelle, Paris, France
This royal chapel was built in 1248 AD to house the sacred relic – Christ's Crown of Thorns. It has the most extensive 13th-century stained glass collection in the world.
#34 – Elizabeth Tower (Big Ben), London, UK
After being covered with scaffolding since 2017 due to extensive renovations, the famous tower finally saw the light of day in March this year. This is my recommended London tour.
#33 – Heroes' Square, Budapest, Hungary
Standing atop a 35-metre column is the Archangel Gabriel, holding Hungarian Holy Crown and apostolic double cross.
#32 – Grand Palace, Bangkok, Thailand
The golden Phra Siratana Chedi is the tallest structure in the Grand Palace complex. It was erected by King Rama IV in 1855 CE to house Buddha relics.
#31 – Invalidenpark, Berlin, Germany
This was my first trip to Berlin, and I loved every minute. The sunset colours in the water remind me of the beauty in small things we take for granted every day.
#30 – St. Stephen's Basilica, Budapest, Hungary
Completed in 1905, this Roman Catholic basilica is named in honour of the first King of Hungary, whose hand is housed in the reliquary.
#29 – Tower of London, London, UK
One of the Tower Guards, who, along with Yeoman Warders, have been guarding the Tower of London since medieval times. The ceremonial cap design dates back to the 17th century and is made with real Canadian black bear skin.
#28 – Maya Bay, Phi Phi, Thailand
This bay was made famous by the 2000 movie, The Beach, starring Leonardo DiCaprio. Photos will never do it justice… it's far more beautiful in real life.
#27 – Eifel Tower, Paris, France
Sitting on the Champ de Mars with a glass of wine, watching the sunset and the tower light up, is one of the most magical things I've ever experienced. I don't care how cliché it seems.
#26 – Basilica Cistern, Istanbul, Turkey
This place was not originally designed to be seen. Rather, it was built using mismatched recycled columns from all over the Roman/Byzantine empire. This is the largest underwater storage facility in Istanbul, but over 100 others exist.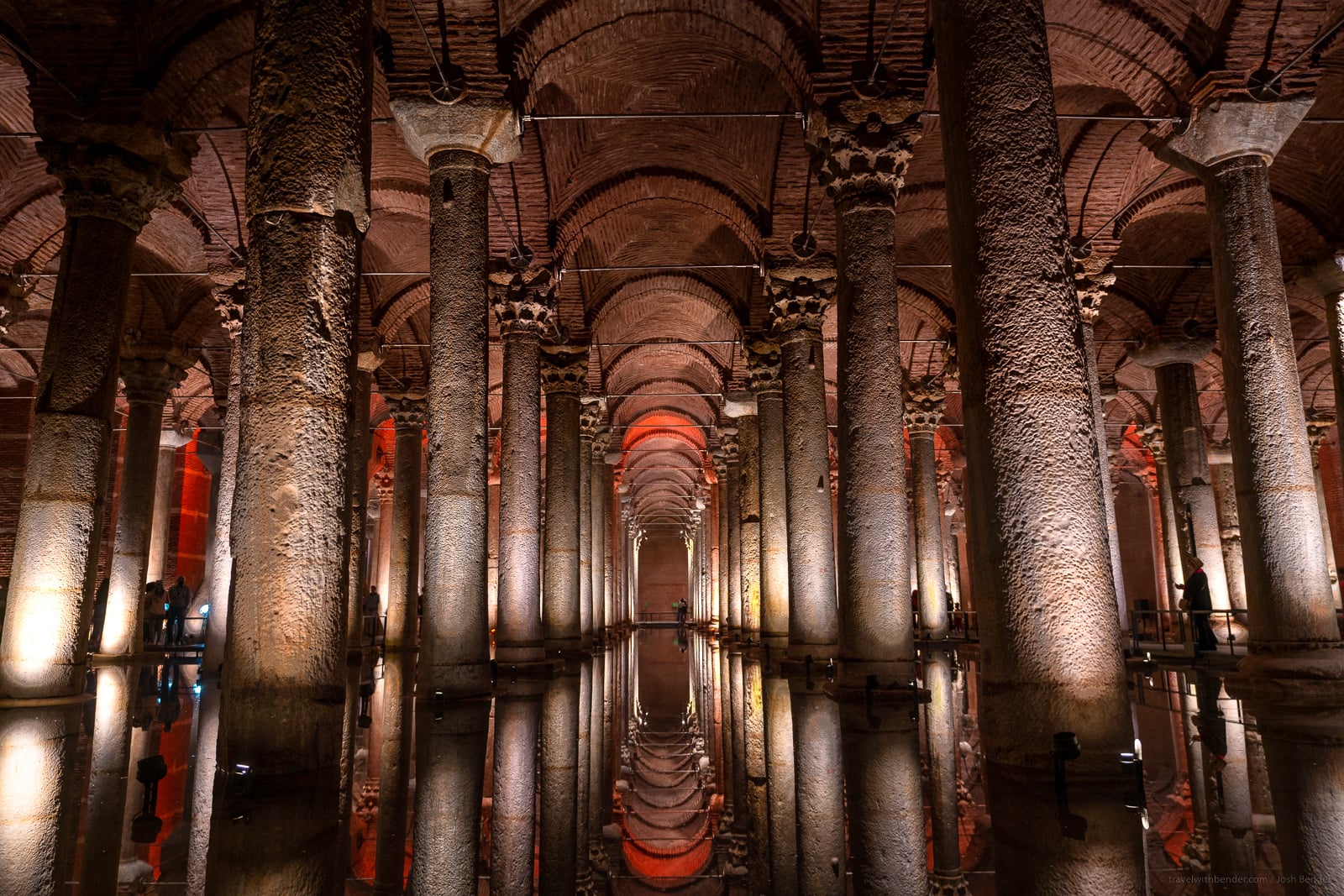 #25 – Cappadocia, Turkey
Waking up well before sunrise and hiking to a remote area paid off with views like this. My recommended hot air balloon experience in Cappadocia.
#24 – Seven Hills Restaurant, Istanbul, Turkey
This restaurant has changed a lot since I first visited it in 2017 - they are now much more popular. The rooftop contains a sectioned-off area for taking photos with the Blue Mosque and Hagia Sofia in the background, as well as food scraps to feed the seagulls.
#23 – Athens, Greece
The Tomb of the Unknown Soldier is protected by an elite group called "Evzones" which are part of the Presidential Guard. During the change of the guard, they perform slow, exaggerated movements to help gradually resume normal blood flow after standing still for extended periods. Their shoes, called Tsarouchia, weigh over 3kg. To be considered, soldiers must be 1.87 metres in height and have excellent physical and mental strength.
#22 – Khai Nai Island, Phang-nga, Thailand
If I had to pick my favourite place on Earth, this is it. A small sandy uninhabited island with iridescent turquoise water, sun lounges, and cocktails. Pure postcard material. Fun fact: This shot was taken just a few moments before my drone (nicknamed "Sir Slice-A-Lot") crashed into the ocean due to an unknown hardware failure. RIP, my friend.
#21 – Navagio Beach, Zakynthos, Greece
This beach can only be accessed via boat. The more famous view (shot #4 in this article) is from nearby cliffs. But this ground-level view gives a more personal perspective on the iconic MV Panagiotis, which ran aground in October 1980.
#20 – Sultanahmet Mosque (Blue Mosque), Istanbul, Turkey
I arrived very early in the morning to avoid the crowds and capture the dramatic raking amber light striking the world's most recognisable mosque.
#19 – Cappadocia, Turkey
I captured so many amazing hot air balloon photos in Cappadocia, it was difficult to whittle down the best of the best. On my final morning in Cappadocia, I woke at 5am for a pre-dawn hike into the wilderness. My airport transfer was scheduled to pick me up from my hotel at 7am, and when I realised I was late, I ran back as fast as I could… but with the occasional stop to snap a scene like this.
#18 – Westminster Abbey, London, UK
On my previous visit to London, photography was not allowed inside Westminster Abbey. However, the rules were relaxed in October 2020. This time I captured dozens of shots, but this vertigo-inducing view of the gothic ceiling stood out head and shoulders above the rest.
#17 – Arc de Triomphe, Paris, France
One of the most famous landmarks in France, set against a summer sunset. Surrounded by 12 radiating avenues, there is a constant traffic flow at all times of the day. It took significant patience to capture this frame without cars in the foreground.
#16 – Cappadocia, Turkey
Rooftop sunrise views from my hotel in Goreme. The smooth gradient of the sky contrasted against dozens of balloons almost looks fake… but it's 100% real.
#15 – Berlin, Germany
The Memorial to the Murdered Jews of Europe comprises 2,711 sombre concrete columns of varying heights that create an overwhelming sensation as one grasps the scale of unforgettable horrors committed in WWII.
#14 – Montmartre, Paris, France
The pristine white of the iconic Sacré-Coeur, set against a deep azure sky dotted with white clouds. I arrived here early in the morning, as part of a full-day tour around Paris, to avoid the crowds. Walking around the rear of the basilica afforded a unique perspective… and no other tourists. This is my recommended Paris tour.
#13 – Magganari Beach, Ios, Greece
Sunsets in Ios are in a league of their own. This beach is a 45-minute drive from the main port of the island. However, it took me much longer as I stopped every 5 minutes to jump out of the car and photograph another jaw-dropping perspective.
#12 – Eifel Tower, Paris, France
This sunset view of the tower was captured from the Arc de Triomphe rooftop terrace. It's not for the fainthearted – 284 steps around a tightly winding staircase. This highly-detailed vertorama was stitched together from 8 frames.
#11 – Cameo Island, Zakynthos, Greece
I drove to the picturesque Agios Sostis Harbor to watch the sunset. But little did I expect, the highlight would be this unassuming island. It used to be connected to the mainland, but after an earthquake in 1622 AD, the cape was destroyed, giving birth to the island we see today.
#10 – Mont Saint-Michel, Normandy, France
I drove around Beauvoir looking for a unique viewpoint of this magical island. I stumbled upon this scene which was set near a farm gate signed with "no access". After hurriedly taking this photo, a police car promptly pulled up by me and asked (in French) what I was doing. I apologised and moved on.
#9 – Sarakiniko Beach, Milos, Greece
This moonscape-like white stone contrasted against the deep blue Aegean Sea is the stuff landscape photographers dream of. Although this scene is tranquil, within an hour of my arrival, over 100 tourists arrived, filling up every square inch of the beach.
#8 – Cappadocia, Turkey
Sunrise sunbeams stream across the volcanic landscape, peeking between descending balloons. This is light and dark at its finest.
#7 – Ios, Greece
This was the view outside my hotel room. I dare say it was the best vantage point in Ios, and I never got tired of it. As the warm dusk hues gave way to deep blues, lights flickered on around the town, creating this brief magical moment at the juncture of light and dark.
#6 – Schmetterlinghaus, Vienna, Austria
Photographing butterflies is tough. But after several attempts, I landed this frame. This hot and humid butterfly park in the heart of Vienna feels like a small slice of a Southeast Asian tropical jungle.
#5 – Cappadocia, Turkey
My second favourite shot from 2 pre-dawn hikes in Goreme. Smooth volcanic stone peaks reaching into a warm sunrise-painted sky set the perfect backdrop to a peaceful hot air balloon silently gliding.
#4 – Navagio Beach, Zakynthos, Greece
Do not adjust your screen. Those blue hues are real. I've never seen anything like this anywhere, ever. I had seen hundreds of photographs from this location before visiting, but nothing prepared me for the pure awe I experienced when I saw it firsthand.
#3 – Phi Phi, Krabi, Thailand
The quintessential Thai vibe. A colourful traditional long boat perched on a golden soft sandy beach.
#2 – Ios, Greece
I woke up every morning before sunrise to witness the spectacle outside my hotel room. After soaking in one of the best sunsets of my life the previous night, on my final morning, the stars aligned… literally. The full moon slid behind the Chapel of Agios Nikolaos just as the sun rose on the opposite horizon. This was an utterly surreal experience, and just thinking about it again gives me goosebumps.
#1 – Cappadocia, Turkey
Wow. Just wow. A passing hot air balloon partially eclipsed the pure white sun, casting long shadows across the sparse landscape. This frame was captured while the hot air balloon I was riding in descended – not an easy shot, but one I can be proud of.
Have your say... 
With so many beautiful photos to choose from, which one is your favourite? 
Share it in the comments below.