We explored St Andrews for several days during our 2-week road trip around New Brunswick and Nova Scotia, Canada. 
Don't let the relaxed pace and friendly small-town feel of St Andrews fool you. There are plenty of family-friendly things to do in the area. Here's what we got up to:
We started our visit to St Andrews with a jeep tour to get the lay of the land. Our friendly guide (an experienced biologist), Ginny Simard, shared her wealth of local knowledge and quirky stories as we roaming around town in a jeep. Walking tours are also available.
For a town the size of St Andrews, the Huntsman is a surprisingly large and fascinating aquarium.
This regional landmark attracts the country's leading marine biologists and researchers (in fact, Jenny from Turtle Shore Adventure used to work there before launching her own tour business). Drawing 40,000 visitors per year, the aquarium showcases a wide range of sea creatures from the Bay of Fundy and beyond. Our visit coincided with a brand new group of seahorses that just arrived, and we watched them being fed (very cool!). I found the aquarium's smaller size a distinct advantage, making it easier to have a more personalised experience, and one-on-one interactions with the sea life experts.
The 2 large touch pools were easily our kids' favourite exhibit, while I couldn't get enough of the sea lion feeding demonstration.
This 27-acre horticultural paradise is rated as one of Canada's top ten public gardens. The garden carries several themes of which our kids' favourites were the cedar maze and the garden of cubby houses. Although Mo the goat (who thought he was a dog), and the alpacas cooling down with a water hose, enticed hearty giggles.
Kids will also adore the various hands-on exhibits (such as the Scents & Sensitivity Garden). See if you can find the "secret" garden that features a cherry blossom tree, or spot the prehistoric plant that was long thought to be extinct. After you've finished, enjoy a drink or light lunch at the on-site café.
When the tide is high, the thin stretch of land that connects Ministers Island to the mainland disappears beneath the waves. So we waited until the tide was low and drove across the ocean floor to discover the 690-acre family summer getaway of Sir William Van Horne. Who's Sir William? He was the president of the Canadian Pacific Railway in the 19thcentury, and one of the most pivotal figures in Canadian history. 
Ministers Island comprises of the railway magnate's lavish late Edwardian mansion, manicured grounds, breeding farm, greenhouses, barn and more. We took a fascinating guided tour around the island which provided rare, yet honest insight into a very wealthy and powerful family.
This fine 19th century house, purchased by the Ross family, now displays their extensive art, book and furniture collection. Each room features a detailed display, describing the collectables. Our kids enjoyed the interactive virtual tour on the iPad.
Lovers of antiques could probably spend an hour or two here, or but with younger kids, 20-30 minutes was sufficient.
6. Vincent Massey Elementary School
This school has a huge, impressive wooden playground built by the townsfolk. And, best of all, it's open to the public. It's a quick walk from the Kingbrae Gardens, and the perfect stop when the kids need to burn off a little energy.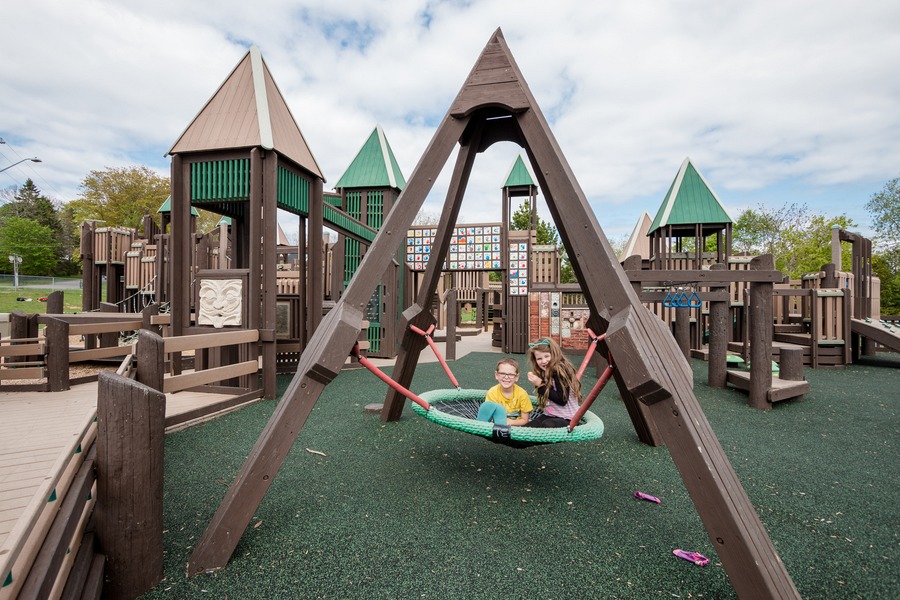 We drove past here, but unfortunately it was temporarily closed (since we visited before peak summer season). It looked like a great setup though – playground, sandy beach, BBQs and picnic tables. Everything you need for summer fun. And it also offers a gorgeous panorama of Passamaquoddy Bay.