Villa San Michele began life in the 15th century as a Franciscan monastery, featuring a stunning façade design attributed to Michelangelo. Today it is one of Europe's most beautiful and iconic hotels. Featuring unmatched panoramic views high above Florence and the Arno Valley, along with a world-class fresco restaurant and manicured Italian gardens, it is easy to see why most guests refer to it as heaven on earth.
We had a little trouble getting to heaven. Thanks to a self-inflicted typo in our GPS, we drove to a similarly named street several kilometres away which led us up the garden path – quite literally. The roads became so narrow we couldn't fit the car through them.  But after repenting of our navigation sins, we finally made it to the pearly gates of Villa San Michele.
From the moment we entered the long driveway, lined with trees and lush sculptured shrubs, and welcomed by friendly, attentive staff, our entire stay at the hotel was nothing short of magical. After a welcome drink and snack in the lush garden with Patricia the Guest Relations Manager, we made our way to our room.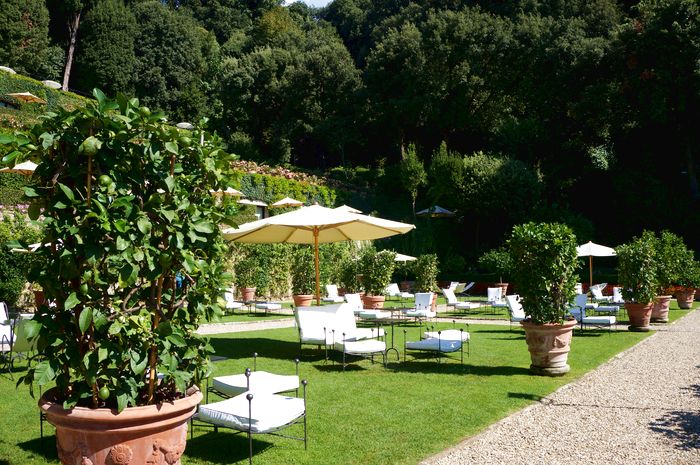 Sweet suite
The elegantly decorated suite featured the conveniences that you would expect from a luxury hotel. But it was the trimmings for the kids that really made it stand out. Mia and Caius were given cute t-shirts and a stuffed toy lion to match the mascot of the kids club, and to match mummy and daddy, they had their own kid-sized slippers and bathrobes. So cute!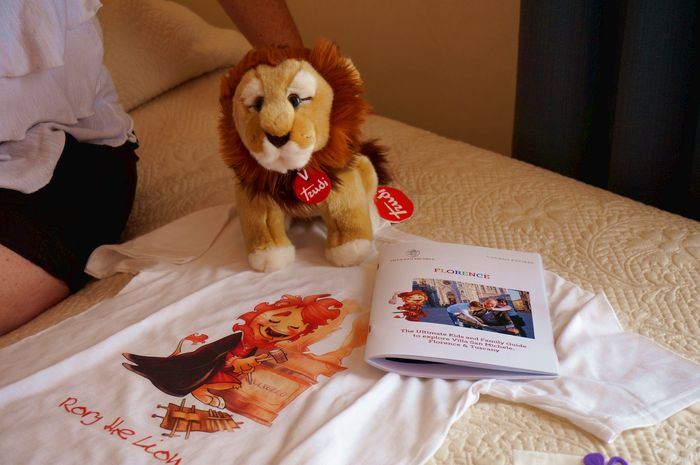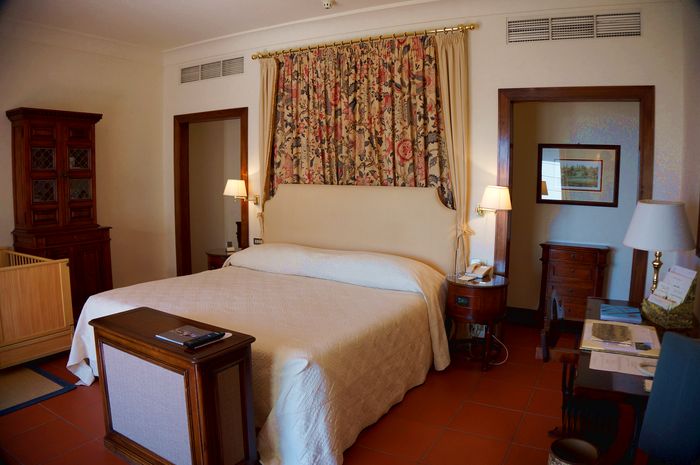 The motorised recessed television was neatly stored in the end of the master bed and could be summoned with a press of a button. But the bathroom was definitely the showstopper for the adults. Featuring double marble vanities and an enormous walk-in shower room, it was the largest I've ever seen anywhere in the world.
Smiles all round in the Smile Club
Villa San Michele really captured our attention as they cater for families with a daily kids program called the Smile Club. Running from 10:30am to 5:30pm for 4-12 year olds, it is perfect for parents who desire a little kid-free quiet time or to take a romantic day trip around Florence. Mia and Caius absolutely loved it. The crafts, games, activities and entertainment for the kids were very well-planned. The old chapel was recently renovated and repurposed into the kids club, giving parents more options when they stayed at the hotel.
The hotel also offers cooking classes, called Young Chefs Academy, for children 6-14 years upon request, which looked like a lot of fun. And more options are available upon request like a catered family picnic.
The first thing we typically research in each new location we visit is a list of fun activities to do with kids. And to make our life even easier, Villa San Michele provided a handy booklet explaining a wide range of fun outings for kids around Florence. In addition, the hotel can organize personalised tours and family-friendly excursions to local attractions such as a chocolate workshop or ice-cream factory through their kid concierge. The options are almost endless.
Food, glorious food
Breakfast was served each morning in The Loggia Restaurant, situated on a terrace overlooking Florence. Along with a buffet spread of fresh fruit, cold meats, pastries, yogurts, juices and cereals, a hot breakfast could be ordered from the menu. One of the tables used for the buffet was originally used as the breakfast table for Franciscan monks over 600 years ago.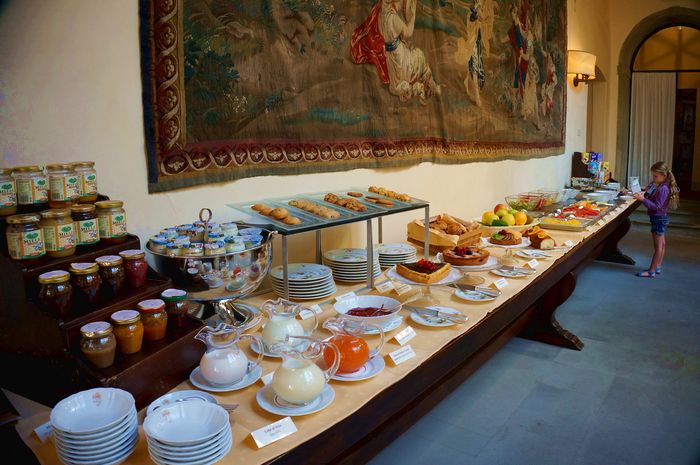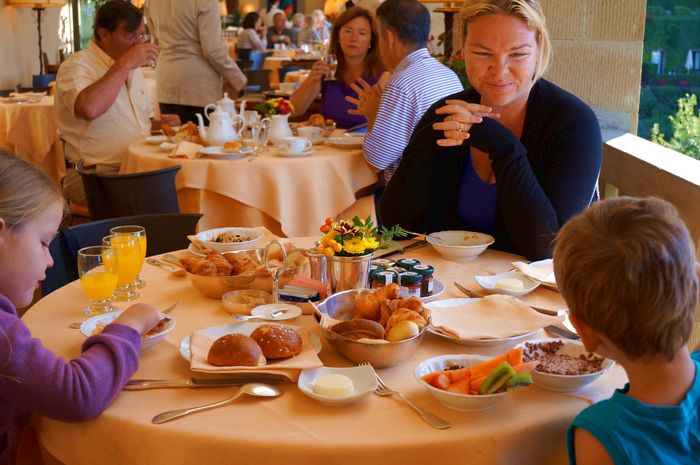 On our first night at the hotel, we booked in a dinner reservation at the restaurant. Not only is it popular with hotel guests, but we also noticed diners from all around Florence, including locals. It's the perfect location for a romantic dinner, with a backdrop of the sun setting over Florence, soft live piano music and fine food.
Towards the end of dinner the kids were getting tired, so we retreated to our room and organized to have the irresistible dessert delivered. I really couldn't call it a dessert; a more accurate description would be a work of art. Not only was it exquisite on the plate, but on the palette as well.
Out and about
A convenient complimentary shuttle operated by the hotel transports guests to the centre of Florence and back on a regular basis. We used this on a couple occasions, which was very handy, as driving in Italy for the uninitiated can be daunting and parking in Florence can be hard to find. Florence was home to illustrious Renaissance icons Michelangelo and Galileo, and features world-renowned art galleries and museums. And all of it is within reach from the hotel, less than 20 minutes away. Once in town it was easiest to get around by foot and with smooth, flat paving pushing a pram around was a breeze. See our post about Florence for more details about what we got up to.
On our 2nd evening at the hotel we organized a babysitter to look after the kids for a few hours so we could enjoy a kid-free dinner in Florence. The helpful concierge made all the arrangements for the sitter and she arrived early, fully prepared, and with a bag of toys and games. She was friendly, professional, and connected well with our kids. We don't often use babysitters as we travel, so this was a rare treat. But even better, when we returned, the kids couldn't stop raving about their babysitter. They even asked for her to come back another time.
Chillin In Style
A luxury hotel would not be complete without a lavish swimming pool. In this case, an outdoor heated pool overlooks the terraced garden and scenic Arno Valley. Mia and Caius had a ball and we almost had to drag them away when it was time for lunch.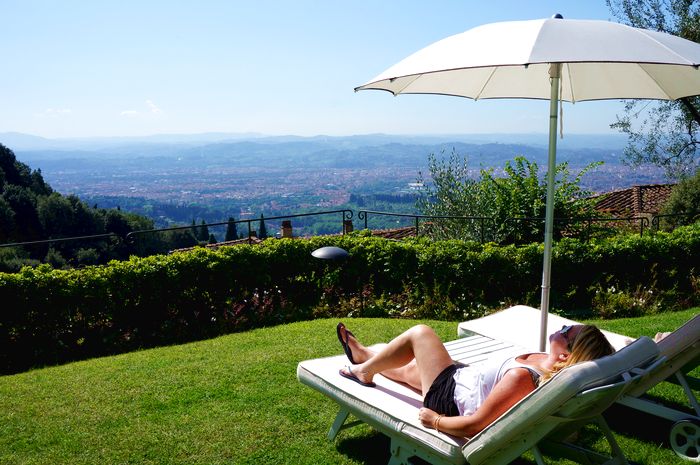 Every aspect of Villa San Michelle expresses it's timeless class imbued in rich history, from the fine furnishings to the restored paintings.
Matching these qualities with family friendly facilities truly makes this hotel a distinctive amalgamation that both parents and children love. The only problem with the hotel is that we eventually had to descend back to earth and continue on our journey. Perhaps one day we'll be ascended into heaven on earth again.