Istanbul is precipitously perched between east and west. At the convergence of cultures, continents and empires. 
Turkey been the home to over a dozen empires over the last 4000 years, including Roman, Byzantine and Ottoman. Every dynasty has left its lasting mark creating a melting pot of religions, food, and architecture. 
That's what makes Istanbul so beautiful. So captivating. So magnetic. From the grandiose marble-clad palaces to humble cobbled lanes.
It's a city unlike any other on earth.
Every street, every home, every face tells a story. And I'd like to share a slice of Istanbul's story with you, from these images captured during my most recent sojourn in February 2016.
But be warned, they may just want to make you book a flight.
The Milion – a monument marking the starting point of measurements for all roads and cities within the Byzantine Empire. All that's left from the original structure is this small fragment.
Fatih Mosque on the Istanbul old city skyline at sunset. This mosque was originally built in 1463, devastated by multiple earthquakes and rebuilt in 1766. This golden moment was one of my favourite sunsets in 4 years of nomadic travel. 
Lanterns for sale in the Grand Bazaar. Initial construction started in 1455 and now this is one of the largest and oldest covered markets in the world, with over 3,000 shops visited by up to 400,000 people per day.
The Basilica Cistern. A beautiful ancient underground water storage facility built in the 6th century. Before 1985 this photo would not have been possible as this room was filled with 100,000 tons of water. Once the water was drained, and 50,000 tons of silt and mud removed, the amazing engineering feat consisting of 336 marble columns, standing 9 meters tall, could be appreciated in all its splendour.
The famed Galata Bridge over the Golden Horn, with Yeni Cami mosque in the background. Interestingly in the early 1500's Leonardo da Vinci was asked to design a bridge to span the Golden Horn, however his cutting-edge design wasn't approved by the Sultan. Now seafood restaurants line the bottom of this bridge while fisherman reel in their catch from above.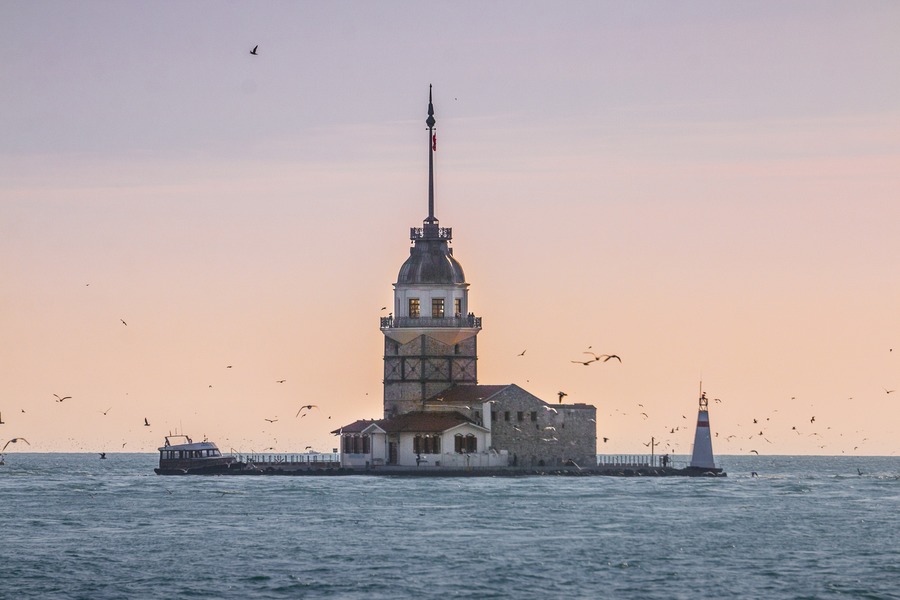 Maiden's Tower. According to a popular Turkish legend, an emperor had a much beloved daughter and one day, an oracle prophesied that she would be killed by a venomous snake on her 18th birthday. The emperor, in an effort to thwart his daughter's early demise by placing her away from land so as to keep her away from any snakes, had the tower built in the middle of the Bosphorus to protect his daughter until her 18th birthday. The princess was placed in the tower, where she was frequently visited only by her father. On the 18th birthday of the princess, the emperor brought her a basket of exotic sumptuous fruits as a birthday gift, delighted that he was able to prevent the prophecy. Upon reaching into the basket, however, a snake that had been hiding among the fruit bit the young princess and she died in her father's arms, just as the oracle had predicted. 
Make art, not war. In Beyo?lu district.
Galata Tower. A medieval stone tower in the Galata/Karaköy quarter, standing 66.90 meters tall, and with a diameter of 16.45 meters at the base. Walls are 3.75 meters thick. This was Istanbul's tallest building when constructed in 1348 and is still a striking icon on the city's skyline.
More popularly know as the Blue Mosque, the official name is Sultan Ahmed Mosque and it was built in 1616.
Fresh and dried herbs and spices in Grand Bazaar.
Fresh pomegranate juice being sold from a street vendor – tart and refreshing! 
Inside Ciragan Palace – a former Ottoman palace, constructed in the 1800's, sitting on the shores of the Bosphorus. It's now been transformed into a luxury hotel and conference centre. Opulent in every way.
Ferry cruising up the Golden Horn at sunset, passing beneath Galata Bridge.
In the courtyard of Sultan Ahmed Mosque.
Intricate mural ceilings inside Sultan Ahmed Mosque.
Cats are respected and cared for by everyone and no one. A popular local saying best sums up Istanbul's love of cats: "If you kill a cat, you need to build a mosque to be forgiven by God."
Rumelihisar? – a fortress built between 1451-52 by Ottoman Sultan Mehmed II, it served a pivotal role in the Turkish siege of Constantinople. With the help of thousands of workers, it was completed in just 4 months and 16 days. Now it's a museum and open-air theatre. 
Bird man selling seed outside Yeni Cami mosque.
History and modernity side-by-side as seen during a cruise up the Bosphorus.
Charms to ward off the evil eye, offering protection against misfortune and injury.
Couscous salad – a Mediterranean classic.
Lights inside the Sultan Ahmed Mosque.
Seagulls flocking to a passenger ferry on the Bosphorus.
The Golden Horn Metro Bridge, completed in 2014, was the newest bridge to span the Golden Horn. Over 10 million international tourists flock to this natural harbour every year.
One of the 18 gates to the Grand Bazaar. 
Life in Istanbul, another day outside Grand Bazzar.
Yeni Cami (also meaning "New Mosque") is one of the famous architectural landmarks of Istanbul. Construction of this mosque started in 1597 at the orders of the Sultan's mother. The area was populated largely by Jewish people at the time and her hope was to extend the influence of Islam within the city. But it drew criticism and construction stopped after the Sultan's death, where it sat in disrepair. After being ravaged by the Great Fire of Istanbul in 1660, it was finally rebuilt and completed 3 years later. 
Galata Tower at the end of a narrow cobblestone road in Galata district.
Alman Çe?mesi (meaning "German Fountain") was gift to Turkey from Germany to honour the 2nd anniversary of German Emperor Wilhelm II's visit to Istanbul in 1898. The fountain was built in Germany, then transported piece by piece and assembled in its current site in 1900.
Eye-crossing self-portrait in the mirrored entry of W Hotel. 
Meze platter at Pano Saraphanesi near Galatasaray/Taksim, a historic wine bar that has been open since 1898.
Hagia Sophia Museum. From its construction in 537 until 1453, this served as an Orthodox cathedral under the Byzantine Empire, remaining world's largest cathedral for nearly 1000 years. From 1453 to 1931 it was converted into a mosque. And since 1935 it's been re-opened as a museum. Now it attracts 3.3 million visitors per year.
Walking into Hagia Sophia Museum.
The massive dome atop the museum is said to have changed the history of architecture. Unfortunately, the first dome which was flatter than the current one, collapsed in 558 after an earthquake. The new dome was taller, but over the years it has caused the walls to buckle under its great weight. Notice how these arches are skewed from right to left?
View from second floor inside Hagia Sophia Museum.
Intricately carved bronze doors inside Hagia Sophia Museum.
View from outside the upper floor of Hagia Sophia Museum, looking west towards Sultan Ahmed Mosque.
Candles inside the Church of St. George in Fatih. I took a walking tour with Fest Travel around the historic area of Fener. The rest of the photos are from this area.
The Church of St. George was built in 1866-87 on the site of a Byzantine church which was one of the most important Greek Orthodox monasteries in Constantinople.
Walking the streets of Fener, a neighbourhood within the district of Fatih. History (and street art) line the roads at every turn.
Every door tells a story. What's behind door number 4?
Fener's cobblestone streets. 
Young Turkish boy stopping for a photo.
Istanbul's cats never go without. The pro-cat attitude of Turkey can be traced back to an Islamic legend involving the prophet Muhammad being saved from a poisonous snake by a courageous cat.
Local children playing soccer on the streets of Fener.
Every building in Fener is a photographer's paradise. The picturesque facades of many wooden mansions were damaged in the 1930s due to street widening.
Drying clothes hang side-by-side with the Turkish flag above the streets.
What's your favourite photo? Share it in the comments below.
Where to stay in Istanbul
During my most recent visit I stayed in the centrally located Eresin Taxim Premier. It's just a short 2-minute walk to Gezi Park, Taxim Square and Taxim metro station. And a couple blocks from the western end of Istiklal Avenue – an elegant 1.4km pedestrian street, lined with retail shops, cafes, pubs, art galleries and more, attracting up to 3 million people per day.
If you're looking for a comfortable home base for exploring the city, I highly recommend Eresin.
Last time we visited Istanbul we stayed in the Eresin Crown Hotel, near the Blue Mosque.
Tours In Istanbul
It always helps getting a local perspective, and I took 3 tours while in Istanbul that I'd recommend:
Walks of Turkey – Best of Istanbul tour
Fest Travel – Golden Horn tour (customised)
Turyol – Bosphorus cruise (only 12 TL ~ US$4.20, departing from here)
5 Most Common Questions About Istanbul
1. Is it safe?
I've visited twice and it's just as safe as any other major city like London or Rome, in fact it's crime rate is much lower than most Western European cities. There's been plenty of media attention about recent terrorist attacks in Turkey, but by and large, the citizens are relatively peaceful. Keeping all factors in perspective, for a city of 14 million people, the likelihood of being injured or killed by a bomb is infinitesimally small. For example, in March 2016, the bombing in Beyoğlu district injured 36 people and killed 5 (including the perpetrator). Compare that to New York City where 9.3 people are murdered each week, but that doesn't get the same coverage. Every day in Los Angeles 11 people die from homicide, suicide and accidents. I'd consider those 2 cities far less safe than Istanbul.
2. Should I drive?
The city is centuries old and not particularly well designed for cars. As such, it's common to get stuck in traffic jams, particularly mid-to-late afternoon. I wouldn't recommend driving unless absolutely necessary. The prices of taxis are pretty modest compared to other major cities, so stick with those. Outside of Istanbul, it's pretty easy and safe to drive.
3. Is there a dress code?
Although Turkey is technically a secular government, Muslims make up the majority of the population. However, compared to other countries in the Middle East, Turkey is far more liberal and hospitable. But it's always a good idea to respect traditions and customs in a foreign land, just like any good visitor. If women don't want to attract unwanted attention, covering shoulders and knees helps, and entry to religious sites (like the Blue Mosque) requires modest clothing for both men and women (signage is shown in front of the mosque).
4. What about the language barrier?
Many people in Istanbul, particularly areas that attract tourists, speak some English. I've never had any difficulty communicating with locals. The further into rural areas you go, then that would change.
5. How's the food?
Delicious! Some of my favourite food in the world. Both street food and restaurants are generally very safe as far as food quality. Once you've had Lokum (Turkish Delight), you won't be able to go back to the phony western version.
The Bottom Line
The charm and beauty of Istanbul is undeniable. These photos tell a story about the expansive variance in a complex and intriguing city. From the meager yet enchanting streets of Fener to the extravagant opulence of imperial palaces. From the Bosphorus which divides continents to the children's smiles that unite humanity.
I'm sure you've discovered, like me, why it's hard not to love Istanbul.