When it comes to food, Turkey has a similar style to Israel so by getting familiar with our post from Israel you will have a good head start. However, as Turkey is literally at the crossroads of East and West, it also sports more international cuisine. We were very excited to find delicious Chinese restaurants, mouth-watering Italian and even fine dining at the Four Seasons Istanbul.
Four Seasons
This is an internationally renowned, iconic hotel in the heart of Istanbul with an exquisite tranquil garden restaurant that visitors seek out to escape the hustle and bustle of the busy city.
We were delighted to be able to relax and enjoy some of the finest food we had experienced in Istanbul with service to match. My lamb was picture perfect and Josh's Turkish kofta was juicy and delicious. But what stole the show were the 5-star desserts. Words don't even start to explain what exquisite masterpieces they were. I'll let the photos do the talking.
Even the kids' ice cream was served as a piece of art.
How about classic Turkish cuisine? There are so many interesting and tasty Turkish dishes, but I've narrowed it down to some classics that you must try on your next visit to this beautiful country.
Ice Cream
I first saw this on the popular TV show, The Amazing Race, and knew the kids would love it. The ice cream comes with a show in Turkey. We featured several videos on our Instagram account with our first-hand experience.
After tricking the kids with their twisted techniques and fast-handed comedy we finally got to taste the ice cream. It was almost like taffy. When you lick it, it pulls away in long, gelatinous strands. Hubby and kids loved it, I loved the show.
Pide
Known as a Turkish pizza is the very yummy Pide. You can have it plain or with meat and it does not cost an arm and a leg. A perfect lunch time meal on the go.
Gozleme
Part of this delight of this dish is actually watching the ladies make it. A gozleme is like a giant crepe on a large flat iron but it had a consistency more like a very thin oversized pita bread. Ours was filled with cheese and was simply delicious. If you like the Mexican quesadilla, then this will put you into flavor overdrive.
Kebabs
Having loved my local kebab store in Perth I was determined to have me a Turkish kebab. While not quite the same as my Australian kebab, for only around $1.50 you could hardly go wrong on price and it was a snack my daughter loved.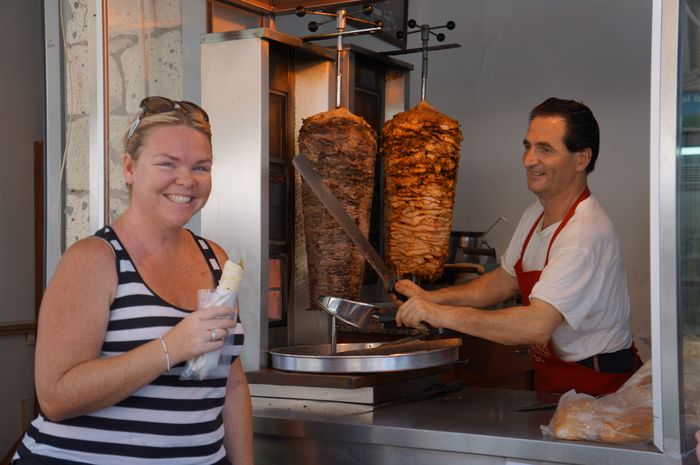 Sac Vac
Lamb is a popular meat served throughout Turkey, but none so tasty as served in the traditional Turkish meal Sac Vac.
Usually served in a clay pot or on a piping hot stone, it has a center small mound of rice surrounded by juicy stewed lamb and peppers. You must try! My favourite was served during our stay at Taskonaklar at a nearby restaurant called Mutton Rouge.
Turkish Delight
Of course everyone wants to try Turkish delight in Turkey, but the kids were especially fond of the plain coloured jelly-pieces that made up a delicious simple Turkish delight. Josh enjoyed the cranberry and nut delights.
Within the Grand Bazaar many of the Turkish delight stores offer free taste testing (yes you end up buying after all that deliciousness), which the kids loved. We also had our fair share with the free Turkish Delight in our hotel room in Istanbul.
Turkey is a heaven for food lovers. If you can not pronounce the dishes, don't worry, that's part of the fun. You're guaranteed to find some tasty treats you had never tried before… and it will leave you wondering how you have lived without them this long.