It's a first world country with first world entertainment and after a mountain of travel experiences over the last 600 days we were ready to plant our feet for a few months and do the odd attraction.
In no particular order here are our kids favourite things to do in Perth, Western Australia.
Adults $33, Child $24, Under 4 free
This place is not just for the kids, but adults as well. You'll find kangaroo enclosures, koala viewing, mazes, playgrounds, jumping pillow, mini golf and now a brand new water playground. Spend some time wandering the grounds in the hot WA sunshine and then cool off with a water slide or two (or three!). And it's only going to get bigger and bigger. Keep your eye on this one. 
Adults $51.90, Child $42.90, Under 4 free
WA's most popular theme park has a brand new $12 million roller coaster that is just super fun. The kids will love the Dragon's Kingdom with little rides and are plenty of slides to cool off as well.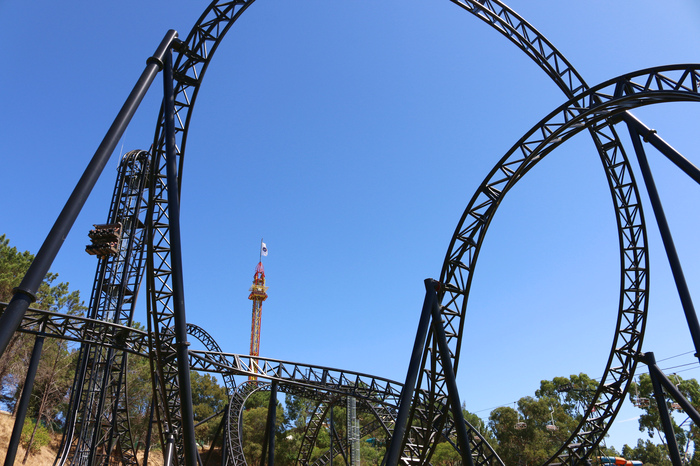 3. AQWA
Adults $29, Child $17, Under 4 free
Who doesn't love an underwater world? And this one holds Australia's largest single aquarium and underwater tunnel. It's big on education and if you are really feeling adventurous you could spend a bit more and jump into the shark tank.
4. Scitech
Adults $17, Child $11, Under 3 free
Scitech is an interactive science museum that will have the kids learning as well as playing. They also host a Toddlerfest once a year, which is great hands-on entertainment. Next door you can also visit the planetarium.
5. Cinema
Tickets around $16pp
Perth has a plethora of cinemas. Outdoor cinemas during the summer, a drive-in cinema and, of course, your regular indoor cinemas. Tickets can be pricey, but cheap Tuesdays are always a great time to go. Most cinemas hold "Mums n Bubs" cinema sessions as well where you can let baby cry and not get on too many peoples nerves.
About $14 pp for a ferry ride, bring a picnic
Rockingham Wild Encounters offer different attractions from their base in Rockingham, including swimming with dolphins, glass-bottom boats, cruises to sea lions, dolphin watching, penguins and, of course, a ferry to Penguin Island. This tiny island is home to nearly 1200 Little penguins, the smallest species of the penguin family in the world.
7. Indoor playgrounds
Varies, approx. under 8 months: free, up to 4: $10, 4 – 12: $13, adults free
Our kids love indoor playgrounds and we have visited our fair share all over the world, however when it's 40°C outside the indoor playground is a lifesaver. You can find them all over Perth with favourites being The Beach House (Osborne Park), Go Bananas (Joondalup) and Wild Kidz (Wangara). 
8. Perth Zoo
Adults $24.50, Child $12.30, Under 4 free
We love our zoos and have seen plenty of them, but Perth Zoo is certainly a beautiful destination for adults and kids alike. There is abundant room for play with several playgrounds and, of course, big-ticket animals like lions, tigers and giraffes.
9. Botanic Golf
Adults $18, Child $13, Under 3 free
We have been coming here for years and love it. An early evening game of miniature golf on a decadent course surrounded by Australian flora followed by a night of woodfired pizza at Leapfrogs Cafe. Alternatively the breakfast is just as awesome, followed by a game of 18 holes. If you are lucky you might spot a wedding.
10. Caversham Wildlife Park
Adults $25, Child $11, Under 2 free
You will need at least 3 hours to get around this park, as there is so much to do.  Caversham Wildlife Park is home to many animals, birds and reptiles for you to view and interact. A map is provided on entry and you should be able to do a neat little circle around it. Pet a kangaroo, feed the sheep, and enjoy the Australian bush.
A lot of these things can cost a pretty penny, but we've managed to keep the costs down with the famous Entertainment Book, which often has Buy One Ticket, Get One Free. However if you are looking for FREE things to do in Perth, read our Fun Free Things To Do In Perth With Kids or our guest post, which is based South of the River. Otherwise start saving those dollars for some quality family fun downunder.