"Remember, remember the fifth of November of gunpowder treason plot. I know of no reason why the gunpower treason should every be forgot."

- Alan Moore
Who the hell is Guy Fawkes? Wasn't he some guy (pun not intended) who wore a mask on V For Vendetta?  Or was that something else entirely? And why the heck do they want to burn him?
On our first weekend in London we were invited to meet fellow travel bloggers - Hitchn' It. This amazing couple randomly emailed us asking if while we were in London would we care to meet them, eat cookies, warm ourselves by a bonfire and then stay the night.
Complete strangers.
The warmth of the travelling community continues to tickle me pink.
Since we were staying at Flemings on Mayfair we decided to skip the overnighter, but we were more than keen for a good ol' English bonfire and a roasting.
What is Guy Fawkes Day?
For the uninitiated, Guy Fawkes was part of a small group of 13 men in the 17th century that plotted to kill the King of England and his government by blowing up the Parliament House with gunpowder. It is commonly believed that this was due to Guy's catholic convictions and removing the Protestant king would put his daughter on the throne.
After the plot was discovered on 5th November 1605, Fawkes was promptly arrested. Following a short trial, he and 3 of his co-accused were hanged, drawn and quartered.
From that point Londoners were encouraged to celebrate the day that the king escaped assassination by lighting bonfires. Fireworks were added to the tradition in the 1650s, and burning an effigy of Fawkes in 1673. The rest is history.
On the other hand, the vehemently verbose movie, V For Vendetta, is loosely based on a similar theme, set in a fictional fascist English state. The main character, V, permanently sporting a Guy Fawkes mask, seeks to undermine the establishment and uses the 5th of November as the poetic day of reckoning. On a related side-note, that is actually one of Josh's favourite movies.
Where is the best place to celebrate?
Every year communities around England celebrate the day and night with bonfires, fireworks and food. Most of the bonfires will be uninspiring, while only a few will be absolute masterpieces – one of which we were fortunate to witness.
Brockham Village prides itself on having the biggest Guy Fawkes bonfire in Southern England, and possibly anywhere. Built over a period of at least 4 weeks, the bonfire is usually around 40 feet tall, made with logs, brushwood, grass, leaves and discarded furniture. In addition, a team puts together over 500 fiery torches that are used around the village and finally dramatically thrown on the bonfire in unison to commence the inferno. 
But the crowning jewel is The Guy. An 8-foot larger-than-life construction made with paper mache and a beautifully painted face. He has real clothes, hemp for hair and a beard.
Another 80-year-old tradition for the Brockham bonfire is the roasting and auctioning of the pig.
And if roasted pig going for nearly £1500 is not enough for you, then stick around for the fireworks display, which has been impressing crowds since 1928. In 2013, while we were there, 15,000 pounds of fireworks were fired in less than 60 seconds. Now that was a big bang!
More than 20,000 people travelled far and wide to attend the Brockham bonfire with us.
Where is Brockham?
Take the tube to Victoria Station, and then train from Victoria Station to Dorking which takes about 50 minutes. 
From there the village centre is a 45-minute walk or you could try a taxi (however they can be pretty booked up on this one night of the year). We were blessed to be invited by Jess and Jared who happened to live next door to the bonfire grounds. We had a warm house to retreat to, the most delicious dinner provided by Jess' mother and wonderful, local hosts to show us around this gorgeous village. 
What to wear
We dressed warmly. I mean it was already November in London, so it was getting pretty cold, however this was an evening event out in Surrey. We put on the kids' track pants under their snowsuits that we had used during the previous winter in New York. Josh and I wore jeans and warm jackets. Hichn 'It were kind enough to lend us gumboots for the muddy park grounds but sneakers would work fine. 
Dress extra warm, especially if you don't have a heated house to retreat to for respite. At that time of the year it is guaranteed to be cold, which of course makes the best kind of bonfire nights.
What happens on the night?
Several events took place during the evening including a parade of Guy through the streets, complete with torches and hollering (I may have seen a pitchfork or two). It was a surreal feeling attending a fake burning. Kind of morbid and distressing, but at the same time there was so much energy in the atmosphere that you wanted to holler and burn the poor Guy too. 
The streets were lined with little stalls selling food and alcohol. There were kids dress-up parades, raffles and just an overall fun festival vibe.
Everyone gathered in town centre around the bonfire to watch the honoured torch-bearers throw their flames onto the bonfire stack after a dramatic countdown by the MC. 
As flames crept higher and the warmth started to invade my personal space, the fireworks went off in the opposite direction. I needed eyes in the back of my head.
While we were watching the pyrotechnic display the bonfire flames, with baited anticipation, crept closer and closer to the petrified Guy. BANG! All of a sudden it was not just fireworks exploding and lighting up the sky, but a earth-shaking boom and a snap, crackle and pop as Guy finally caught alight and the firecrackers inside him started a chorus like a tap-dancing centipede. BANG! BANG!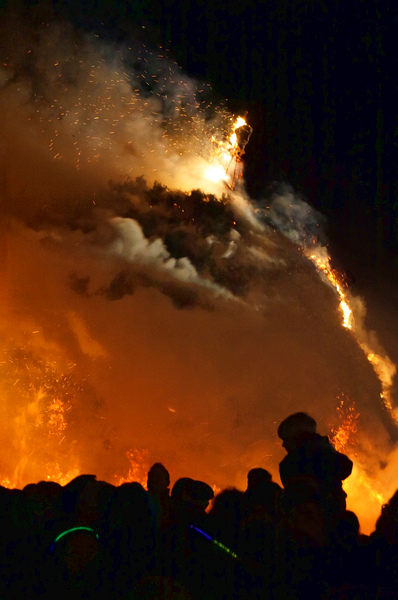 The smoke infiltrated clothes and hair, stinging eyes and tickling nostrils. The heat continued to build until watchers at the front start retreating from the searing flames. I heard nothing and everything. It was so loud, the fireworks, the crackling fire, and the hearty cheers as Guy burned.
It was barbaric, intoxicating and thrilling all at the same time. 
We sipped mulled wine, watched the flames and then retreated back to our guest's home, which was inconveniently filled with smoke as a window was accidentally left open. Apparently the fly ash was not the favourite part of the evening for these guys as the house is next door and this year the wind seemed to be setting a punishment for them.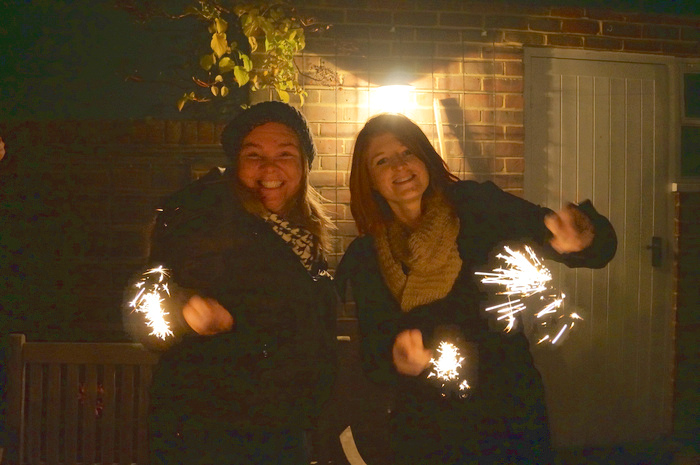 The bonfire went all night with local guards and revelers even sleeping under the stars in the park. We decided to make our exit late that night and take our chances walking towards the train station, hoping to luckily flag down one of the over-booked taxis that were zooming by, which we finally did.
The kids fell asleep on the way back to the hotel and we sat in our smoky stench laughing at the absurdity of the whole festival. Picking ash out of our hair and clothes we sat amazed at the peculiar traditions of England and the surprisingly entertaining event in the charming village of Brockham.
If Jess and Jared ever invited us to cookies and bonfires again, we'd do it in a heartbeat. Travel throws surprises at you at every turn and some of our favourite experiences have been spontaneous invitations that result in nights to remember.
If you have a hankering for burning stuff or just having a memorable night, check out the official website for the date of the next Brokham bonfire night in November. I hope you make it to a Guy Fawkes bonfire night. It's insane. 
If you enjoyed this article, you might also like...