We've been to our fair share of theme parks around the world. Our terrible experience at Hong Kong Disneyland, the amazing Universal Studios in Singapore and LA, or our wonderful time at Disneyland LA, not to mention all those incredible waterparks in Bahamas, Mexico, Guatemala, and Dubai.
And Adventure World was not really worth comparing as we grew up in Perth. Even compared to Australia's Wonderland in Sydney it seemed to be left behind, so we had not been in at least 4 years.
Back in Perth we saw constant advertisements for the new attraction - a $12 million roller coaster. Being the adrenalin junkie I am I decided I needed to attempt this – Abyss.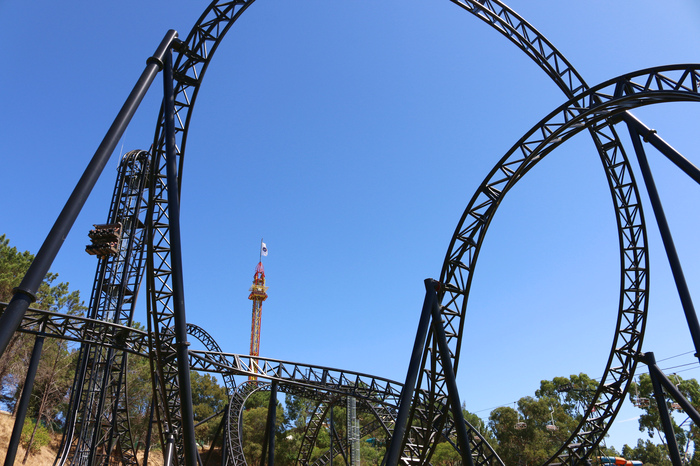 Adventure World
Located in Bibra Lake it's an easy drive down the Kwinana Freeway, 20km from Perth city centre. There is lots of free parking and if you're lucky you can grab a shady spot to keep the car cool for the day.
Gates open at 10am – 5pm Thursday to Monday from September to April. School holidays have extended times and the park closes during winter.
There are several different ticket options including:
After 2pm discounts
Family Day Pass for 2 adults and 2 children is $164.50
Family Passes also available for 1 adult and 2 children, or 2 adults and 3 children, or even 2 adults and 4 children)
Children 4 – 13 years are $43.40
3 years and under are free

Adults are $52.40
The Rides
As far as rides go there are only 4 that would appeal to adrenalin junkies. But the kids part of the park is fabulous. The Dragon's Kingdom is an enchanting medieval land full of rides and fun. Both our kids absolutely loved it. There was a little roller coaster, spinning tea-cup-type-ride and plenty of other fun. There's even a wildlife section and a mini waterpark with 4 staggered slides that go from one pool down to another.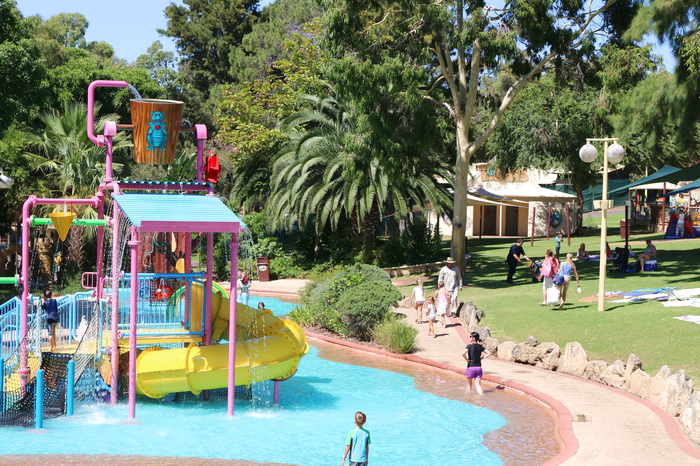 The Waterpark
There are loads of water slides to choose from, including speed slides, tube slides and mat slides. I guess that makes sense for a hot place like Australia. There were a set of water slides that we never managed to get on, as it was school holidays the lines were long. But the slides at the tops of the northern hill were fast to get through (take the skylift ride up and walk down). My 5-year-old daughter and I managed to race quite a few times and the stairs leading up the hill were not too steep so it didn't feel tiring making the climb.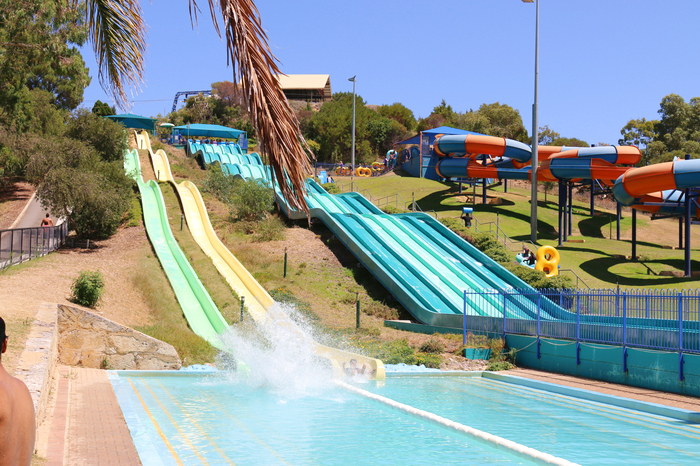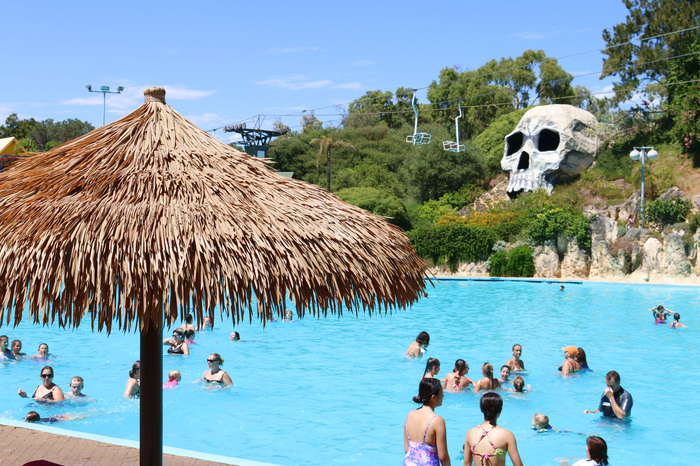 Another newer part of Adventure World that we hadn't seen before was Kahuna Falls, which is much like the water playground at Outback Splash. It features eight water slides and a 1000-litre tipping bucket. We managed to score a few deckchairs around the playground since we knew this was where the kids were going to want to spend the majority of their day.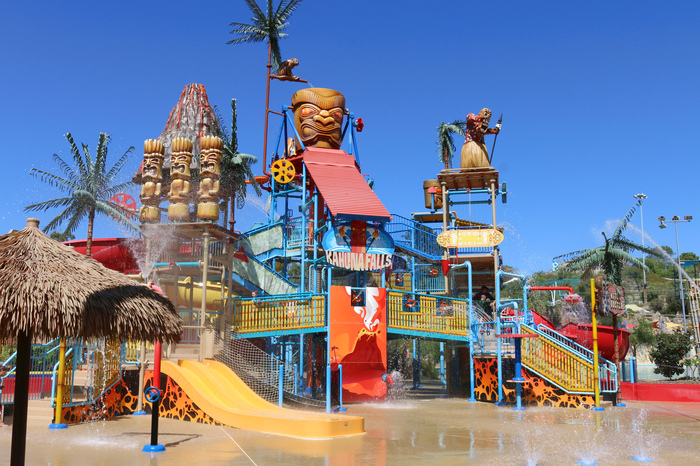 Beside Kahuna Falls is The Lagoon, which is one of the biggest freeform pools in the country and has been in the park since 1982. Our kids loved having a swim around here and there are lifesavers on watch for extra peace of mind. I was a little nervous it as was so close to the Kahuna Falls, since I'd often lose sight of the kids in the water playground, hoping they weren't going headfirst into the pool. But with so much fun I should have known they would never venture out.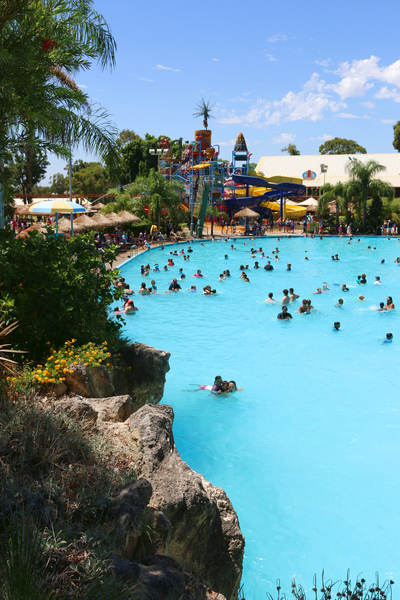 The Food
Like most theme parks food can be purchased at a premium. However the great news about Adventure World is that you are allowed to bring your own food in. There are plenty of shady grassed areas to spread out your picnic and nearby lockers for storing valuables. 
There was a good range of food choices including many healthy options and, of course, favourites like chips, fairy floss and burgers.
4 ice creams set us back about $15, which is a similar price to what we spent in the Old City of Jerusalem, and a large chips with gravy was $7.
Abyss
And so we come to the reason for this post. The new $12 million rollercoaster. We entered the park right as it opened, before the queues of people started filing in, and headed to the Abyss first to beat the rush. 
Convenient mist-blowing fans cooled the waiting line, a great relief from the summer heat. It's the first time I've seen a themed ride in WA and likened to an experience at Universal Studios or Disneyland with its spooky entrance music and creepy intro video clip.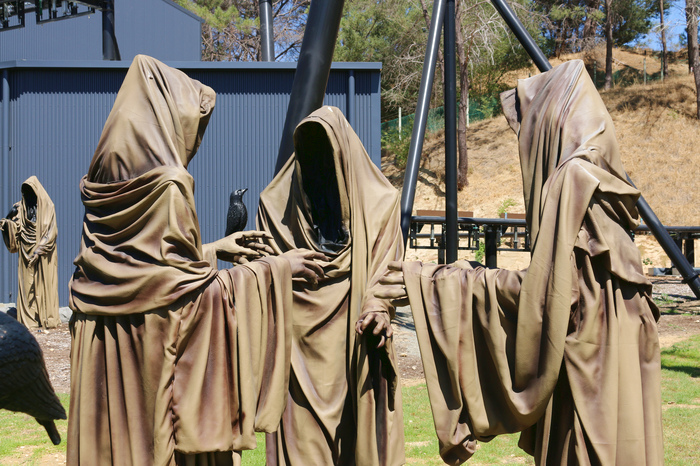 After a short wait in the queue I finally was on. I grabbed my GoPro out of my pocket so you could come along on the ride with me. 
How awesome is that? Straight up and straight down. It was so terrifying and thrilling all at the same time. I wanted to go again. It had to have been one of the best roller coasters I have been on, and that's a big call for WA.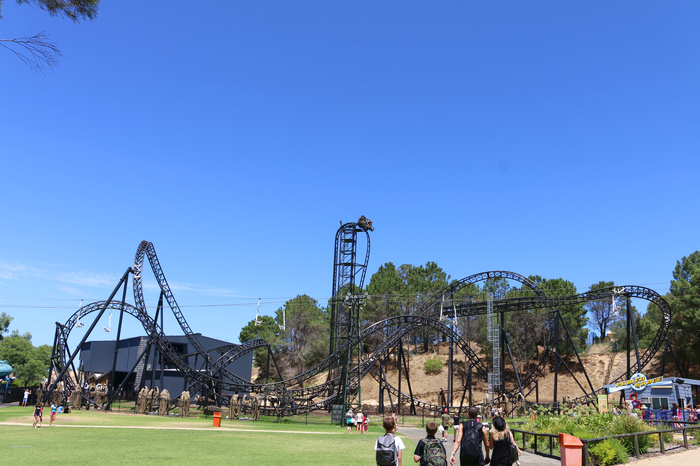 What an amazing day! No matter how many times I applied sunscreen the Aussie sun still left me with red cheeks, so make sure you load up on sunscreen and bring a hat. The park has water fountains around for refilling bottles and we all stayed hydrated, thank goodness.
If you are looking for a bit of a thrill when you come to Perth, head to Adventure World. If you do nothing but the Abyss it would be well worth it. And with school holidays now over, it's the best time to go so you can ride over and over and over again.