We love road trips. I love the time it gives me with my husband, with my thoughts and with my kids. But there is someone who installed the love of the road trip in me a long time ago. And it was never about where we were driving, but whom I was driving with. 
My mother. 
With Mother's Day right around the corner I started thinking about all the road trips we've been on.
When I was 13 our family road tripped from Sydney to Perth, Australia – one side of the continent to the other. Colliding into a flock of flying cockatoos couldn't dent the sweet memories of this road trip.
In my 20's my mother and I would road trip regularly to see my grandmother, about 3 hours each way across the Australian outback. Soon my daughter was with us and we had 3 generations of mothers, 4 generations road tripping across Australia.
In 2013 my husband and kids got to road trip Italy, France and Spain with my parents. An audacious journey I will never forget.
There is something special about that time alone in the car with someone. It doesn't matter the type of car, as long as the tyres are rolling, the windows down and the music loud.
Being locked in a car, shoulder-to-shoulder, is an inexplicable phantom zone where even the most guarded individual will open up. There's nowhere to escape, nothing to steal your attention, just you, your mum and the open road.
When Discount Tire asked us if we knew other people who road tripped with their mother I started wondering... Do other people feel the same? Or was I alone in my mother-themed road trip bubble?
Turns out I'm not alone.
Brock, Canada
My mom is easily one of my best travel pals! Italy, Hungary, USA, Spain, Canada - the list of places we've seen together is long. My most memorable road trip would have to be our adventure to the Newfoundland and Labrador on the east cost of Canada in summer 2013. We were joined by my aunt Teresa, who often travels with us and makes us a perfect trio!
I picked the girls up in Halifax, Nova Scotia and we spent a week driving around the beautiful western and central regions of Newfoundland. We went cod fishing, explored gorges, and got up to our usual laughs and mischief. The plot twist came when we got stranded on the island due to a ferry accident and a waiting list for tickets.
Our only way off the island was to take a very under-serviced road up through Labrador via Happy Valley-Goose Bay. Wilderness, dust, pot-holes, bugs, no cell or radio service, and only a Neil Diamond CD - it was beyond intense. It took us 50 hours of driving (instead of the planned 18) to get back to Toronto but as always we found the adventure and fun in the experience. It turned into a road trip we'll never forget I am so grateful for every chance I get to travel with my mom and my aunt too of course! My mom is always so relaxed, up to trying anything and one of my best friends.
I love you Mom!
Allison, USA
I am fortunate to live near my mother, and we regularly invite her to travel with us. In recent years, we have road-tripped to Disneyland, Colorado, and various destinations throughout our home state of Utah, USA. On one special trip, we hiked to Delicate Arch in Arches National Park with my husband, children and dad. My mom has some physical challenges, and I knew that the 3-mile (4.8 km) hike would be especially challenging for her. We hiked slowly, took lots of breaks, and eventually stood in front of the spectacular arch together. My mom said, "Wow, I'm really glad I did this once." I was proud of her that day, and she continues to be an example of strength and perseverance for my family and me. 
Karolina
We are travelling couple and it may sound crazy but we did road trip with... both of our moms!
We took our parents to Italy in January. We were visiting Venice, Bologna and Verona. It was surprisingly good.
It was a great time and we will do it again in the future for sure. Our parents get along together really well. They were having so much fun that the roles were reversed. We had to be responsible and act like their parents. Calm them down and take care of them because they were acting like crazy teenagers.
It was amazing to see them happy and behaving like they were 18 years old again.
Kiki
I road tripped with my mother, Nancy, a few times back and forth to Florida from Michigan. She would winter down in Florida for the warmer climate, as it was better for her health as she has Fibromyalgia. Part was disaster, part was delightful. We fought as mothers and daughters do. But we talked and I listened to her tell wonderful stories about her childhood and growing up in Michigan. We would have fun little "adventures" along the way, stopping at Burger Kings because she wanted the SpongeBob Squarepants watches, buying fireworks or exploring the Berea, Kentucky art area and eating at the Historic Boone Tavern. Always fun and unexpected. I know my mother better because of those road trips and wouldn't give up those memories.
Chrysoula, UK
Back in 2012 my mum and I made a road trip from Greece to the United Kingdom. My mum lives there for the last couple of years, so that year we decided to drive there together. To be more accurate she drove and I was looking at the map. We started our journey by crossing with the ferry to Italy. After some long hours we arrived in the beautiful city of Venice. The view of the city of Venice while the ferry entered the harbor is one we will never forget. From there we drove north and we crossed Switzerland with its amazing countryside. It was Spring and everything was very beautiful and green. In Switzerland I got really scared because my mum thought we had a flat tire in the middle of nowhere but at the end everything was ok. We spent the night in the picturesque town of Strasburg. After sightseeing and a hearty meal we continued our journey, passing through beautiful little French villages until we arrived at Calais. We then took the ferry to the UK and after some driving in the rain we arrived home. It was a wonderful 4-day road trip with my mum. We had lots of fun moments and we bonded some more.  
Bailey, 11 years old
Aaaahh. A sunny morning, wonderful breeze, a slight scent of coffee in the air… What a nice dream I was having on the car ride back to our Agriturismo (farm stay)! Last summer, I went to Italy and had a road trip in Tuscany (we were based in Pomaia).
Here is my most memorable drive: One time, we were driving to Sienna, but I got so sick I almost dropped dead. So, we stopped at a town called Volterra. We visited a museum called "Museo de Tortura." (Museum of Torture). Quite appropriate, don't you think?
I had an amazing pasta dish for lunch! We got gel-covered motion sickness medicine for me to survive the drive back. As I had mentioned, I was asleep on the way back and had some nice dreams.
The next day, we went on and drove to Sienna anyways. This time, I was fine with medicine. It turned out to be real nice there! I had a delicious pasta dish, again, with mushrooms and truffle … mmmm…. It tasted SO AWESOME! I love my mom for taking me on that great trip.
In memory of this amazing adventure, Happy Mothers Day, Mama!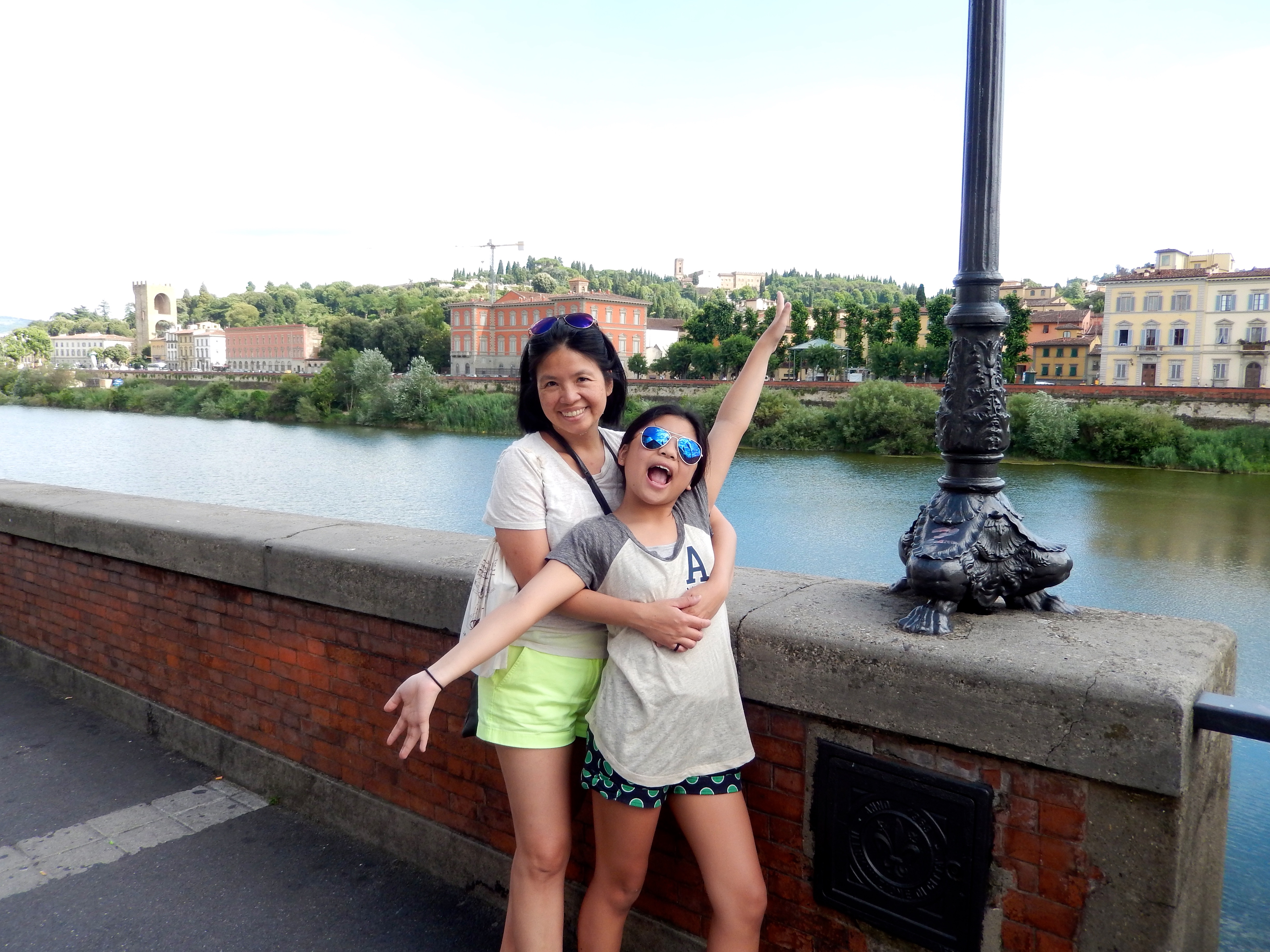 Mia, 6 years old
So I love road tripping with my Mum, but what about my daughter? Does she enjoy road tripping with me?
Enjoy this exclusive candid interview with my  6 year old to find out! 
Happy Mother's Day
to all you mums who road trip with your kids.
It doesn't matter where you go, only who you go with.
Tell me, do you have a fond memory of a road trip with your mum?