Since you've been reading all our Ireland posts you've fallen in love with this magical land, right? We certainly did. Well now I'm going to make your life even easier with our ultimate Irish road trip guide. See how we explored the beautiful Emerald Isle day by day.
While we had already been in Dublin for 6 days this was our first day of the road trip. After a hearty breakfast at the Ballsbridge Hotel (check latest prices...) we picked up our car that we had organized through Rhino Car Hire.
While the process with Rhino Car Hire was easy and quick, the actual car agent in Dublin was not so much. Ireland is notorious for troublesome car hire practices and we experience nothing less than what had already been warned. Loads of extra hidden charges were added from airport drop off fees to Northern Ireland fees to extra drivers fees to admin fees – you name it. Really, there is only one way to see Ireland and it's by road, but be prepared for all the extra costs. We ended up with more than an extra €300 on top of the original Internet hire price.
We drove the car back to the hotel and collected all our bags before heading off to Limerick. On our way, with the advice from a wonderful friend, we stopped in at the Rock of Dunamaise.
The kids were fast asleep so I stayed in the car and watched Josh hike up, but soon they woke up and we all wanted to explore. I am so glad we did, it was simply breathtaking. The Rock of Dunamaise is a rocky outcrop that stands 151 feet above a flat plain and contains the ruins of Dunamaise Castle on it dating back to 12th century.
We all loved climbing its green hills and exploring the rock and ruins. The air was cool and the Rock was tourist-free, quiet and mysterious. It had to be an unexpected highlight on our road trip.
Before long the rain started coming down so we ran back to the warmth and shelter of the car. We drove the rest of the way to Limerick and checked in at the Travelodge. Small, wifi-less and terrible customer service - I can suggest accommodation elsewhere. But it was clean so I guess that's something.
Later that evening we caught up with our friends for dinner that we had first met in Nazareth, Israel and then again in "no man's land" between Jordan and Israel. You can read all about our experience at Casa Nostra in our food post, it was a wonderful evening.
Day 2
Cliffs of Moher
Bunratty Castle & Folk Park
Accommodation: Travelodge Limerick (check latest prices...)
Toll: €3.80
We ate cereal in our room out of mugs this morning. Not quite the breakfast of champions, but we had an early start to the Cliffs of Moher. You can read all about that in our extremely popular post.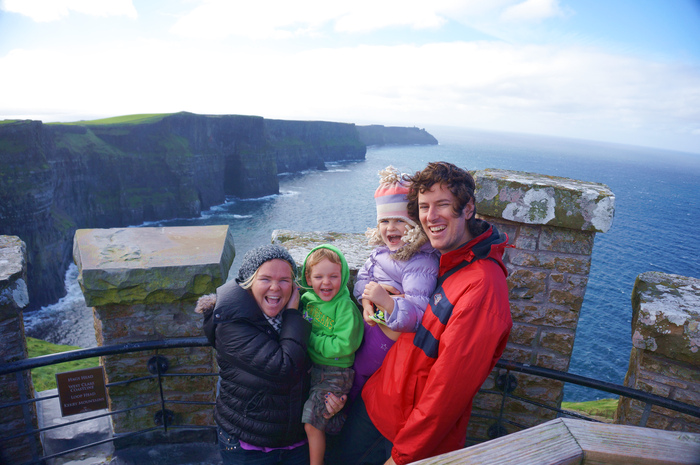 After the cliffs we drove to Bunratty Castle & Folk Park. During our visit we decided to come back the next night for the medieval banquet. By chance we found a cute B&B down the road and organized to stay there the following night (find hotels in the area).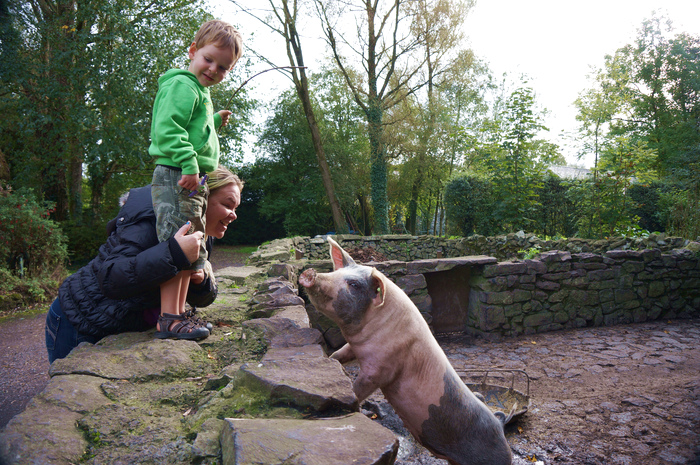 More cereal-in-a-mug before we hit up a nearby indoor playground. We let the kids play for several hours while we caught up on a backlog of work using the free wifi.
After the playground we checked out the medieval icon, King John's Castle, and wrote all about that here.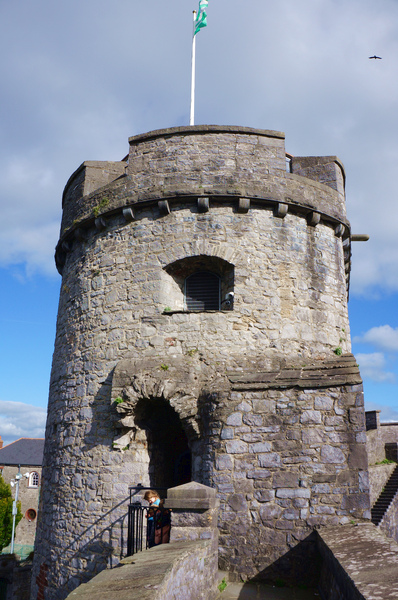 From King John's we drove a short distance to our first Irish B&B. It was simply gorgeous and we had a relaxing afternoon before heading to our outrageously fun medieval banquet dinner at Bunratty Castle.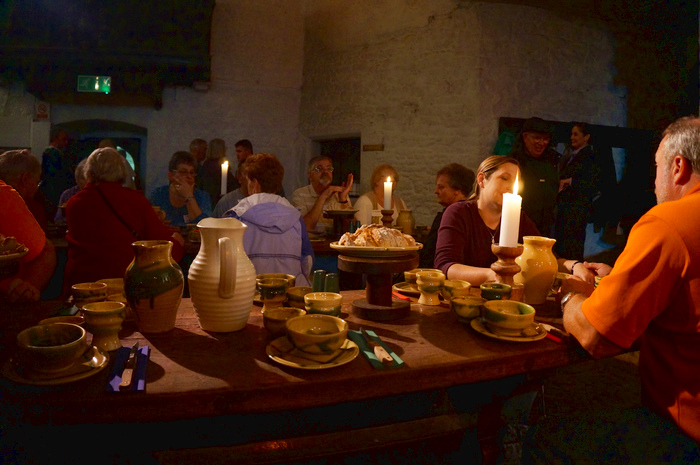 Day 4
Limerick to Killarney
Ring of Kerry
Accommodation: 19th Green B&B, Killarney (check latest prices...)
Toll: €1.90
We had a delicious and filling breakfast at our B&B before heading to Killarney. It took a few stops before we found the wonderful 19th Green B&B. We dropped all our bags off and got started on the Ring of Kerry.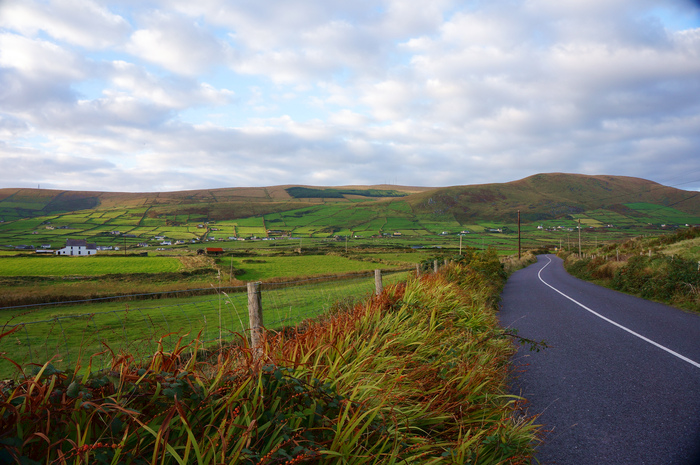 The Ring of Kerry is a 179-km-long circular tourist route in County Kerry, south-western Ireland. "The Ring" is a popular day trip and numerous bus companies offer trips during the summer months. As the narrow roads make it difficult for tour coaches to pass, all tour buses run in an anti-clockwise direction. This means you have two options; one is to go the opposite way so you don't get stuck behind them, but then you are forced to try and get around them. Or risk getting stuck behind them for the whole ring. We decided to do the anti-clockwise route.
We stopped fairly quickly for lunch at the Oldie Glenbeigh Hotel, which was delicious and one of the cheaper meals we had in Ireland.
The ferry to Valentia Island wasn't running that day so we took the bridge instead, but didn't find much of interest on the island. On our way off we decided to follow the signs to the "hidden Kerry", Skellig Ring. 
Skellig Ring is a predominantly coastal road that offers panoramic views of its namesake, the Skellig rocks. While it might be the Ring of Kerry's lesser sister, it certainly was far more impressive.
From the highest point of the road you can climb the hill on the seaward side of the saddle in twenty minutes or so for the most magnificent views out to the Skellig Islands, across to the Dingle Peninsula and the Blaskets, and inland to the Iveragh Mountains. This detour was our favourite part of the Ring and one of the most beautiful natural panoramas we've ever seen.
It took much longer than we expected to finish. We stopped a few times for photos and found a local playground for the kids as the sun was setting. They enjoyed stretching their legs and having a break from the car. Finally, exhausted from a full day of driving, we headed home to our Irish B&B.
After another delicious breakfast, where my daughter inadvertently set a napkin on fire trying to get toast out of a toaster, we headed to Blarney Castle.
Blarney Castle was built nearly 600 years ago and the current one is the third castle on the site. Now it's the most photographed building in Ireland.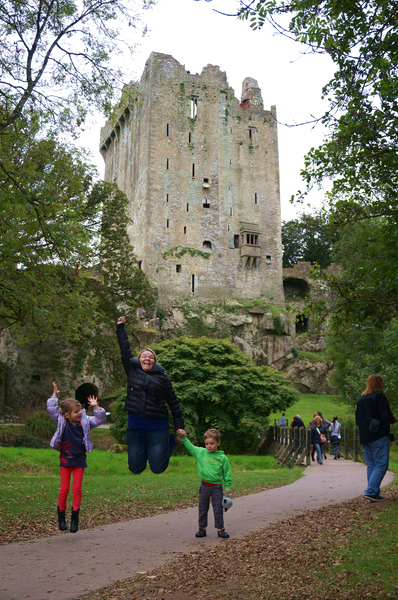 The castle is now a partial ruin with some accessible rooms and battlements. It's a mission to get to the top with the kids, but we finally got there. At the top of the castle lies the world-famous Stone of Eloquence, better known as the Blarney Stone.  You can stand in the cue for your chance to hang upside down over a sheer drop to add your slobber to the same spot everyone else has. This myth supposedly gives the gift of eloquence.
I decided to join the fun. It's very awkward leaning backward over a seemingly insane drop to kiss an old wet stone.  And there is a lot of pressure to kiss the stone, get up and get out. But I do feel that I am speaking much better these days. Ha!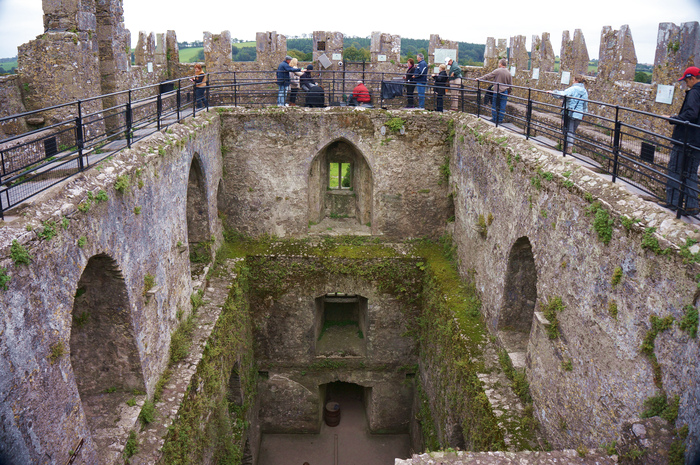 From the Barney Stone we drove a bit further to Cork. We did not have much luck finding a B&B in Cork, nor did we find anywhere to park in the busy little city so we drove on to Cobh. We found a wonderful 2-bedroom apartment and settled in for the night.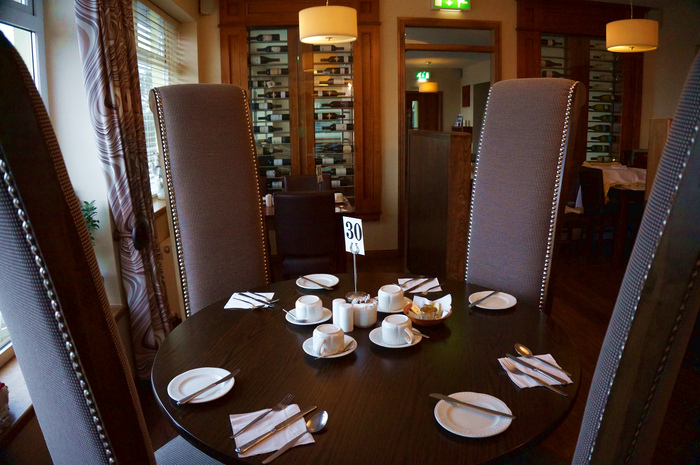 Day 6
FOTA Wildlife Park
Cobh to Kilkenny
Petrol: AUD$133
Toll: €1.90
Accommodation: New Park, Kilkenny (check latest prices...)
Today we discovered FOTA Wildlife Park and it was a delight. Read about this beauty here. From giraffes to cheetahs, this place has it all. In fact it's one of Josh's favourite zoos anywhere in the world.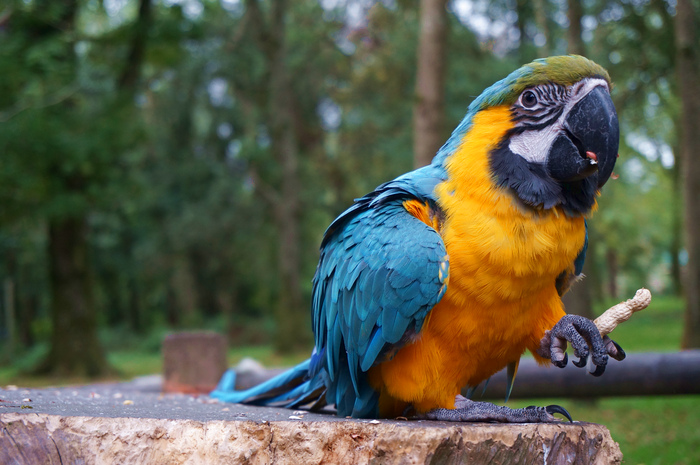 After FOTA we drove to Kilkenny. We found a lovely hotel called Newpark, which we decided to book in for two nights. It was a great price and very modern, they even had a mini kids zoo out the back.
After breakfast in our hotel we headed out to explore Kilkenny. The castle in the centre of town has a beautiful garden and a self-guided tour inside won't set you back much.
A lovely little town that we thoroughly enjoyed, especially Shake Out where we stopped for crepes and a milkshake. We got some Chinese takeout for dinner and spent a fairly relaxing time in our hotel.
Day 8
Kilkenny to Belfast
Toll: €1.90 + airport toll: €4.90
Accommodation: Random roadside B&B (check prices in area...)
After breakfast we started our drive to Belfast. On the way we stopped in at our scheduled house-sitting house in Kildare to meet the owner and check out our new home for the next few weeks. We left some of our larger bags there and then continued on.
Belfast was a big, busy city and we decided to keep driving, pulling into some random B&B as we drove the northeast coast of Ireland.
Day 9
Belfast to Londonderry
Rope Bridge & Giant's Causeway
Accommodation: BubbleBum Creator's House (check prices in area...)
This B&B ended up charging us more then what we had negotiated the night before and left a bad taste in our mouth. But we were off to the Giant's Causeway and not even the cold, wet weather could dampen our spirits.
Our first stop was the Carrick-a-Rede Rope Bridge and then the Giant's Causeway. You can read all about that amazing day in our special post.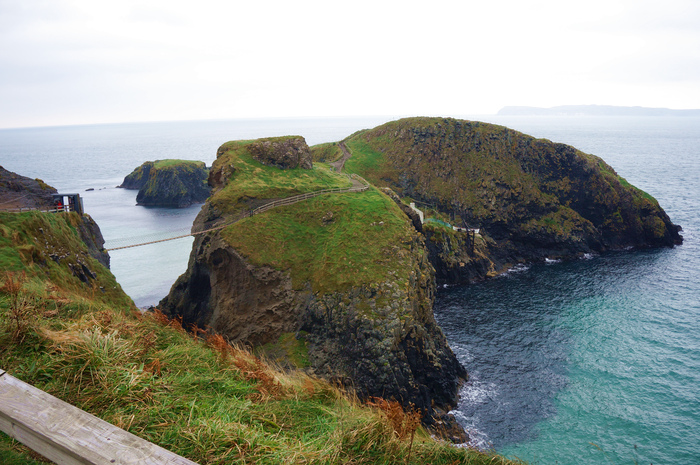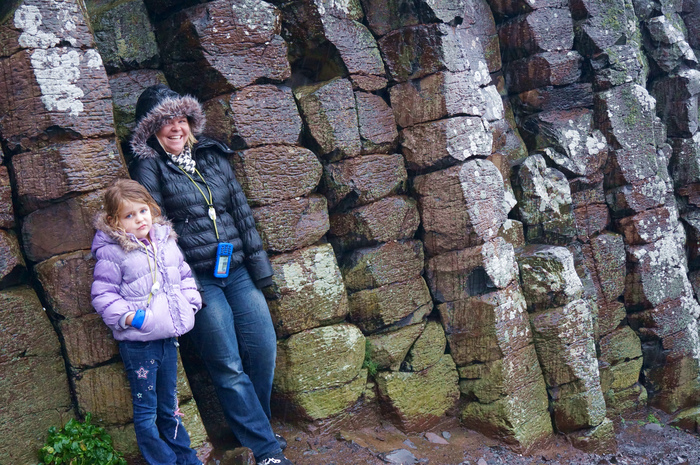 During our travels we have been using a Bubblebum car seat and had got to know the creators of this marvellous product via email. On an invitation we were delighted to meet them in Londonderry. We spent a delightful time dining with them and they generously gave us a place to stay the night as well.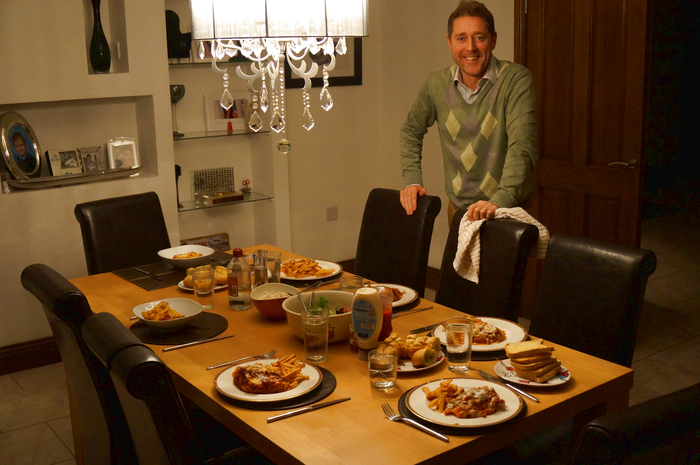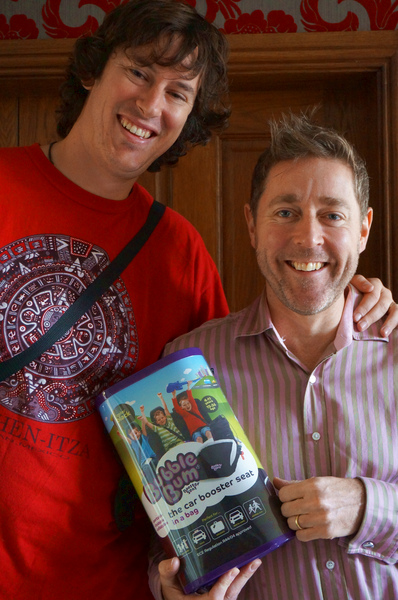 I wouldn't recommend you crash their house, but if you drive around Londonderry there are quite a few B&B and hotels to choose from. But I do recommend you buying a BubbleBum - we love ours! 
Day 10
Londonderry to Donegal to Galway
Accommodation: Sykes Cottages (check prices...)
After a leisurely morning with our host we moved onto Donegal where we met a lovely reader at the Blueberry Café, tried some great Irish food and then finished the day driving to Galway. We had booked 3 nights through Sykes Cottages in a gorgeous Irish countryside cottage.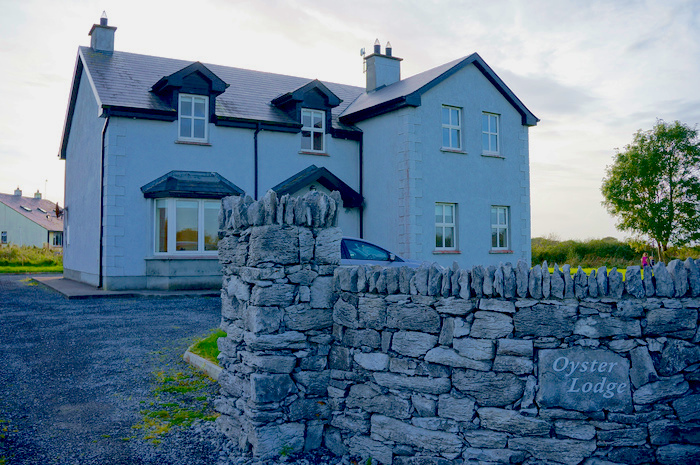 We spent the day relaxing and recuperating from our jam-packed road trip through Ireland. We took the kids to see a movie and I got to show Josh the Galway I fell in love with on my press trip. Lunch at the magnificent Twelve Hotel was definitely a highlight.
Another relaxing day visiting Galway and chilling out in our amazing cottage. It was so nice to take things easy after such a busy few weeks. We walked around the Quay Street pedestrian mall in Galway and Josh purchased a beautiful traditional Claddagh ring for me from an iconic jewellery shop to celebrate our wedding anniversary.
Day 13
Galway to Dublin
Toll: €7.00
We left early this morning to be in Dublin to drop the car off first thing in the morning. The queue outside the car rental company was long, however as I got out to ask where to park the car I was told it was not necessary to join the queue, just park the car in the carpark and hand over the keys to the staff. It was surprisingly easy, they even stored our luggage for us as we spent the day in Dublin before taking the train to our house-sitting assignment in Kildare.
It was a short walk into the city centre, where we wandered the streets before heading to the delicious O'Neil's for some pub food with my friend Corey from Irish Fireside.
After lunch we took our bags to the Trinity City Hotel nearby and met some new friends.
We walked to the nearby St Stephens Green playground and spent the afternoon with them before taking the train to Newbridge where our house-sitting host picked us up.
Road Trip Tally
Total Days: 13
Total Tolls: €21.40
Total Distance: 2,099 kms (1,304 miles)
Total Leprechauns Run Over: 0 (phew!)
That Was Pretty Easy!
There you have it. Our Irish road trip adventure was complete and we fit a lot in a fairly limited amount of time, considering 2 young kids were in tow. There is so much to see and do, and touring the country by car is definitely the best way to go. And to top it all, we managed to reach our 7 Irish goals along the way: 
Try Guinness - done!
Find a rainbow - done!
Find a leprechaun - done!
Find a pot of gold - done!
Find a 4-leaf clover - done!
Dance an Irish jig on the Giant's Causeway - done!
Be blown away by the beautiful countryside - done!
Inspired? Check out the latest flight prices to Ireland and see how cheap it could be to start your own Irish road trip adventure.