I've put together a healthy dose of visual inspiration for your yearning wanderlust. A carefully selected collection of my favourite shots from one of the most beautiful beachside resorts we've visited anywhere in the world – Samabe Bali Suites & Villas. This is a luxury resort where the spectacular views you see in real life, are actually better than what the brochure depicts.
I hope you enjoy these scenes which capture the best of man-made and natural beauty found in Samabe, Nusa Dua, Bali.
- Josh
PS. If you can think of any friends who would love to go here, please share this post on Facebook, Twitter and Pinterest.
Sunset over the infinity pool.
Crystal Blue ocean grill overlooking the pool, providing panoramic ocean views. If you look carefully you can see twinkling stars in the dark azure sky.
Gazing into infinity. One of the private villa pools which seems to stretch into the turquoise ocean.
Dusk sky and pond wrapping around the lobby area and Rempah–Rempah restaurant. At night small floating candles would cover the pond's surface.
Views over the pond from Rempah–Rempah restaurant.
Table for 2 at sunrise overlooking the beach and ocean, under cotton candy clouds.
Couples' seats… with a view.
Reflection of paradise.
Views from a private suite overlooking the quiet ocean. This place feels like you're a million miles from anywhere… in a good way.
Lobby entrance elegantly lit up at dusk.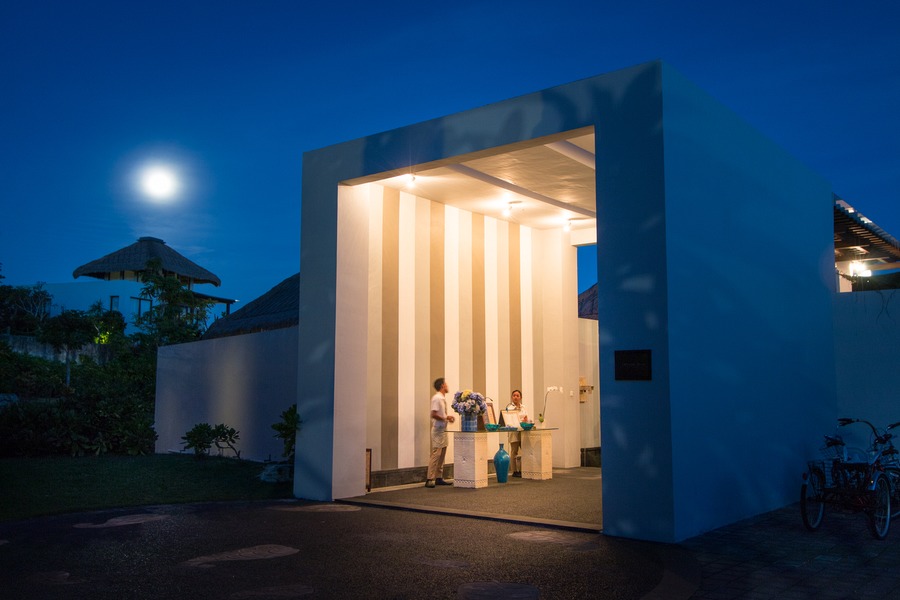 Entrance to Crystal Blue restaurant under a full moon.
Private table for 2 at Crystal Blue.
Watching a spectacular sunrise by the swimming pool.
3 trees at sunrise, reflecting on the mirror-like swimming pool.
Our sweet suite. The living area included a large solid wooden table with convenient power point and (relatively) fast internet. I was in laptop heaven. Oh, and there were awesome views of the ocean too.
Music on arrival.
Inside one of the 1-bedroom villas. All the comforts of home… but in paradise!
Watching wispy white clouds float quietly by. Contrasted against the deep blue sky and emerald-turquoise ocean, these made for the humblest yet most gorgeous scenery.
Birds at sunrise.
Lobby area. Always willing and ready to help.
Dinner time at Rempah–Rempah restaurant.
Inside Rempah–Rempah restaurant.
Lobby lounges and TE.JA.Co. Lounge & Bar. Live music played in the evenings, setting the perfect atmosphere for dinner or drinks.
Geronimo!
Sand and the sea.
Breakfast condiments. Extreme attention to detail is evident everywhere, and if you've been to Bali before you'll know how uncommon this is.
Banana and strawberry pancake. Not on the menu, but not a problem.
After a cooking class with the head chef, we sat down to eat a delicious meal of local fresh fish wrapped in banana leaf. Delicious!
The Chapel. Imagine a wedding with this kind of view.
Sunrise sky. This is the view from the swimming pool over the ocean.
Your chariot awaits. Golf cart is the primary mode of transport around the 8 hectares of manicured gardens.
First light.
Superman is learning how to fly. Our kids loved this resort along with its well-prepared kids club.
Want to find out more? Read our experience and review of Samabe Bali Villas & Suites.