This was our 5th trip to NYC. The Big Apple. The city that never sleeps. 
By now you would think we were locals, but I am always surprised by how much there is to do and see in this city. Concrete jungle, my ass. You are going to find a vibrant and fun loving city that can keep you (and your kids) amused for weeks.
So without further ado here are our favourite things to do in New York City with kids.
1. The Best Ride In New York City
This is my must-do tour. Honest to God, hand on my heart, the best tour you will do in New York. My family and I had the time of our life on The Ride, which is a fusion of entertainment, theatre and sightseeing. Take a ride in a multi-million dollar bus around New York checking out some of the best sites while interacting with street performers. You can read more about the tour in our full article here. It will be the ride of your life. Use our "BTWB" discount code when you go to save!
2. Be A Little Kid In Candy Heaven
Ralph Lauren's daughter always dreamed of being a kid in a candy store so she made her own. You can visit Dylan's Candybar and find anything your heart desires across 3 floors of candy nirvana. 
Or perhaps chocolate is more your thing? The kids will love a visit to the Hershey Store and M&M's World in Times Square (the most visited tourist attraction in the United States). Chocolate plus kids can't go wrong and here you will find multiple levels of it.
3. Play At Central Park
Central Park is the perfect playground for children of all ages. They will never get bored with over 843 acres to run through. In winter you can ice-skate, have snowball fights, eat toffee apples (or as the Yanks call them, candied apples) or take a Central Park Horse Ride. In summer it's time for kite flying, boat races in the ponds or ball sports. You'll also find Central Park Zoo within the park. 
4. Natural History Museum
On the west side of Central Park is the American Museum of Natural History where lovers of the film, Night At The Museum, will find all they love and more. Make sure to plan your day in advance as the museum is so big that one day won't cut it. Our favourite exhibits are the giant dinosaur bones, the life-size Blue Whale and, of course everyone's favourite, the Easter Island head.
5. Eat Cheap Pizza
New York is often mistaken for being expensive. But there are ways to save money if you know how. For lunch stop at a 2 Bros for $1 slices of piping hot cheese pizza. And these pizza slices are bigger than your head. 
6. Pose With The Statue Of Liberty
My kids have wanted to see the Statue of Liberty for a very long time. You can see it for free by taking the Staten Island Ferry past Liberty Island, wait 10 minutes and come back again. Or purchase a ticket to Liberty Island to get up close and pose with the Lady herself. Plus there is plenty of room to run around on Liberty Island.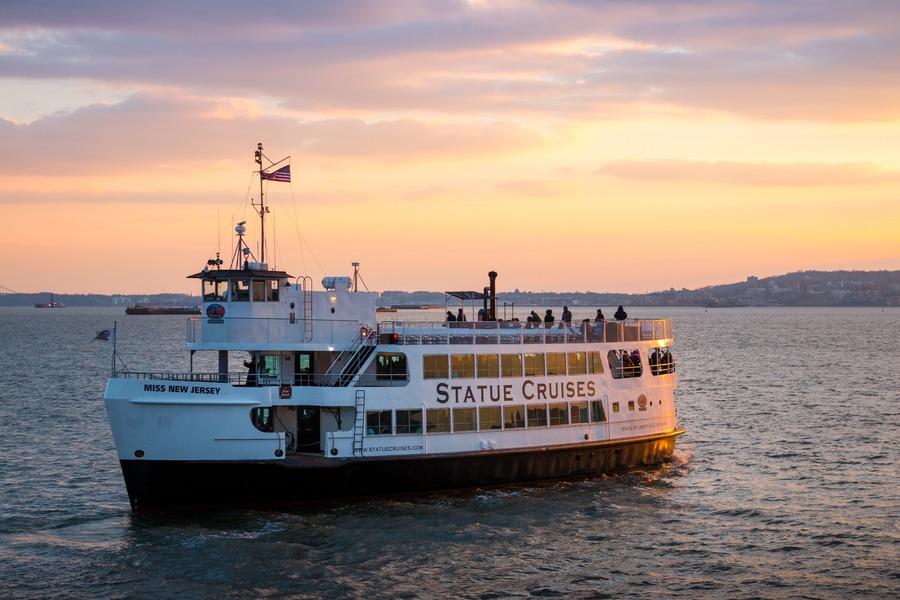 7. Let The Kids Guess How High They Are At The Empire State Building
Once it stood as the tallest building in the world, and though it has fallen to the 29th spot, it's still a sight that that knock the socks off of you. Head to the 102nd floor to show the kids a bird's eye view of New York. Plus they will love playing with the binoculars if you give them a 50-cent piece. 
8. Visit Top Of The Rock
If you are looking for something less crowded than the Empire State Building then try out Top Of The Rock with its unrivalled views of the Empire State Building and Downtown. This skyscraper is a little more kid-friendly with smaller queues and ample seating to sit and enjoy the view. Plus if you come at Christmas time you can carve up the ice skating rink or place a wish under the famous super-size Christmas tree. 
9. Catch A Basketball Game at Madison Square Gardens
If the atmosphere and size doesn't impress the kids then the hot dogs sure will. I can almost guarantee by the end of the night you will all be on your feet yelling and screaming for teams you may not have even heard of. And why not give the Mrs a kiss on the kiss-cam when it comes round? Brownie points, right?
10. Visit Your Favourite TV Locations
Lastly, New York is the backdrop to many a popular TV shows and you can find a Location Tour for almost all of them. On Location Tours invited me to test out their Gossip Girl tour. So I got glammed up with my favourite Chuck Bass inspired shirt, convinced my sisters to come with me and we headed out for a 3-hour-and-a-bit tour of the best Gossip Girl locations.
The tour is quite long so its probably not going to suit younger kids, but if you have older kids who are in love with any of your favourite shows then hit them up for a fun day out.
My top 3 insider tips for visiting New York with kids:
1. Avoid strollers. While they are great for keeping the kids in check and pushing through the crowds of New York, going up and down the subway stairs is a major hassle. But if you plan on staying within a few blocks of Times Square and push your pram with Rambo-like steely determination, then by all means, push on.
2. Consider using a CityPASS to save on attraction tickets. If you are visiting more than 3 of the attractions on the pass you will save money. We used it to gain entry into a lot of the above attractions – perfect for your whirlwind vacation in New York. 
3. Try to avoid eating in Times Square. Most of these restaurants serve a lot of people so the majority have bad service and average quality food. They are not expecting repeat business. For some of our favourite eateries take the short walk to Hell's Kitchen (west of Times Square). 
Recommended places to stay:
That's it! Are you ready?
"Welcome to New York. It's been waiting for you."